Hello! I am Chihiro, a new BeautyPlus creator based in Japan.
I am a travel Instagrammer and I pair amazing seasonal views with shooting and editing tips on my Instagram.
In this blog for the BeautyPlus Creator Program, I would like to show you my editing techniques. I hope you enjoy it!
Today, I will show you how to take Instagram-worthy photos at flower gardens.
I'll show you how to use filters, stickers and doodle pens from BeautyPlus to edit your photos to make them even more amazing and stunning!!
I am really excited to show you my Before & After shots and some tips for how to pose when you're taking photos at a flower garden!
Table of Contents
1: Pretty in Purple! Pictures with Wisteria Flowers
It was an amazingly sunny day when I went to the Wisteria Flower Park in Ashikaga, Tochigi Prefecture in Japan.
The picture on the left was taken with my iPhone's original camera. It's nice, but has so many shadows and doesn't show off the beautiful purple color of the wisterias.
But BeautyPlus filters can solve this!
I used the "Rosy" filter and enhanced the value to 100%. This filter makes photos pinkish-purple and is definitely my favorite filter on BeautyPlus.
For this photo, I used my iPhone 12 and set the wide-angle level to 0.5.
To get this effect, bring the phone as low to the ground as you can and tilt the phone upward so that you get the wisterias featured in the middle to top half of the photo in a more dynamic way.
If there are no wisteria parks around you, don't worry! You can also take a bunch of wisteria garden photos with BeautyPlus AR sticker !
Let me show you how to make a photo with AR stickers to make it feel like you are at the flower garden!
2: How to be Sky-genic ?
We often use BeautyPlus for face and body retouching but BeautyPlus's Fantastic Sky features are my favorites. This feature can make the sky look sunny no matter what the weather is like!
After you apply the Sky feature, I personally prefer to set the value to 0%
A shooting tip for this situation: I recommend you to stand in the middle of the screen and keep your body pose symmetrical. Try to get center head in the middle of the photo, just like the Japanese flag ??
This is my personal "golden ratio" and my Instagram engagement is much higher when I post photos like this.
If you don't know where to stand and how to pose when you take pictures, this method is very easy!
3: Show liveliness at the flower garden!!
Let me tell you about this picture.
I took this picture at a beautiful Azalea garden. The picture was taken with a wide-angle view because I wanted to show how dynamic this garden is, but at the same time it's hard to see where I am in the middle of the flowers.
So, I took my hat and threw it in the sky so that it would be easier for the viewer to find where I am and to make the picture more alive and dynamic.
If you just stand still when you pose, I want you to try to take some actions more, for example: throw your hat, flip your long skirt, touch your hair, etc.
In terms of editing, I added a flower petal doodle pen to make the picture bloom even more!
For this blog, I have introduced my shooting and editing tips for shooting at flower gardens.
Here in Japan, the flowers are blooming and you can see a lot of beautiful nature scenes when you go outside or travel around.
I hope you can apply these techniques to your next photo shoot and enjoy getting creative with BeautyPlus!
See you next time!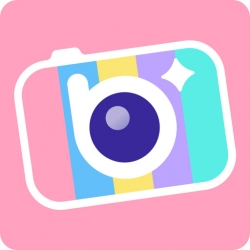 Latest posts by BeautyPlus Team
(see all)