Hello beautiful! This is the BeautyPlus Team.
Do you enjoy taking selfies and editing your photos? With so many filters and beauty effects available on BeautyPlus, it's easy to make your photos more beautiful, making yourself more confident and your social media life more enjoyable in the process. But have you ever wished the effects on BeautyPlus could be more natural and could match your style and taste?
The BeautyPlus app has recently been updated with more features and makeup customization options to help you accomplish this!
We would like to introduce these new features by dividing them into 3 categories.
Table of Contents
1. Newly-added makeup features
We have added some new makeup features that weren't available before, so pay close attention as we show you the amazing features that are in store for you.
Contouring
We do love contouring. But it's not easy drawing shadows and highlights every day during your makeup routine. Our new feature, "Contour", enables you to apply your favorite contouring with just one tap!
Eyelashes
Now, we not only have eyeshadow editing, but also eyelashes, including Natural Style, Glam Style, Foxy Style, and more. And of course, you can easily adjust the strength of the effect. Additionally, you can select the color of the eyelashes before or even after you've chosen the style!
Contact Lenses
There are a variety of colorful contact lenses available now in our latest update. These colors can enhance your natural eye color or you can get exotic and wild looks.
Why not try on a new style with them? We hope you love it!
2. Updated Features
We've had many colors of lipstick, blush and eyebrows available already but the new update adds a second editing step so you can change the style or texture of your favorite colors!!
For example, after you have selected your favorite lipstick color, you can choose the texture of the lipstick, from satin, shear, matte, plump, and glossy. These updates will help you customize your makeup style based on your specific taste.
3. Advanced Editing
Once you've gotten used to the new makeup features, you can try editing your makeup look to look just like your favorite celebrities!!
Kylie Jenner
Let's walk through how to edit your makeup to be just like the makeup look of one of the most beautiful celebrities in the world, Kylie Jenner.
First, use "Tone" to get more tanned skin before you begin editing your makeup. Kylie often changes her hair color, but we will use black since that's the one she most often uses for her long, gorgeous hair. "Contouring" is needed as well, and then select those long, foxy eyelashes under the new "Eyelashes" feature. After that, put on some pinkish blush with the super matte plump texture and use Rose color for your lips. Here's how it looks!!
Jennie from BLACKPINK
Are you tired of customizing all your makeup effects? Don't worry! BeautyPlus now gives you the ability to apply the perfect makeup look with just one tap!! Open BeautyPlus and tap the middle button to shoot your selfie. Then, tap the diamond-shaped button to begin trying on a variety of makeup looks!! Let's try Jennie's look from BLACKPINK.
We made this Jennie-inspired makeup look because her cat-eye makeup has become very popular. Also, you can adjust the makeup levels and add some makeup features while you are shooting.
Let's add some extra makeup to make it look even more like Jennie! One of the most important elements in K-pop makeup is the "eye smile". Eye smile refers to the under-eye bags which make the eyes look bigger and more appealing. Eye smile makeup is especially trendy among Asian girls and they usually like to apply highlights to their bottom eyelids to enhance this look.
Jennie also loves to change her hair style with many unique colors, so in this case we applied a pinkish/purplish hair color under "Hair Dye".
At the end, we added pink glossy lipstick and pink eye shadow, and VOILA!!
We're happy to have introduced you to our new makeup features. These updates can help you get more personalized and diversified makeup looks to make the most of your natural colors and enhance your favorite features. You can now design your makeup looks so they look almost exactly like your actual daily makeup look, and it's now much easier and faster to give yourself a makeover. We hope you enjoy your photo editing with BeautyPlus!!
See you next time.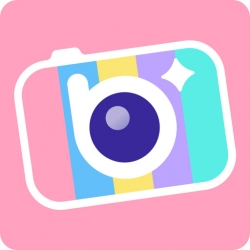 Latest posts by BeautyPlus Team
(see all)