The Best Bachelorette Party Guide: Outfits, Poses, And Editing Tips
The Bachelorette Party is a pre-wedding celebration for a bride-to-be, typically attended by her closest female friends and family members. It is a way for the bride to let loose and enjoy her last moments of singlehood before tying the knot. The Bachelorette Party is quite popular in America, with many women opting to have one before their wedding day.
Are you getting ready to throw a bachelorette party for a special bride-to-be in your life? Planning a bachelorette party can be a fun and exciting experience, but it can also be a bit overwhelming. You don't have to look elsewhere! We have compiled a list of bachelorette party photo ideas, all of which will capture the excitement and fun of the party. No matter what outfit you wear, how you pose, or what editing tips you need, we have it all!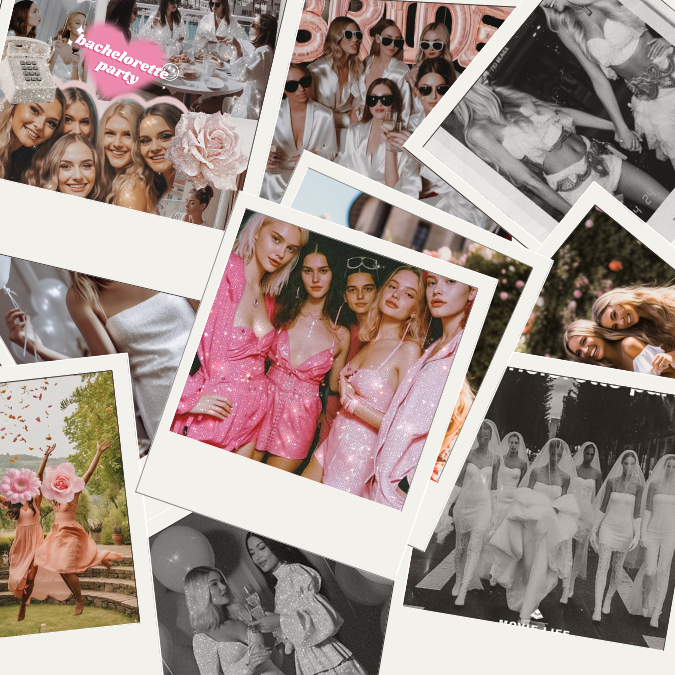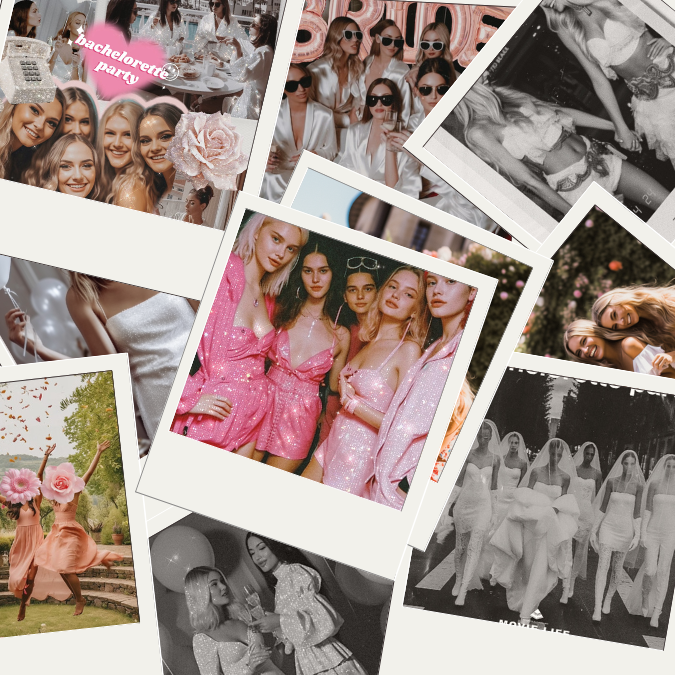 Outline:
The best bachelorette party outfits
Dressing appropriately is one of the most important parts of your bachelorette party photos. It can make or break any photo, so make sure you choose wisely! You can find some ideas here, but your outfit will depend on your party theme.
Consider wearing swimsuits or other beach-themed clothing if you are having an outdoor party with a beach theme.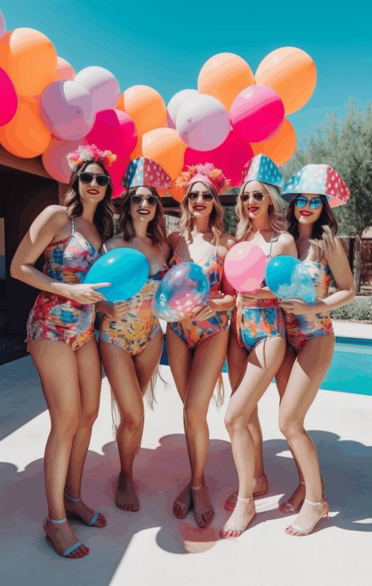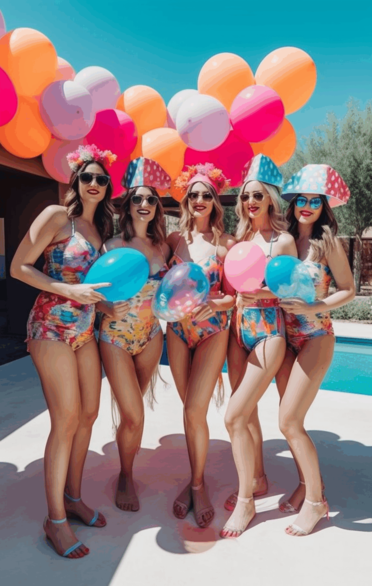 When having an indoor theme (such as a casino night), wear cocktail dresses or fancy attire (like the movie "Sex and the City").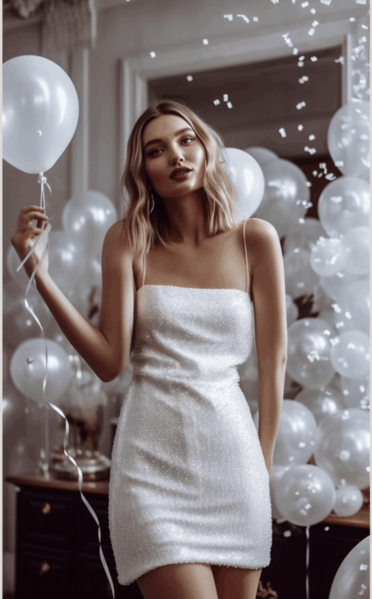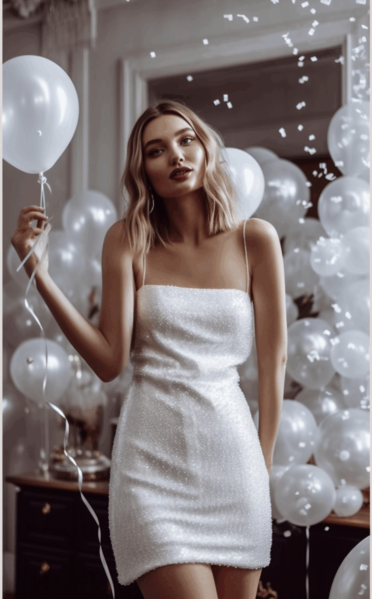 Try dressing up in all black or putting on a sexy uniform like the cowgirl outfit or flight attendants wear on nights out. Lastly, wearing pajamas decorated with ostrich feathers is also a trend today.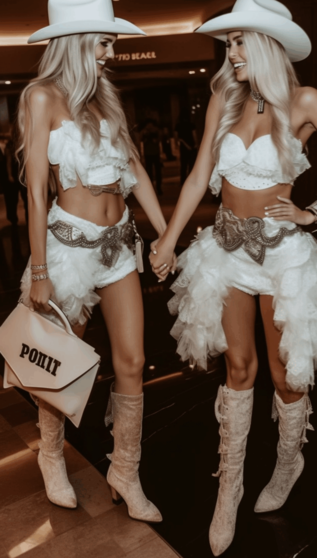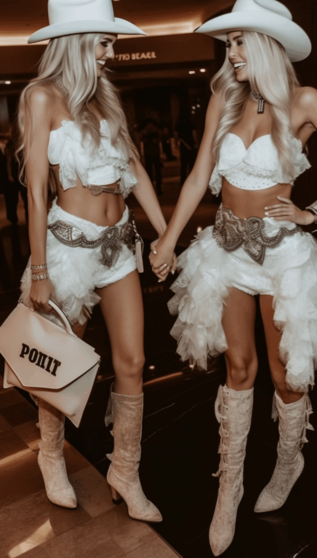 8 pose ideas for a party
Once you have your outfits sorted, it's time to pose! Taking an excellent bachelorette party photo means capturing the excitement and energy of the group. Here are some fun and playful poses to get you started:
The bachelorette and her bridesmaids can jump into the air in a fun and playful pose.
Engage the bridesmaids in a fun dance line to capture the bachelorette's attention.
Take a picture of the group hugging and smiling!
Toast to the bride-to-be and capture the excitement of the occasion.
Create a name spell for the bride by having each bridesmaid hold a letter.
A stylish backdrop is an ideal backdrop for the bachelorette and her bridesmaids.
Capture the group's silly faces!
Hold up the bride-to-be's engagement ring while the bride-to-be and her bridesmaids pose together.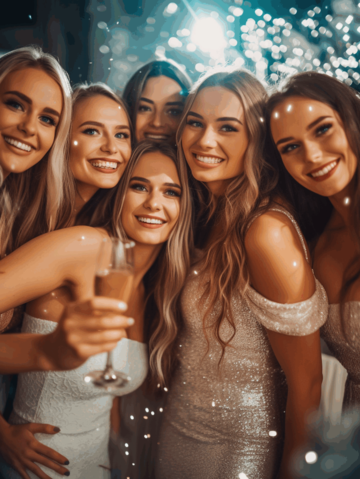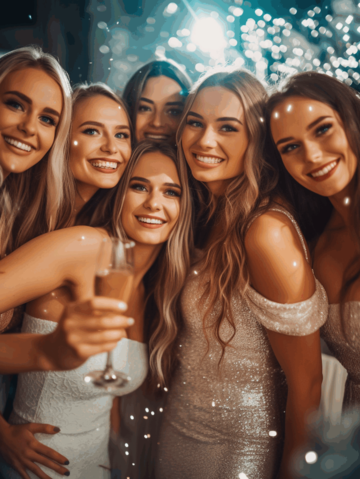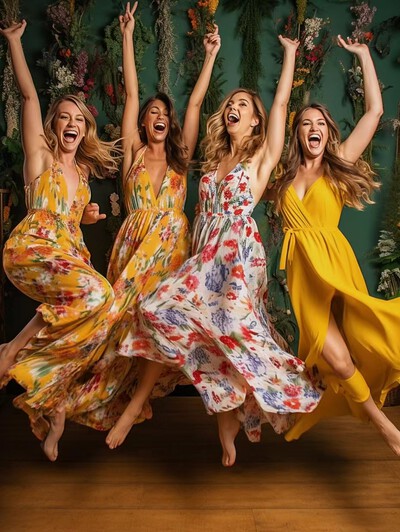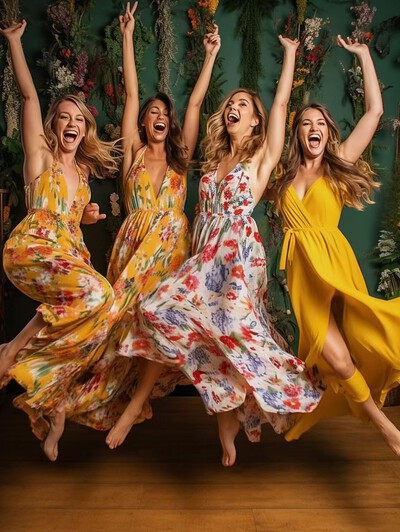 Designing a bachelorette party banner
The bachelorette party banner can be made from tissue paper, glitter, or even balloons, or it can be made digitally.
1) Take a picture of the bride-to-be holding a sign that says "Bride" or "Bachelor" and import it into the Beautyplus app. You can customize this banner by choosing the background and scale, adding sticker letters, or entering special style text. The most fun part is that it's completely customizable!
2) Add some personalization quotes to your Banner, such as "Bride to Be," "Last Fling Before the Ring," 'no men allowed' and "Team Bride." Hang it in a prominent place and use it as a backdrop.
Bachelorette Party Photo Inspiration
With your photos in hand, it's time to enhance them for maximum impact. We've listed some editing tips below to edit your bachelorette party photos to make them pop. One of the many apps we love for bachelorette party photos is Beautyplus.
Make your photos sparkle with the glitter preset. Add glitter to your outfits, accessories, or even your hair with just one tap. If you wish to make your glitter and diamond dust style more shiny, you should reduce your picture's exposure.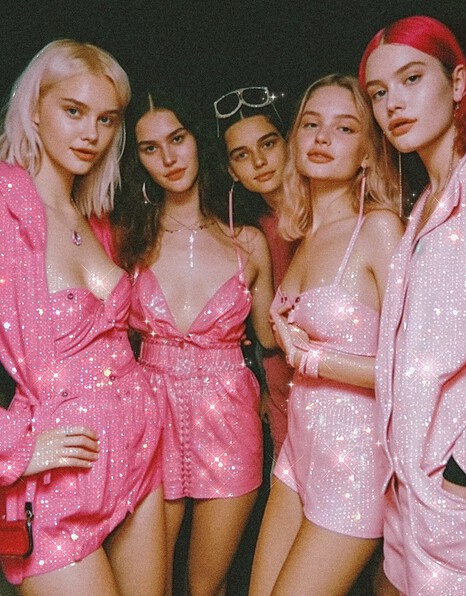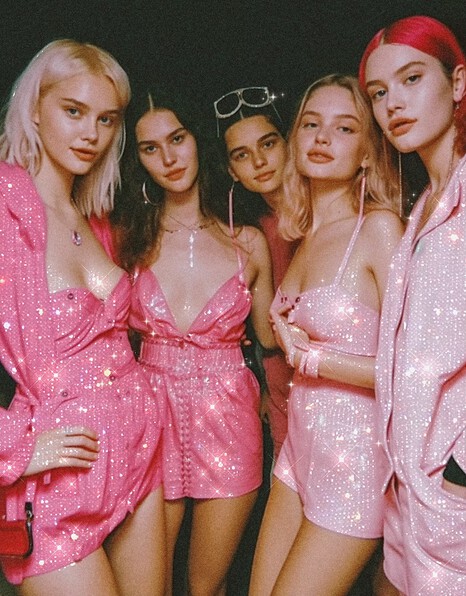 You can showcase multiple photos in one image by creating a photo collage. Using Beautyplus, you can arrange the photos in an aesthetically pleasing way and add captions and funny quotes to make the collage even more memorable. Once you've created the collage, you can share it across social media platforms to remind everyone of the special night. This is a great way to keep the memories alive and ensure that everyone who attended will always remember the night.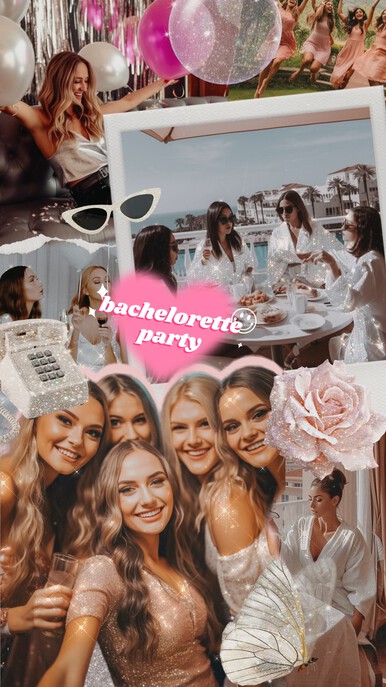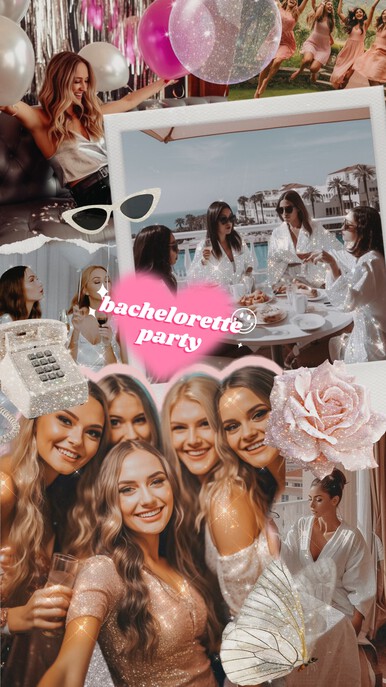 BeautyPlus is a free photo editing app that allows you to create a retro look with their filter. Retro filter and text will give your photos a classic movie feel, adding a unique touch to your bachelorette party's photos. Plus, you can use the Polaroid frame stickers to keep your photos looking professional and stylish.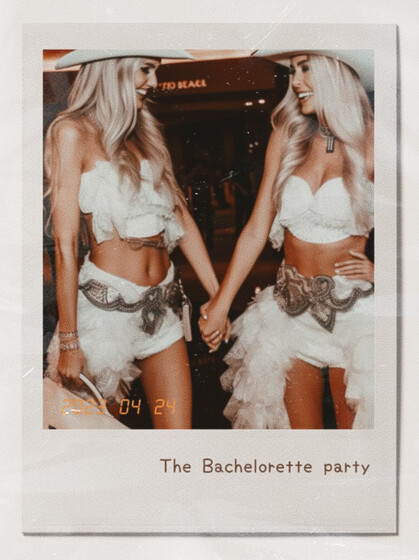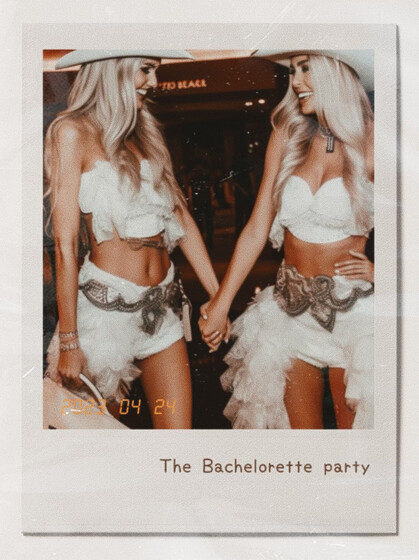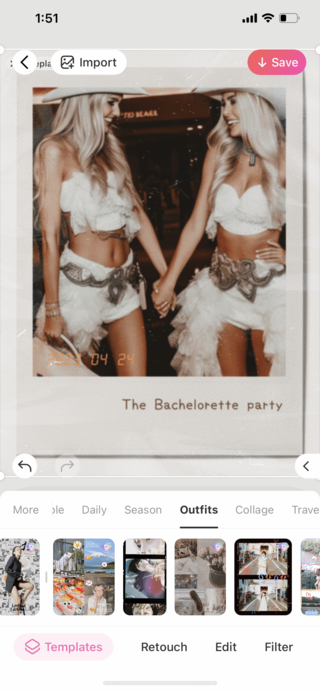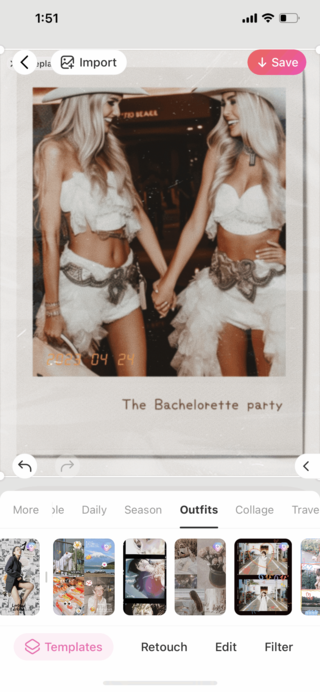 Make sure you don't miss out on these pink balloon and flower stickers for your party photos and let your photos speak for themselves! These unique stickers make it easy to decorate your photos and create a lasting memory of your special day.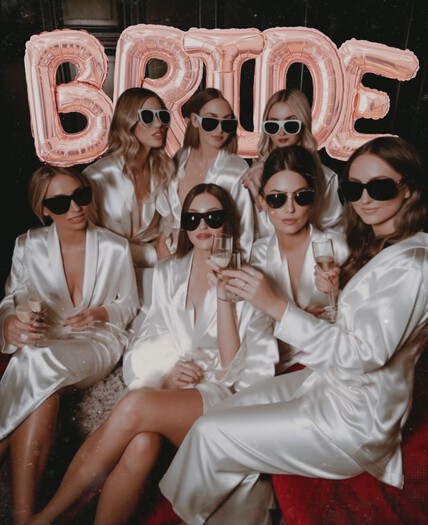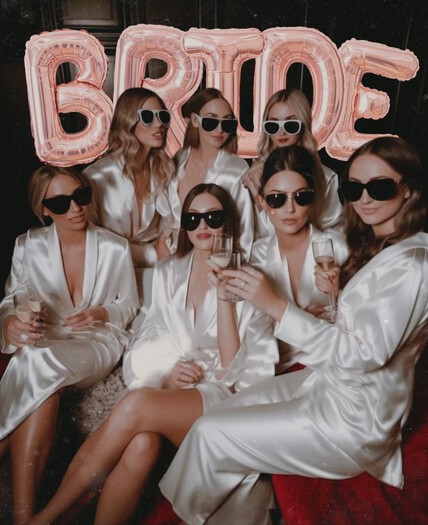 Bachelorette parties are a time to let loose and have fun with your girlfriends. By following these ideas, you can easily create fun and memorable bachelorette party photos that last a lifetime. Once you're ready to post, tag your photos with #beautyplusapp so we can have a look and then follow us @beautyplusappfor all our latest tips, tricks and hacks for the new season!