Aesthetics have become a staple word in today's social media atmosphere, and even has sub categories for people to explore. These aesthetics are identified by possessions, makeup, fashion, mannerisms, and especially photos. Today we'll be going over four different aesthetic ideas you can learn on and maybe even take inspiration from for your aesthetic photos.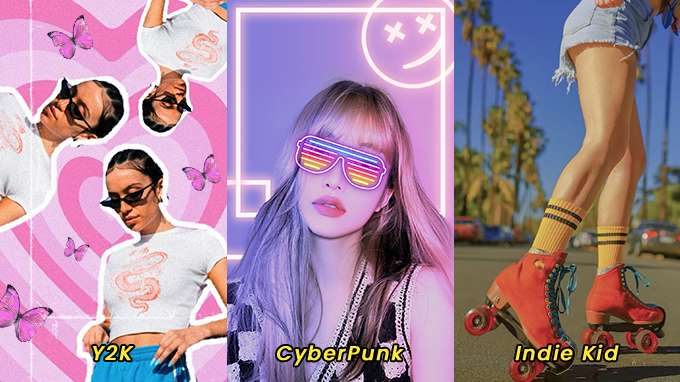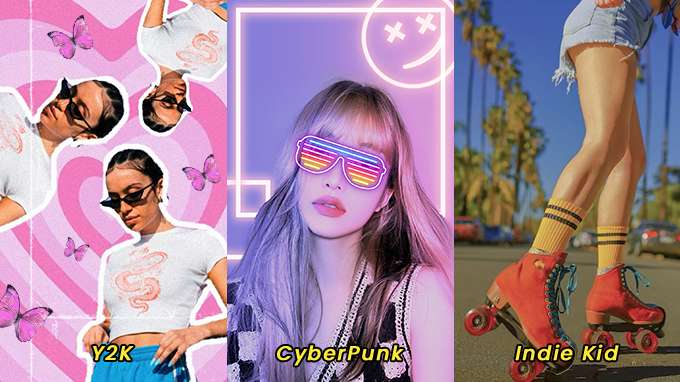 Table of Contents
1. Indie Kid Aesthetic
What is Indie Kid Aesthetic
The Indie Aesthetic comes from the feeling of standing out against the norm and what is stereotypically popular. This aesthetic exerts individuality and independence. The style associated with the Indie Aesthetic can be identified by indie wear: skater fits, mixed with colorful and neutral colors, along with a combination of fitted/baggy clothing.
Today's Indie Kid Aesthetic mimics the children's style of the early 2000s, which is a bit more of a simplistic alternative to the former indie aesthetic. You can achieve the Indie Kid aesthetic by wearing tops and sneakers similar to what children used to be dressed in as kids, alongside natural makeup with blush to emphasize a healthy young glow.
Indie Kid Aesthetic Visuals
Here are a couple of photos for Indie Aesthetic inspiration:
These photos specifically display 2 types of clothing: (respectfully) pretty baggy fits, colorful plaids, and skater wear. Bright lighting and highly saturated edits also adds to the atmosphere that is iconic in Indie Aesthetics. These photos feel naturally posed, free, and individualistic.
How to Make an Indie Kid Aesthetic in BeautyPlus
Here's a tutorial below for how you can take one of your selfies and add a bit of an Indie Aesthetic flair to it.
Once you have your outfit and your pose indie aesthetic ideas, all that's left are the edits:
Tutorial Tips:
Use the Indie Vibe Filter in the Beauty Plus App to apply the color edits to your photos to achieve a bit more of a vintage indie style.
If your photo is too dark, you can lighten and exaggerate some colors with a quick filter on the BeautyPlus App.
2. Y2K Fashion Aesthetic
What is Y2K Fashion Aesthetic
The Y2K aesthetic is a daily new and modern aesthetic that also mimics the early 2000s. The style then was the turn of the century, as teens everywhere were turning the century and into the future. Distinct themes of the time to push 'going into the future' was making everything chrome and shiny, dress and modern. This applied to fashion, music, and art everywhere. While social media didn't exist yet, the idea of the Internet was just coming into its own as kids began learning how to use it.
Y2K Aesthetic Visuals
Y2K aesthetic reaches for the nostalgia of the turn of the century, with some cute elements mixing with the early digital age. Below are a couple of examples of photos and selfies displaying some Y2k Aesthetic ideas.
(Left photo By: Nathan Van De Graff)
A few ideas you can use from the Beauty Plus App are taking advantage of the patterned borders you can use to frame your selfies, and some shiny stickers similar to glitter stickers kids used to use in the early 2000s to decorate paperwork and toys.
For Y2K Fashion, you can find a lot of inspiration from dolls at the time. Doll fashion heavily reflects the aesthetic kids wanted to achieve as they grew older. Bright colors, fun patterns and shapes in clothing with various accessories are a few Y2K fashion ideas to help you get started.
How to Make a Y2K Aesthetic in BeautyPlus
A fun Y2K Tutorial:
With your Photo, add your Aesthetic Background using the Cutout feature on the BeautyPlus App, and arranging your model across the page using the Doodle Pen and Stickers tools.
Add a Fold Paper Sticker to give it a vintage touch.
Adding the Noise effect adds a bid of texture and flair to the photo for a finishing touch.
3. Cyberpunk Aesthetic
What is Cyberpunk Aesthetic
The Cyberpunk Aesthetic refers to the almost cinematic theme of futuristic urban city life. Cyberpunk aesthetic ideas consist of city fashion mixed with urban nightlife, like neon lights, music, and colorful bold makeup.
Cyberpunk Aesthetic Visuals
Cyberpunk visual aesthetics usually consist of vibrant and sometimes tropical neons, mimicking neon signs from urban night life to stand apart from the dark, such as yellows, pinks, or reds. Darker backdrop palettes can consist of space-themed colors such as blues and purples.
How to Make a Cyberpunk Aesthetic in BeautyPlus
Below is a quick tutorial on how to create a Cyberpunk Aesthetic on your BeautyPlus App:
Use of highly saturated pastels can help achieve the Cyberpunk Aesthetic in your selfies. Here the model's hair, outfit, and background pop as part of the initial photo.
Retouch to clean up the photo a bit on the BeautyPlus App.
Using the provided 3D lighting tool, pick one that best suits you, such as the Neon options. This makes the lighting a bit more dynamic for the Cyberpunk aesthetic and gives off the city-night-life vibe.
Emphasize the darkness by using bright illuminating stickers that pop against the background and model.
4. Kawaii Aesthetic
What is Kawaii Aesthetic
Kawaii is a Japanese term that means "cute when translated in English", and has since evolved over internet culture to refer to a variety of "cute/pretty subjects". Commonly associated with light pastels, the Kawaii aesthetic can be applied to anything such as food, pets, cartoons, and fashion.
Kawaii Aesthetic Visuals
BeautyPlus also provides a variety of stickers to accentuate the Kawaii Aesthetic for your photos, such as in your selfies and pet photographs.
(Above: Kawaii Aesthetic AR)
(Above: Kawaii Aesthetic Stickers)
How to Make a Kawaii Aesthetic in BeautyPlus
Below we'll be going over a short tutorial on how you can create a Kawaii Aesthetic using the BeautyPlus App.
To apply any of BeautyPlus's Kawaii features to your photos, you can use the AR effects that are now available in the Photo Editor tools bar. Using any of these AR filters can help you achieve that kawaii aesthetic for your pictures.
I hope these tips on different kinds of aesthetic ideas can help you get started on your photo edits!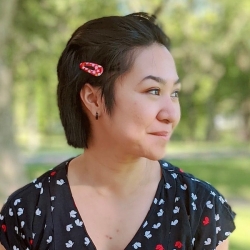 Latest posts by Samantha Lianes
(see all)