Discover 4 Editing Tips to Make Your Pet Portraits Perfect!
Everyone knows how cute our little furry friends are! Just one look at their face and it can easily put a smile on anyone's face.
No doubt is their cuteness a reason why pet pictures are so popular on social media! But sometimes, posting the same-old photos of your pet can get a bit tiring and repetitive, especially since there's only so many poses they can do.
That's why with BeautyPlus, you'd never have to worry about having a boring pet picture again. From AR Effects to Magazine Templates, here are some useful editing techniques to make your pet portraits amazing!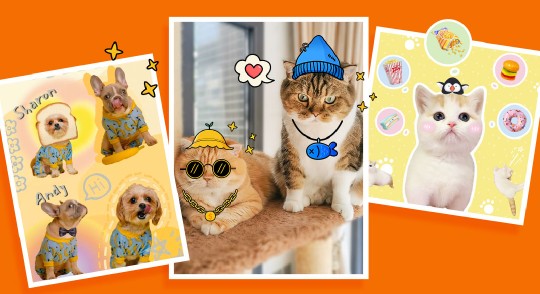 Table of Contents
Use AR Effects for Silly Pet Portraits
Under AR Effects, which are essentially filters that alter an image, you can find a tab named "Pet & U," which specifically has all the effects for you and your pet to use! Each one has its own charm to it – some are funny, some are adorable, many are both!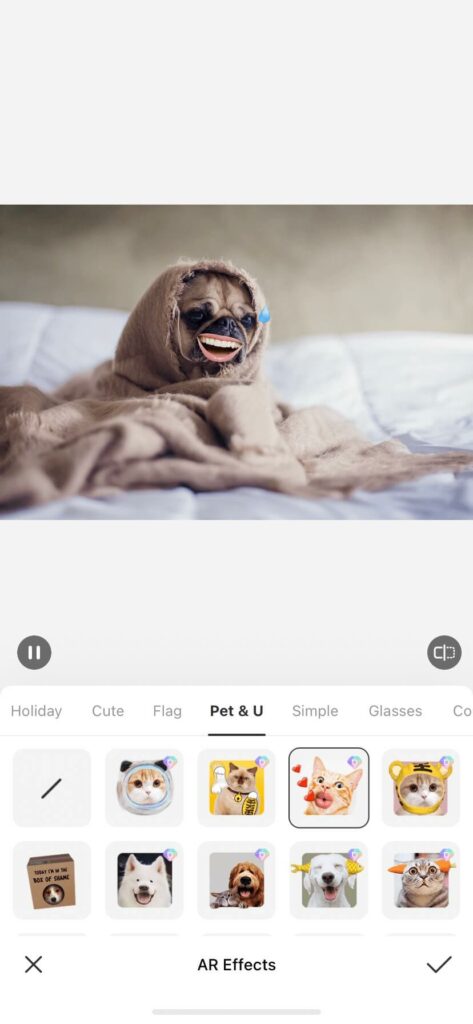 These are a few of my favorite options that match best with the lazy, grumpy mood of the puppy. You will definitely find a filter that goes with the vibe of the picture because of the several options provided by BeautyPlus. And even better, it also automatically applies the filter to the pet portrait, so all the work you need to do is pick and choose!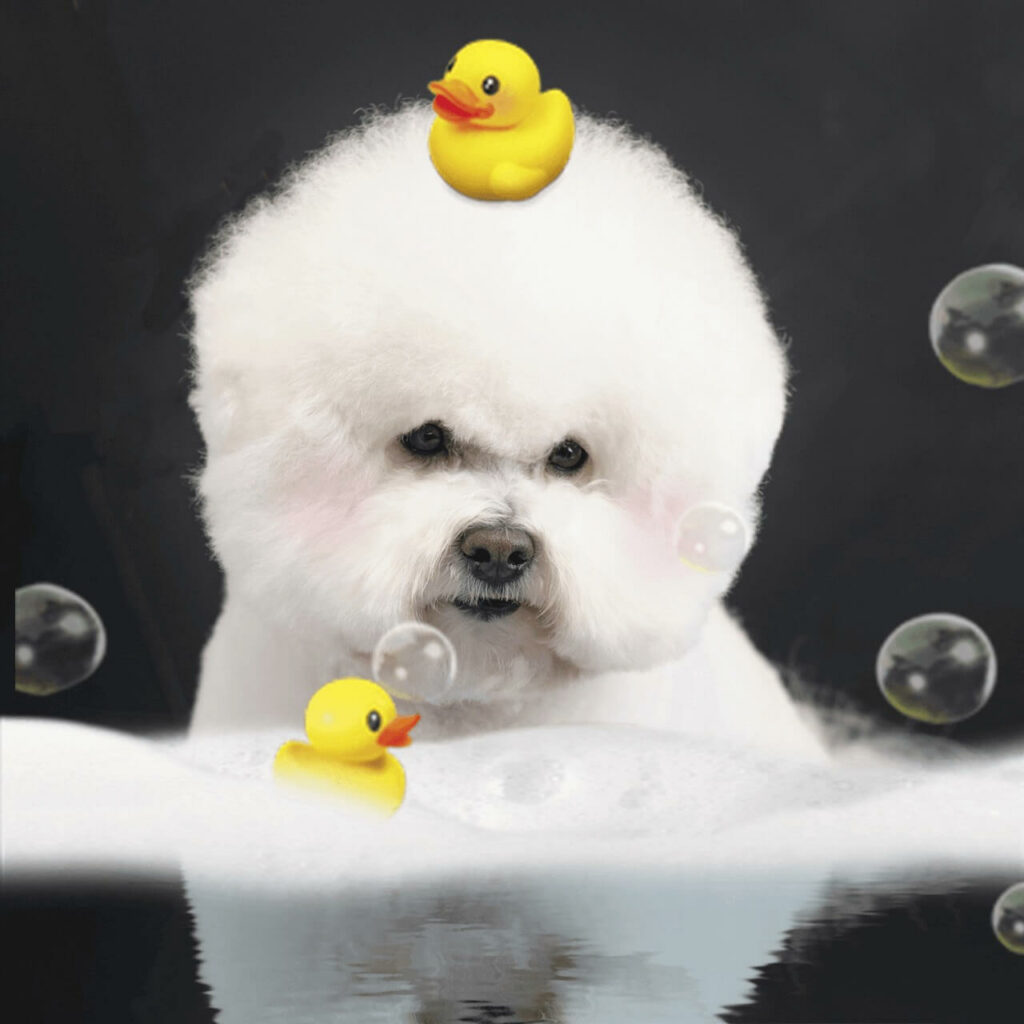 Look at how fun these cute photos are! These effects certainly add personality to the pictures that would have otherwise been plain!
Accessorize Your Pets With Cute Stickers
Compared to AR Effects, using stickers for decoration are ideal for more variation and personalized designs. You can mix and match, duplicate, flip, move…everything and anything! If you want to show off your accessorizing skills on your pets then you're in luck because BeautyPlus has three whole sticker packs dedicated to pet pictures!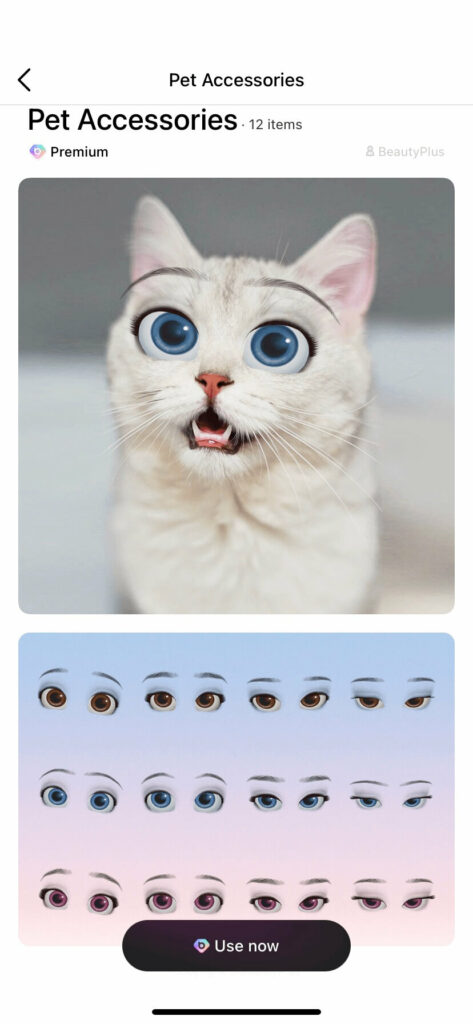 Each sticker pack is vastly different, which makes it all the better. There are eye variations, cute sunglasses and clothing options, and then job-themed ones such as a baker or fisherman! Let's apply them and edit an expressive cat!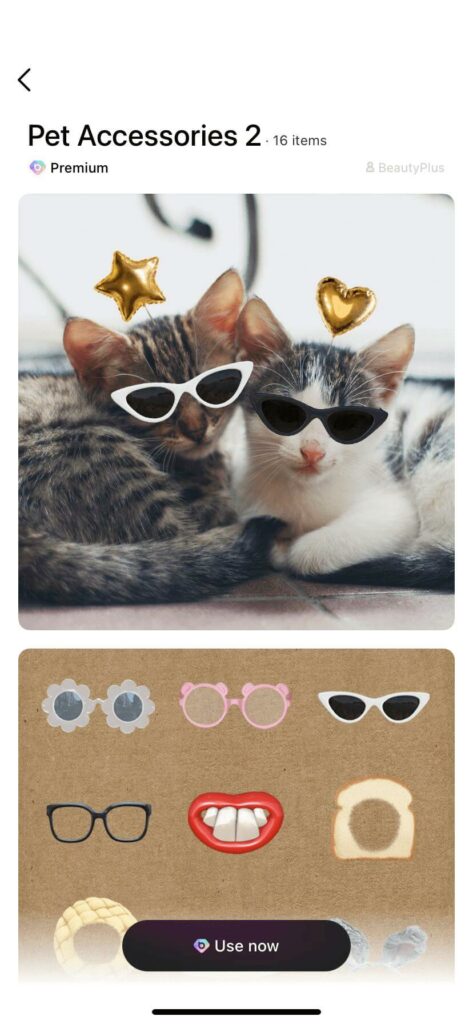 I decided to go for a "business cat" look, so I chose a hat and bowtie sticker and adjusted the sizing and placement for a more realistic appearance.
Then I tested these on these black sunglasses. However, I switched it out because they looked a bit too cool and fierce for the animal's fit.
So I changed it to these nerdy-type glasses that add to the cat's friendly appearance!
For this example pet portrait, I used another animal sticker pack for the eyes and eyepatch which aligns nicely over the dog's face! To fill the surrounding space, I chose a non-pet sticker set for the pink hearts that match well with the pink blush sticker. And ta-da! The finished result is just so charming!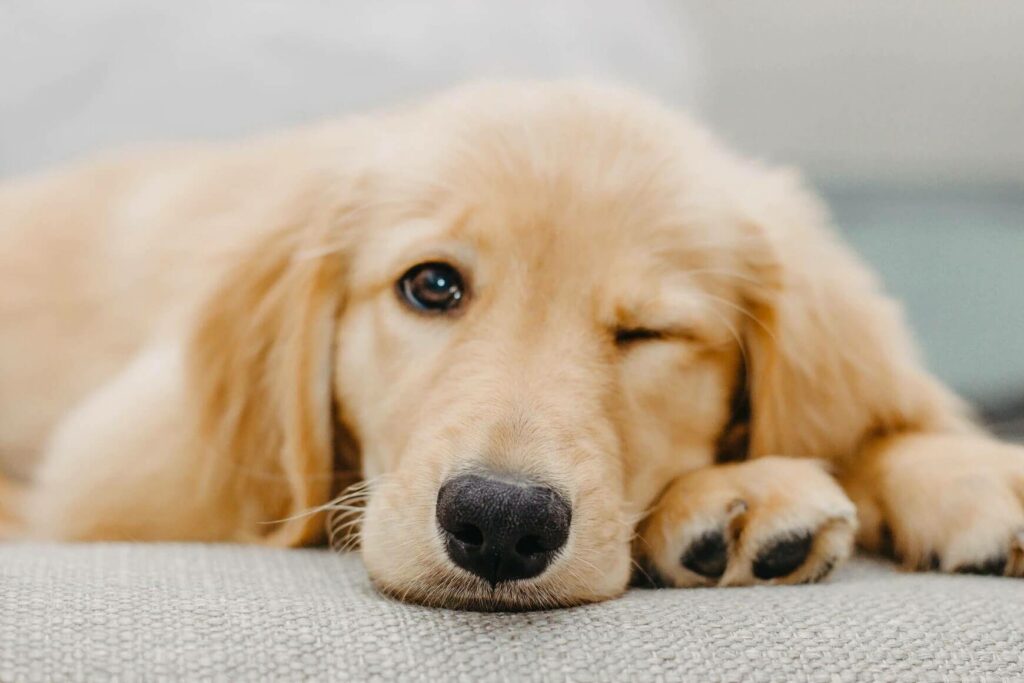 Create a Pet Collage/Wallpaper Using Cut-Out
Assembling a pet collage/wallpaper is perfect for more interactive editing and creative freedom! There are endless possibilities to what kind of image you can create, especially when you know the various tools that BeautyPlus has! For those who enjoy investing more time into their edits, let's explore the cut-out feature and make an edit as cute as these.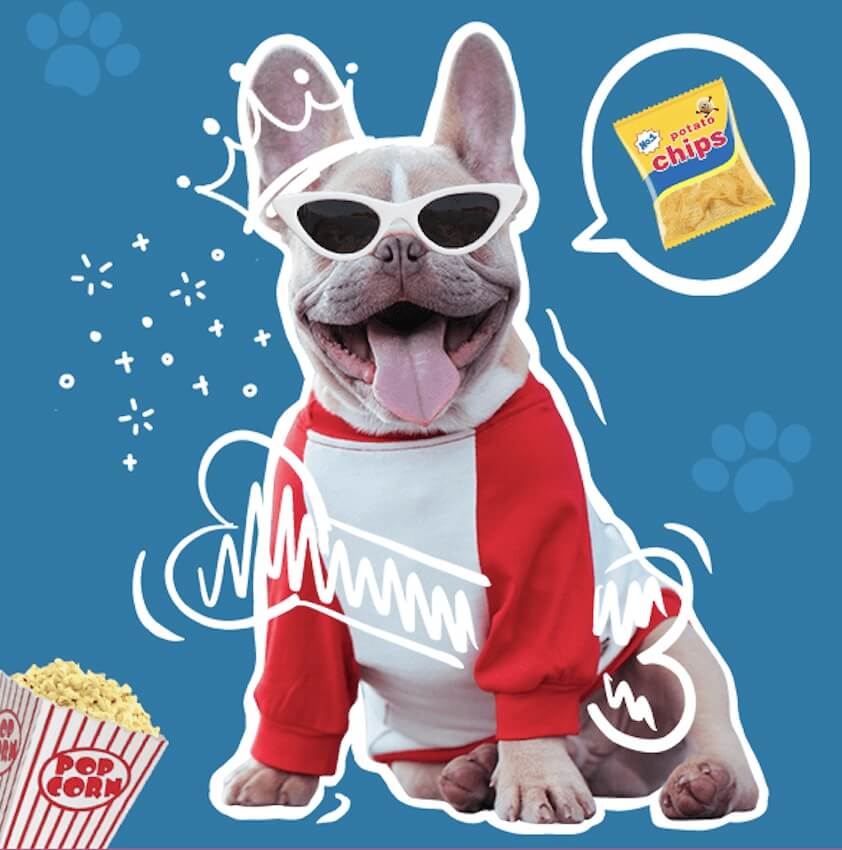 1. Start off by importing and cutting out your pet portraits. The auto-select feature does not currently apply to animals, so take your time carefully selecting/outlining the area you want to keep.
2. I duplicated the dog on the top left and altered its color overlay to a warm orange that complements the background wallpaper well.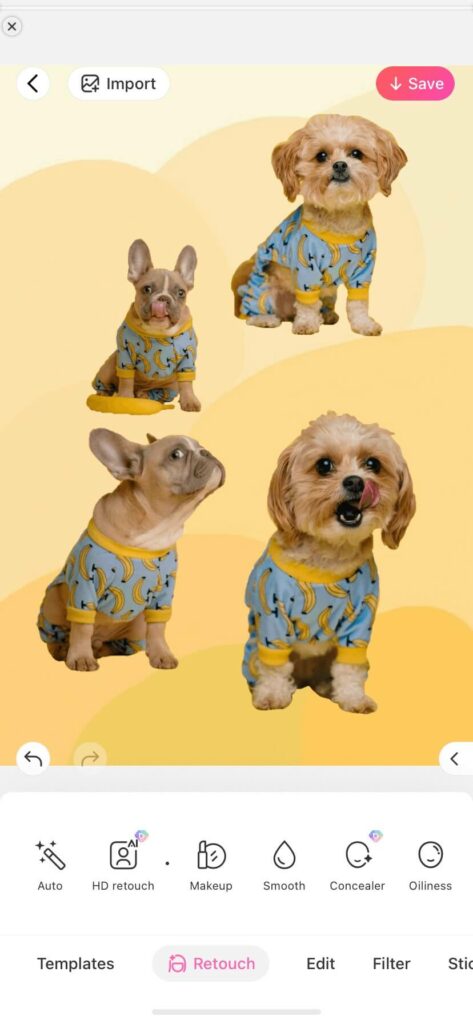 3. Then I used a "Basic" doodle pen and outlined the bottom right dog in yellow, then in orange for an accented look!
4. I added this thought bubble sticker and a text box as an interesting element to the collage, yet I later changed it to something that fits better.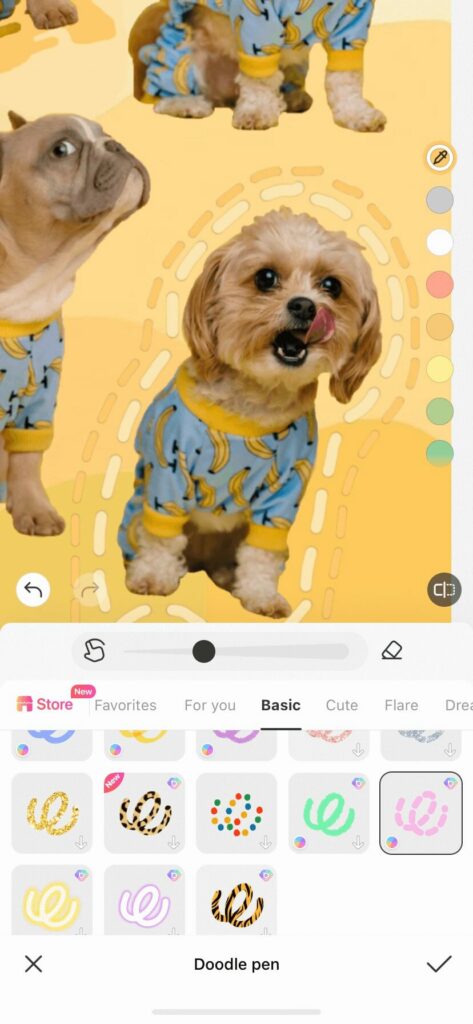 5. I found these translucent light stickers that meshed well with the background, so I placed it on the top and bottom, and moved the layer so that it is behind the dog pictures.
6. I also used the pet accessories from earlier to add a bread hat and a bowtie to the pets!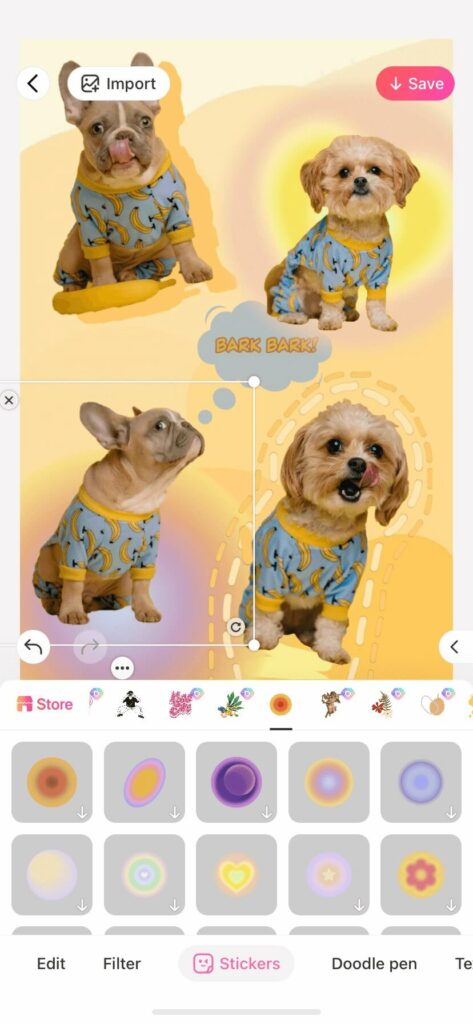 7. To have a more cohesive image, I switched the thought bubble to a "Hi" sticker that has the same color overlay as the flower and star stickers. I also selected the three layers by holding down on each layer until I felt a touch sensitive movement. I did this so I can switch the positions of the dogs at the top half of the picture, which felt more aesthetically pleasing to look at!
8. Lastly, I added the dog's names to fill in the negative space, and then added a shadow to the text for better readability.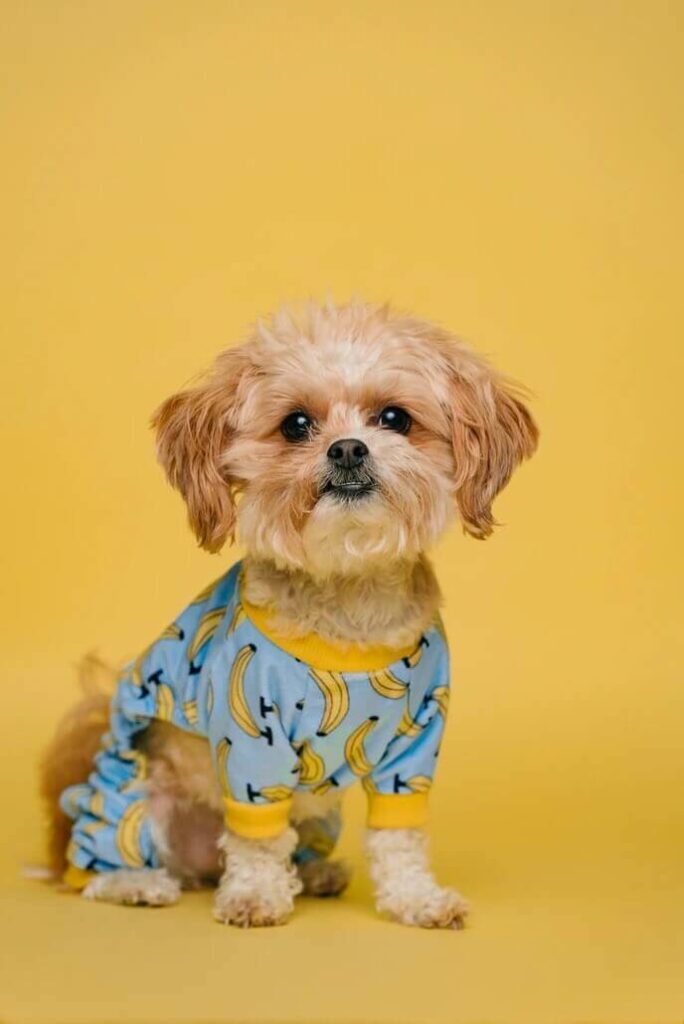 The difference is extraordinary! With cut-out and collage, not only do you have more exciting furry animals in one picture, but the ability to design and decorate however way makes it all the more worthwhile!
Show Off Your Pet With Photo Templates
This last editing method uses pre-made templates specifically designed for your pets. The best part is that you can merely choose a template you enjoy and make no changes, OR you can customize the edit any way you prefer!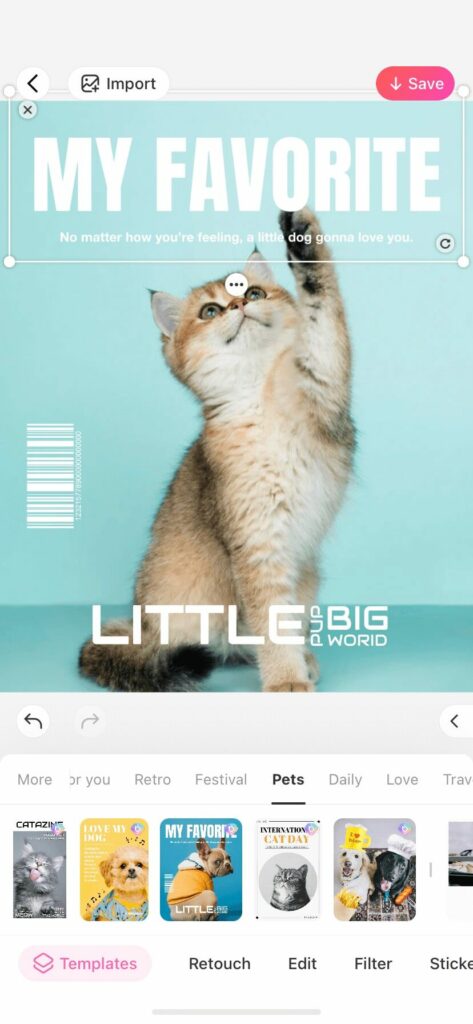 This white magazine design isn't too overwhelming, which fits well with the simplicity of the original image.
I changed the text from "pup" to "cat" because the pet portrait is of a cat.
I altered the bottom text font to one that is more bubbly and playful!
To add variation to the text color and style, I used the "Text," "Stroke," "Background," and "Shadow." Adding these bits of detail is important in making the image more unique to look at!
For the finishing touch, I added these cloud stickers and modified its color overlay.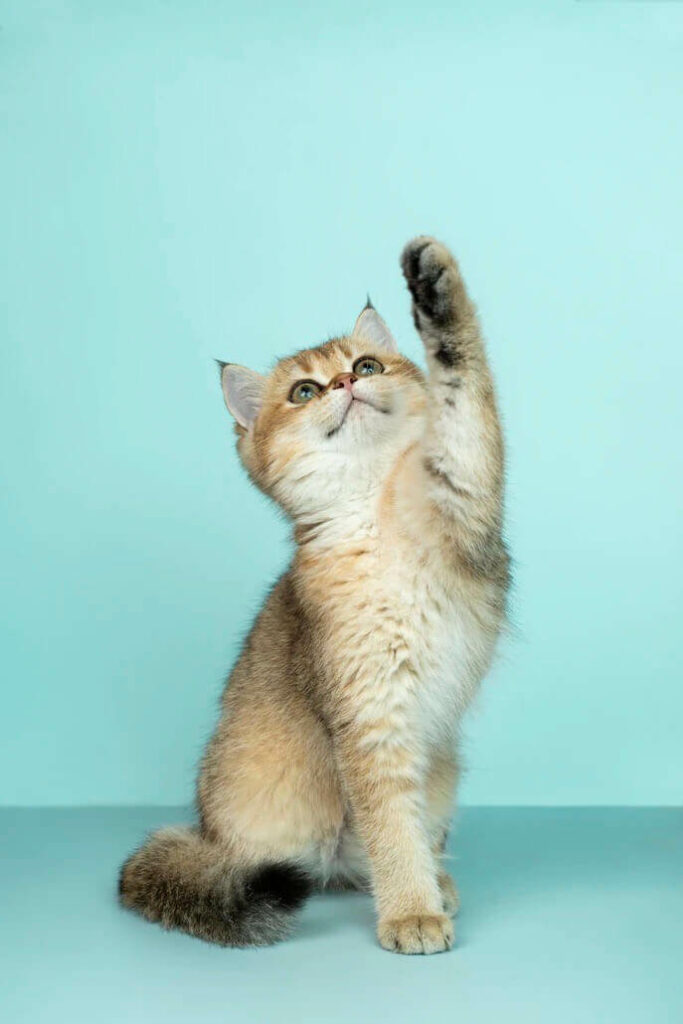 Now the pet portrait is complete and you can finally brag that your pet has been on a magazine cover!
With Beautyplus and these editing hacks, your pet photos are sure to be purrfect! Thank you for reading and happy editing!✨