Discover All the Halloween Aesthetic Tools in BeautyPlus
We have just started the favorite season of many, the spooky season! So this time we will show you all the amazing tools that you can use in BeautyPlus. Join the spooky season fever and get the best Halloween aesthetic photos with these tips.
(If you want to download free aesthetic Halloween wallpaper, click here!)
Table of Contents
Halloween Aesthetic Filters
Become a Fairy of the Night
This BeautyPlus filter transforms you in such an incredible way, that it will seem that you are wearing an excellent costume!
You can take a photo with some clothes that you think go with the essence of the fairies of the night, or use your favorite photo. This filter in addition to putting on incredible makeup will add two beautiful purple wings to your outfit!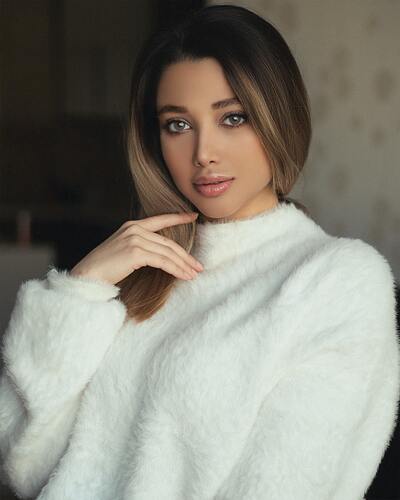 Ghosts, Bats and Pumpkins in the air
Visit another dimension with pumpkins and ghosts floating. A good idea to use this filter is to take a photo in which it seems that you are looking at these beings that float around you. You can tap the AR filter and choose from neon green ghosts, purple flying bats, or the classic Halloween pumpkins.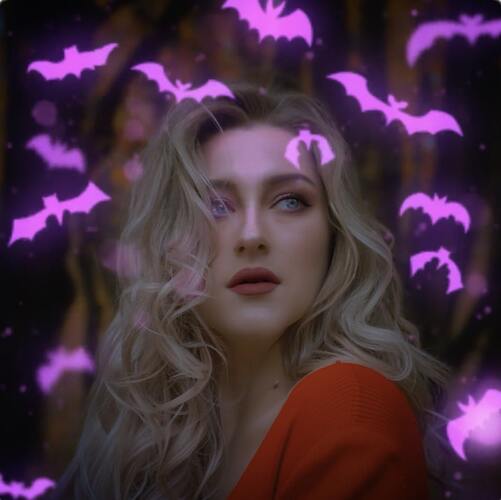 The Halloween Aesthetic Selfie in the Spooky Season
While we are in the spooky season, you can make all your photos, Halloween photos. Make your snap of the day with a beautiful Halloween headband, you can use other tools like the grid template to make your photo look more interesting.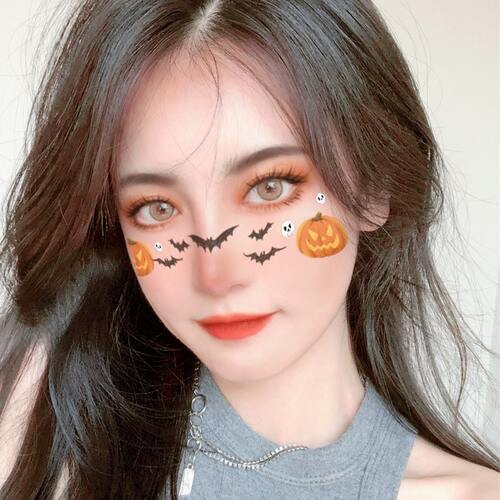 Halloween Aesthetic Stickers
With the Halloween stickers of BeautyPlus, you can transform any photo into a photo taken in the universe of the nightmare before Christmas.
Follow these tips to transport your photos to another dimension:
First, Remove What You don't Want
Halloween is a time for crowds and chaos but even in this environment we still don't want randoms appearing in our photos. Remember that to get a photograph that looks aesthetic, you have to take care of the background on your photos.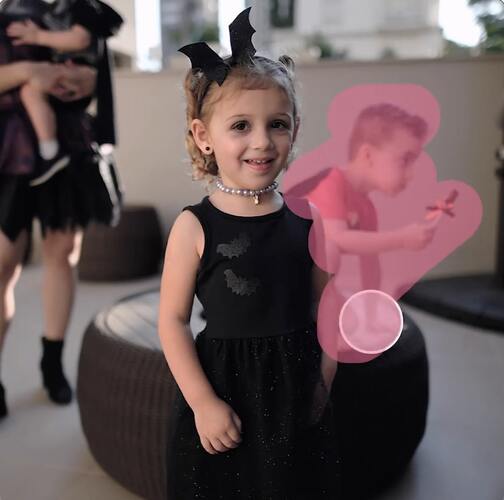 Use the Remover tool to remove unwanted objects or persons from your photos. It's very easy to use, you just have to select the tool and with the help of the cursor select the objects that you do not want to appear in the photo!
Now that you have your photo ready, check out these amazing ideas you can do with BeautyPlus to get incredible aesthetic photos.
For the Little Ones Halloween Aesthetic
Make the smallest of the family have indelible memories of this Halloween with super incredible photos.
You can place scar stickers to characterize them with the season. As well you can set the scene with pumpkin stickers and little ghosts throughout the photo. You can even make your pet part of the spooky season, by dressing it up with some devil horns.
You can also place wing stickers to add that touch of magic to the little ones' outfits.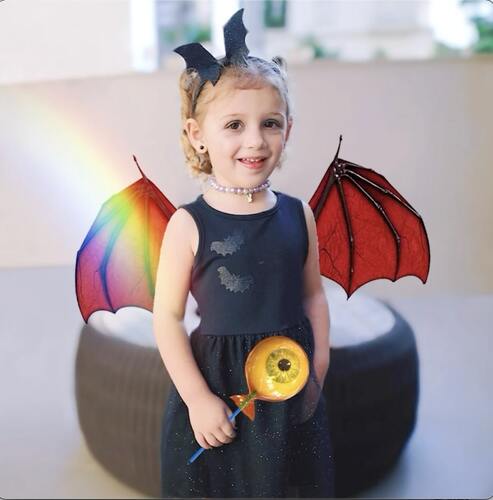 Angel and Devil Halloween Aesthetic Edits
Get the perfect look for a Halloween photo. Turn one of your halves into an angel, and the other into a devil.
First Add the black and white effect to one of the halves of your photo to make the contrast higher. Now check out all the Halloween stickers on BeautyPlus and let the magic begin.
Make sure to place opposite stickers on both sides of your photo. For example, a black wing on one side, and a white one on the other. Beautiful flowers, facing a ghost. Angels on one side and bats on the other. Go as far as your creativity takes you!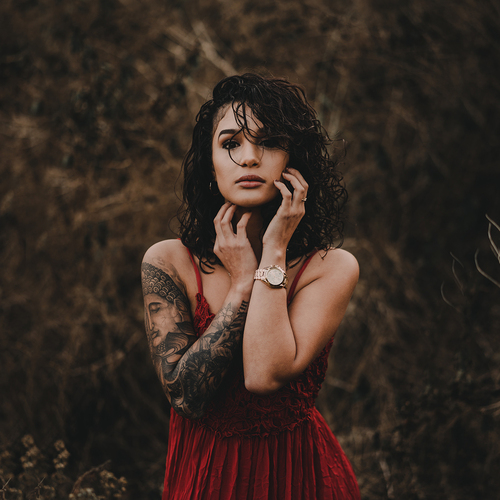 Halloween Aesthetic Sky Effects
For this season, BeautyPlus releases 6 new sky effects for Halloween! Get to know them and upload the most amazing photos of your school, neighborhood, house, or vacation. With these sky filters, wherever you are it will be Halloween.
Scary Things in the Skies
There are two things that almost everyone is terrified of. The spiders and the watchful eye of a stranger. You can make the sky become one of two things.
Make a huge eye appear right in the middle of the night, with a terrifying look. Or a giant spider that shoots lightning bolts through the sky. Choose the one that seems creepiest to you!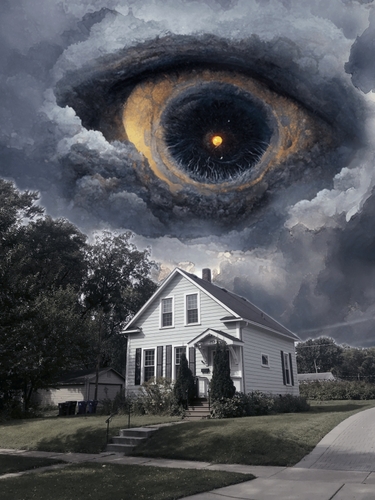 Are We in Strangers Things?
You will make it seem that your city is about to become the city of Stranger Things. This sky filter will put rays everywhere making the sky change color. As vampires fly in the air and a large unidentified object appears just above you.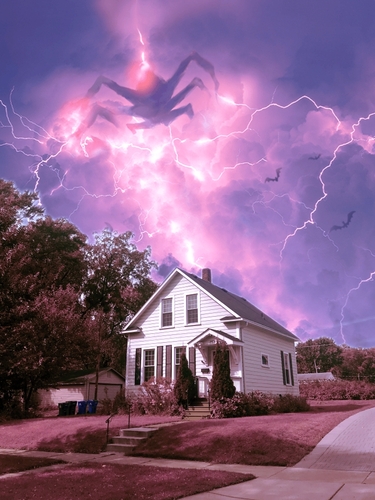 Classic Halloween Skies
Of course, you can also go for something more classic Halloween and create a hazy night where some witches go for a ride flying on their broomsticks. Another option is to make the perfect night for Dracula and put bats under the branches of a tree on a full moon night.
Or you can make it look like the moon is turning red by painting the entire sky that color. That could only happen on a Halloween night.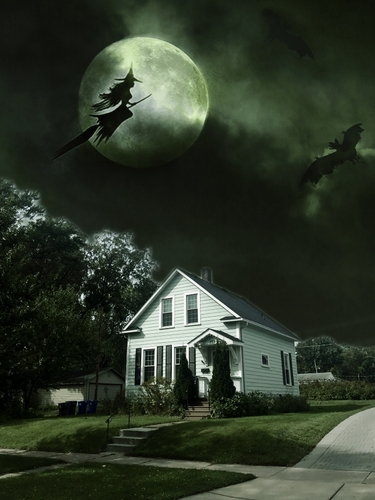 Halloween Aesthetic Makeup
And of course in BeautyPlus, you will find the best Halloween makeup filter! Enter your application so you can discover all the Halloween makeup filters.
If you want to achieve the perfect fusion between an aesthetic photo and a spooky season photo, try these filters: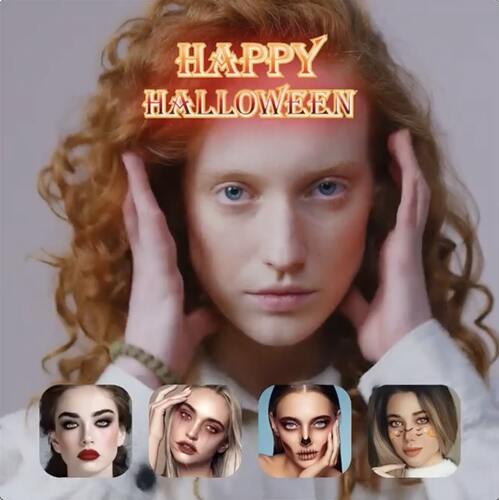 Gothic Halloween Makeup
Nothing is more aesthetic than the gothic. With this filter, you would get a gothic but sexy look. You will have perfect eye makeup, with black shadows and eyeliner. And, an almost pale skin tone that will highlight the camersí red color of the lips.
Undead Halloween Makeup
If you are from a club that loves undead movies, you will love this filter. It will make you look like the walking dead but without making you look bad.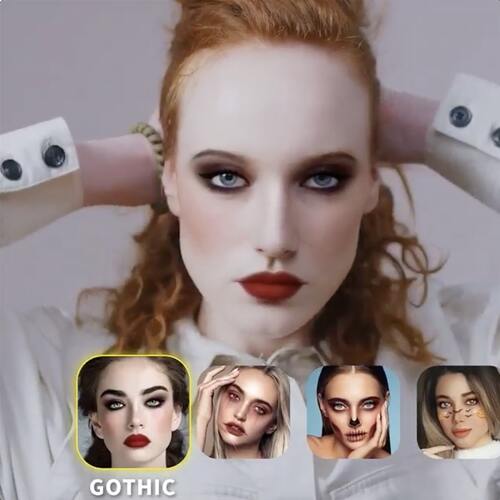 Skull Halloween Makeup
You can also become a skull! This effect paints your cheeks to make your face look like a skull. Also, paints your nose and lips. As well it gives a charming look with long eyelashes to your look. You will look like a Mexican Catrina.
Pumpkin Halloween Makeup
If you want something more tender, you can try the pumpkin filter from BeautyPlus. A mask of bats and pumpkins will appear on your face, and an orange shadow will appear on your eyes that will put you in the whole Spooky season vibe.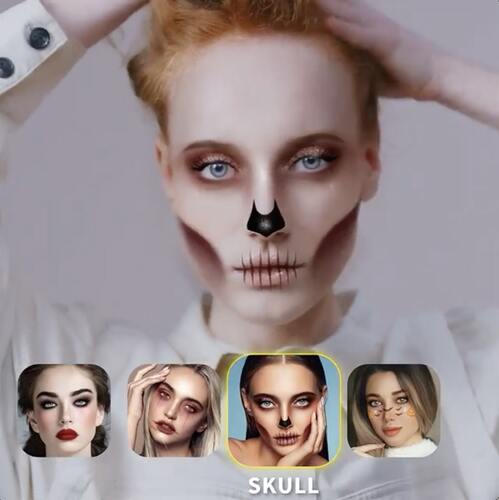 And Some More Halloween Aesthetic Content
In addition to these ideas that we have just given you, you can experiment and add to your spooky season photos: Halloween photo templates, Halloween text, Halloween brushes, Halloween wallpaper and so on.
So, start experimenting with all these Halloween tools, stickers, and filters that BeautyPlus has, and get the coolest Halloween aesthetic photos!