How To Give Your Photos a Beautiful Black & White Aesthetic
Black and white are the most beautiful colors put together. Whether it's on your favorite black and white vans, or your favorite black and white shirt. It always goes beautifully together.
On most photos, it gives it a vintage and retro look, and can also change your mood. Photography has been around for decades and black and white has always been here for us, way before color. Most of the time we're so used to colored photos, that we forget to give black and white photos a chance. Keep reading as I show you, How to Give Your Photos a Beautiful Black & White Aesthetic.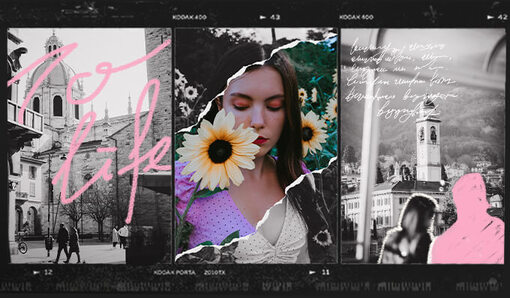 Table Of Contents:
4 Fun Tips for Black and White Aesthetic Editing
Tip 1. Edit with Black and White Filters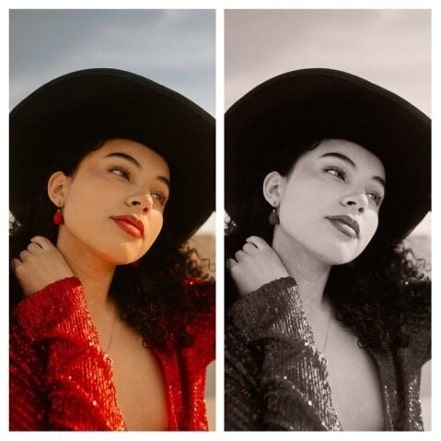 Black and white pictures gives us a chance to focus on the real features and beauty of our pictures.
In this photo example, I have used BeautyPlus's Tan B&W Filter. If you're somebody who loves the tan look to your photos, this B&W filter will be your best friend! This filter really complements all complexions and represents the beauty of black and white images. BeautyPlus has other super cool B&W filters as well! I recommend you try Chrome, Calm, Classic & Noir. These filters all give you the option to adjust to your liking, and make it as deep and dark as you want, or even B&W with a slight hint of color. It's all your choice! and that's the beauty of BeautyPlus's B&W Filters, not only can you turn your photos black and white, but you can turn your photos into YOUR desired black and white!
Tip 2. Black and White Filter + Handwritten Text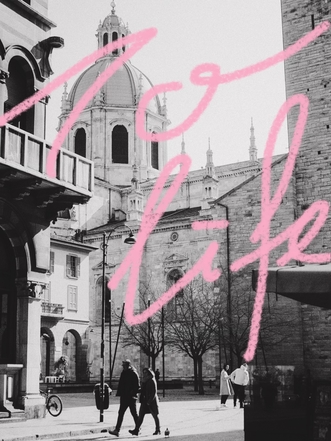 Adding fancy fonts to your B&W image really gives your pictures that extra boost! BeautyPlus has many cool fonts & text styles to choose from.
First In the app, I selected "Text" and "Styles. The Fancy Text I choose in this image is called "Gotcha". It goes together so beautifully with the black & white image, giving it a elegant look. After I added my writing, I clicked "Text" which you can find beside "Fonts" and that was where I was able to change the color of my font aesthetic. BeautyPlus has so many other fonts that are similar to Gotcha like Playball, Ephesis & Pinyon. Check out BeautyPlus's Fun fonts, I guarantee you will find your Go-to font that you'll always want to use!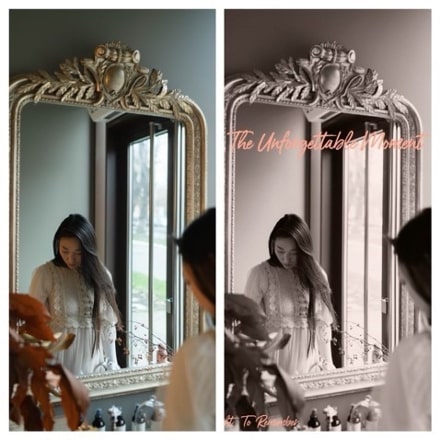 Tip 3. Use Fun Shadow Stickers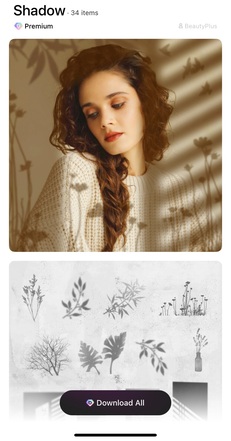 BeautyPlus's cute & fun shadow stickers really give your photos an eye-catching mysterious look. This will be the best shadow app for you. They always complement black and white images the most!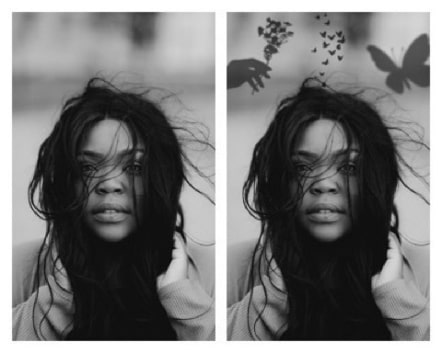 In this image, I used the Shadow2 sticker package which you can find in the BeautyPlus Sticker store, and automatically add the shadow package to your BeautyPlus sticker collections. In this image, The shadow stickers I used are the hand holding flowers, I slightly tilted it towards the left end of the photo, which gives it more of a natural look. I also added tiny butterflies, and a bigger butterfly located in the top right of the photo. The Shadow2 Sticker package includes 29 shadow items in total to choose from, I guarantee you will love a lot of them. Be sure to check them all out and try them on your photos!
Tip 4. Create the Ripped Paper Effect or Use Brush to Highlight Colors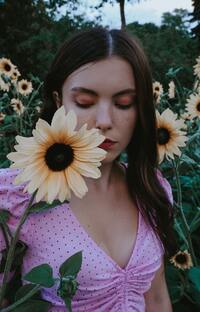 The Ripped paper effect gives Black and White images a unique and creative look. I 100% recommend this sticker if you're going for a different creative look.
In this image, after applying B&W filter, I used the "Collage" sticker package for the ripped paper look. You can find this sticker package in BeautyPlus's Sticker Store. Select "Retro", and there you will be able to add the whole sticker package your collections. When you have the package, find and select the ripped sticker similar to the one in the image above. Place it onto your photo and adjust the size of the ripped sticker to your liking. After that, import the original image as custom sticker, and start erasing the unwanted part with the eraser, and it is done!
Apart from using ripped paper sticker to highlight a specific section of your face, you can also use "Brush" together with the Black and White filter for an impressive result!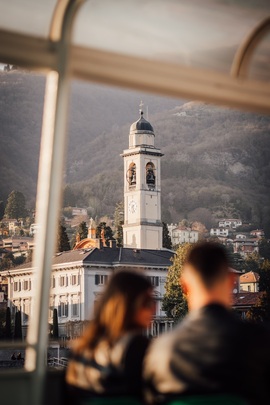 Why Black and White Aesthetic is Trendy
Black and White photography is trendy in many different types of photography, and it's trendy for a very special reason. B&W photography is very popular in Boudoir photography, Wedding photography, Landscape photography and so on. The special reason as to why is because it makes photos more meaningful. It allows your audience to really pay attention to your image. Whether you're also a creator in nature images, funny images, or even sad images. It doesn't matter because there's no color to distract your audience in B&W. They are always going to focus on what is physically in your picture.
Black and white photography also tends to give off an emotion. An emotion that your audience possibly feels as if they can relate to. For example, many people tend to enjoy sad images, especially if they feel like they can relate to it at that moment in their life. It's the black and white that really triggers that emotion. These are the reasons as to why the Black and White aesthetic is trendy. It's also all about finding the best photo editor to give you the best Black and White image. And this is where BeautyPlus's B&W filters will be the best decision for your photos!
The reason why I absolutely love and cherish BeautyPlus's B&W filters so much is because they have great-looking B&W filters for any kind of image, not just one kind. Whether you do Fashion photography, Real Estate photography, or even Nature photography. BeautyPlus has a ton of perfect-fitting B&W filters for all photos to suit your trendy black and white aesthetic. Be sure to try them out now my friend!