How to Make Halloween Aesthetic Edits
Hello all, and welcome to the Spooky Season! Are you excited about Halloween? You might be like me, a person who LOVES the month of October, Halloween and the festivities related to the holiday. Or you might not care that much about it, and just want to have a little fun with some Halloween aesthetic edits. Either way, hopefully you'll get lots of cool tips from this post.
Let's go through the hottest Halloween aesthetic edits that are trending right now. And explore some ideas on how to make quick spooky edits with a few taps.
Are you ready? Follow me! 👻
(If you want to download aesthetic Halloween wallpaper, click here!)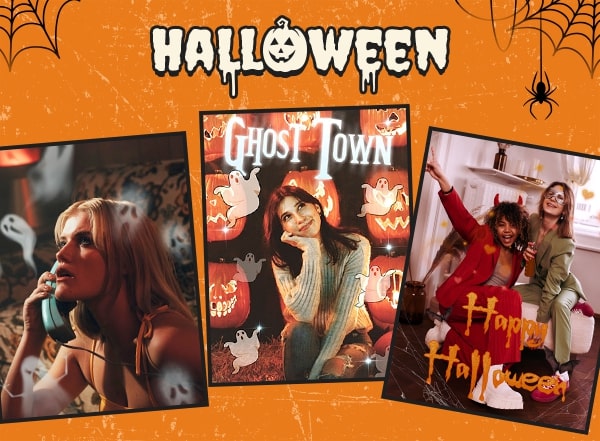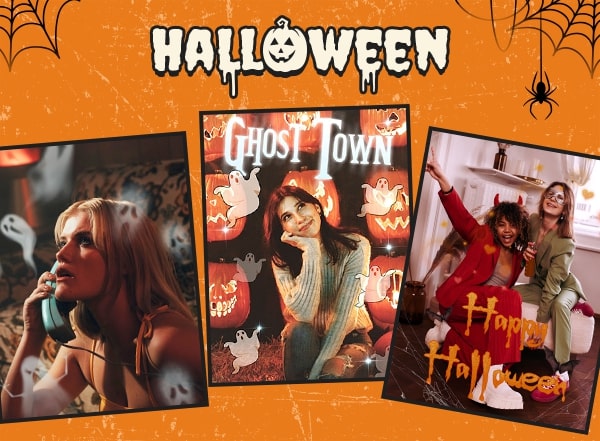 Table of contents
Halloween aesthetic edit trends
When it comes to Halloween aesthetic edits, just like Halloween costumes and decorations, some styles are timeless classics. Others come and go depending on our collective mood.
I've noticed that recently one of the main editing trends in general is retro tech. And it is just perfect for spooky edits because, for some reason, old tvs and cameras can look very scary!
You can try the retro recording camera edit, for example. I love this one I used below, which is an AR filter from the BeautyPlus app. Not only does it give the photo a distorted vintage camera look, but it adds some spooky makeup that looks ultra realistic!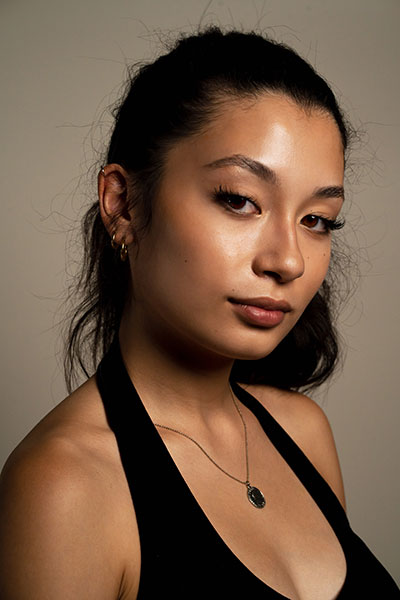 Speaking about retro, anything that seems to be from previous decades is trending right now in the world of aesthetic photo editing. Particularly, that old time movie look, with a 60s, 70s and 80s vibe, is just killing it right now. Needless to say it's perfect Halloween material!
If you're into that style, try the ghost brush from BeautyPlus app and get an awesome scary vibe to decorate your vintage looking photo.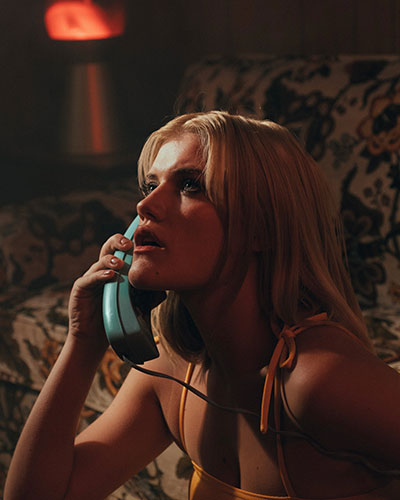 Anyone else feeling like they're in their villain era? Well, there's no better time of the year than Halloween to explore that more in depth. The collection of AR Halloween filters from the BeautyPlus app is full of amazing options to find your perfect evil villain look. Pick your favorite from evil queen, skull, devil, vampire, cyborg, ghost and many more.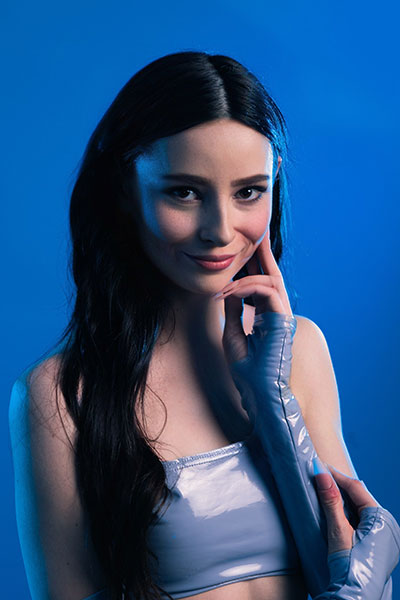 Last but not least, one of my favorite Halloween aesthetic edit trends of all: intentional minimalism! Just one detail added to a cool photo and you have yourself an image that's unpretentious. And at the same time, it shows you're participating in the fun.
My suggestion? The super cute devil horn sticker from the BeautyPlus app!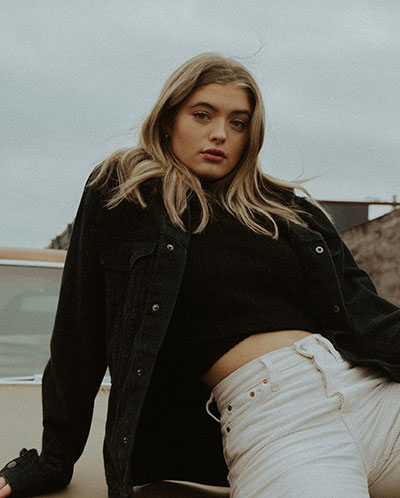 AR Halloween aesthetic edit ideas
Want more edit ideas to get your photos into the spooky szn vibe? Here are 3 AR filters that are guaranteed to make your photos look super aesthetic. And they will only take you one tap to create.
I love the glitchy TV set filter because it's so unique and cool. I mean, the retro tech trend strikes again, I guess. Why are they so creepy?? I guess we'll never know.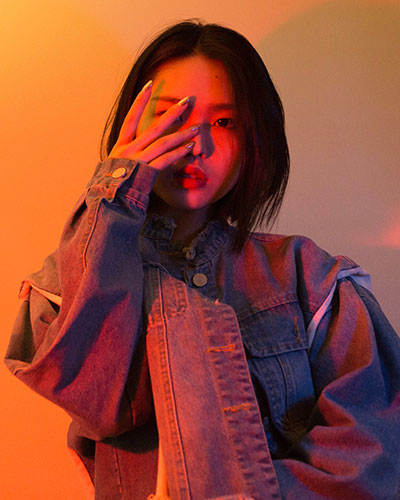 Want to add some Halloween creepiness to your photo while highlighting the stunning beauty of the god damn queen that you are? Then this is the edit for you. The perfect baddie Halloween pfp idea, imo!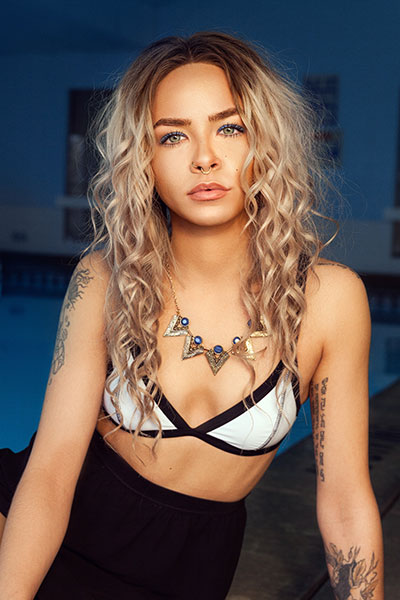 If you're more in the mood to try something half spooky, half cutesie, say no more. You should try the ghost makeup + glitter filter on the BeautyPlus app and get this adorable soft aesthetic Halloween edit.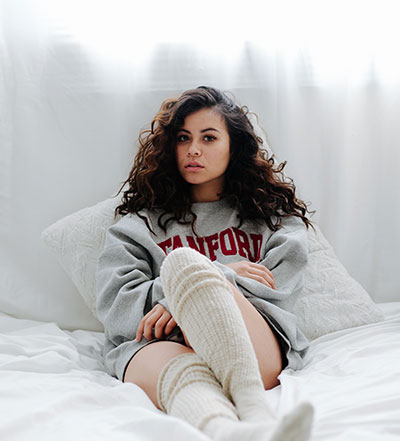 Halloween aesthetic edits with stickers
No matter the style of image you want to edit, you'll always find stickers to match it and make it look cooler and more aesthetic. One option is to add little fun ghosts all around you in a playful way. Add a title to the top as a final touch.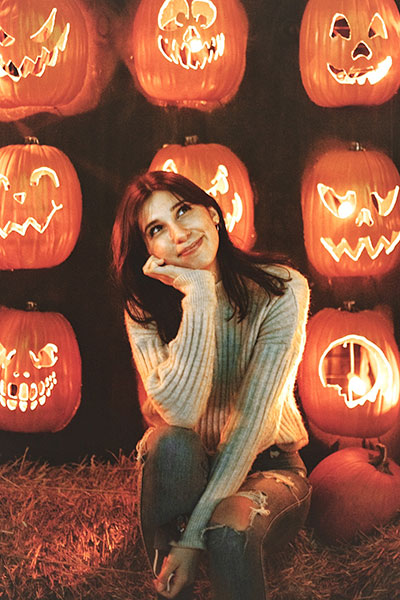 Background walls are also great for playing around with stickers. You can add your favorite ones and create a pattern that seems to be painted on the wall. It also makes the picture much more interesting.
Pro tip: Tap the sticker, then the three dots, then Layer Style. You can change the opacity and blending mode to make them look more realistic.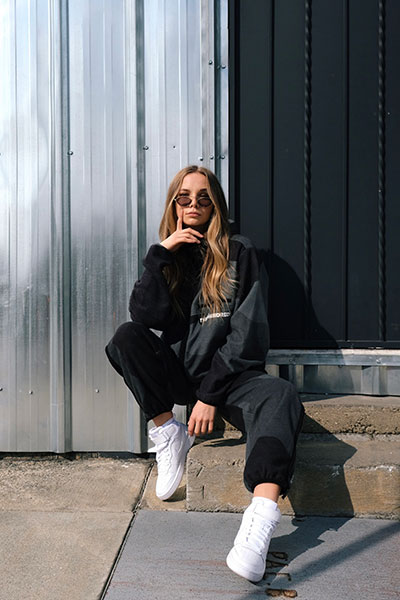 Halloween aesthetic edits with a spooky vibe
If what you're looking for is a really scary Halloween aesthetic edit, make sure you give the bloody handprint brush from the BeautyPlus app a try. You can apply it on your skin, windows, walls… Finish up with one of the special Halloween filters on the app to complete the vibe. Here I used the Screen4 filter.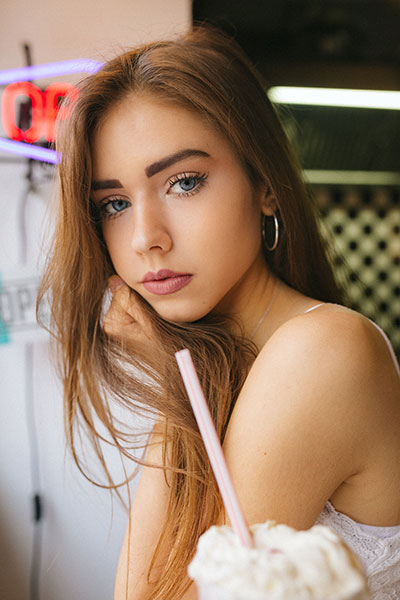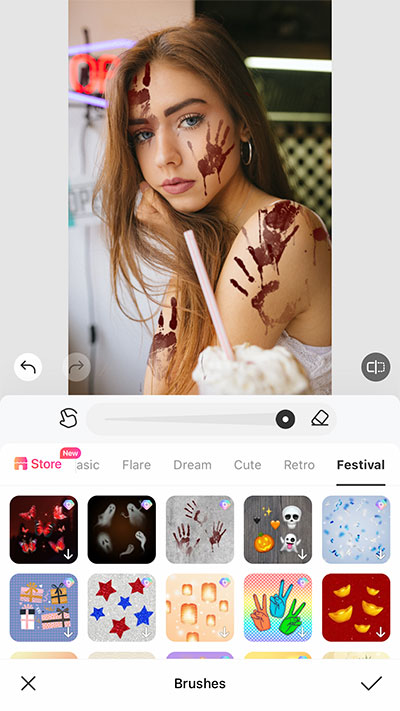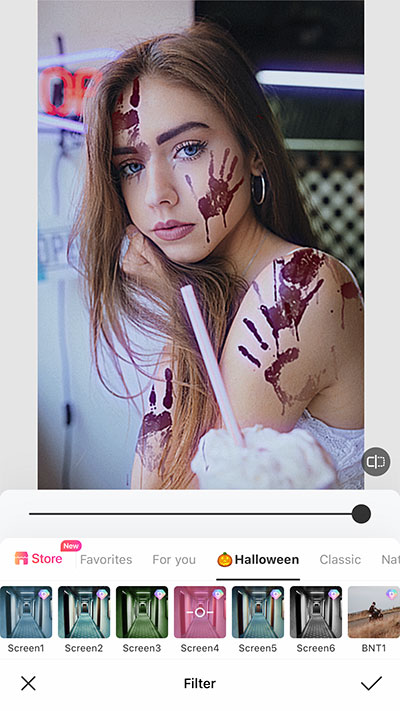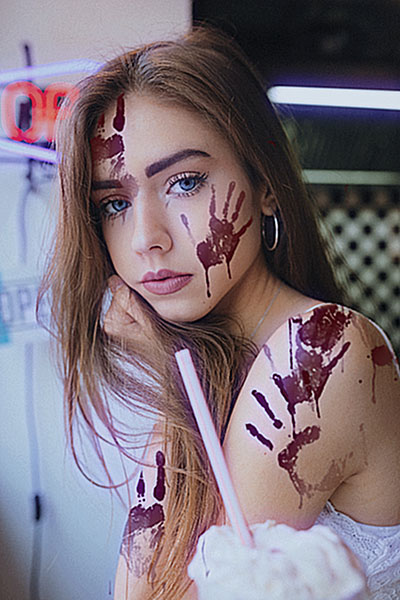 Check out below how a pretty and soothing picture can become real creepy, real fast! This AR effect from the BeautyPlus app will add a subtle Halloween makeup to your face and a torn/burnt paper effect to the image. 100% will achieve the spooky look you're going for!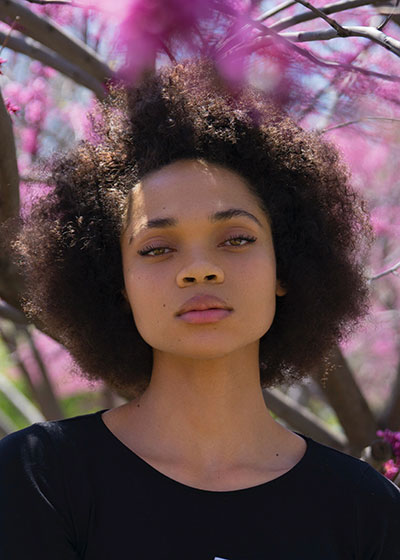 Halloween aesthetic edits with a fun vibe
Now if it's more fun and playful that you want, then here are my suggestions!
You can add colorful ghost stickers and some red glitter spread loosely around the pic, like I did below. Make sure your photo has a fun vibe to begin with. In that way the whole image will have a concise aesthetic.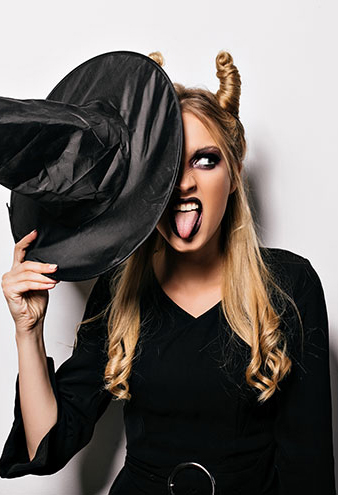 Finally, you can use the Happy Halloween sticker to decorate the best shot of you and your bestie(s) rocking your awesome costumes. Add the orange/red bokeh sticker followed by the HOR3 Halloween filter as the final touches of a super cute digital Halloween greeting card.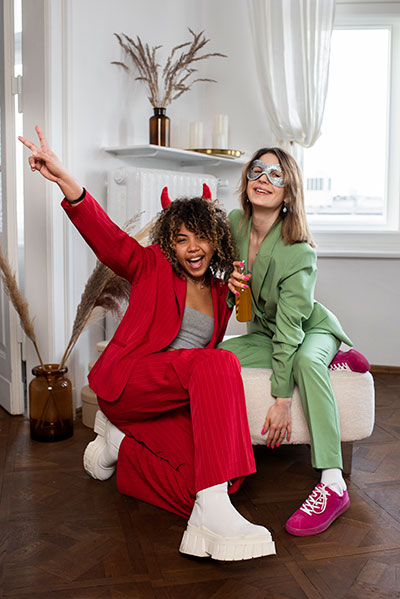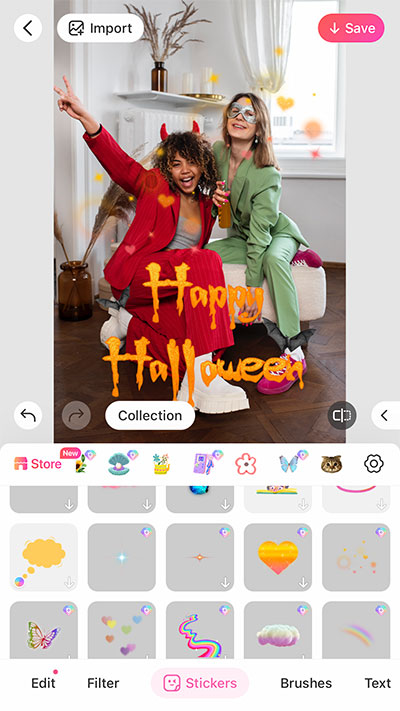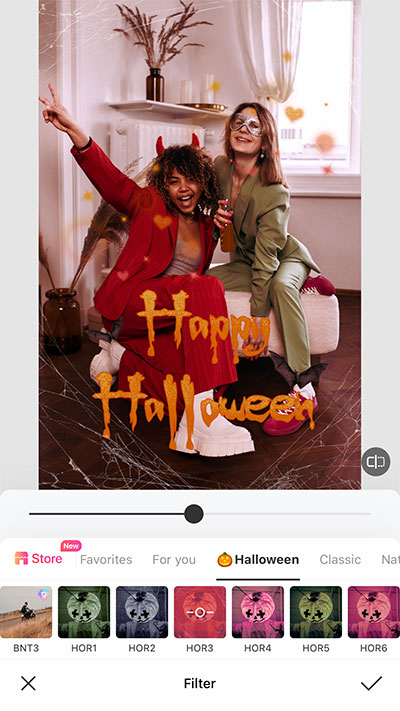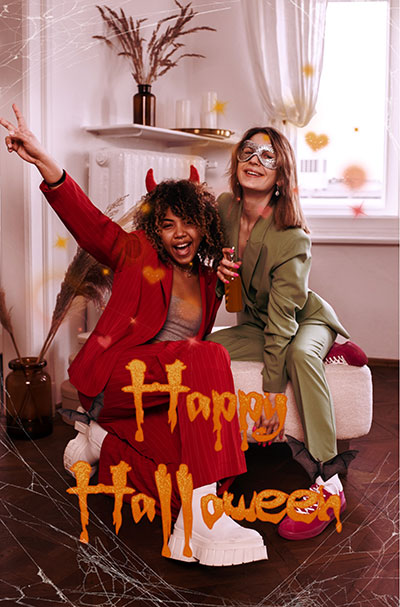 In conclusion, Halloween is one of the most fun times of the year. It is a great excuse to get more creative than ever with your photo editing skills. With these filters and stickers it's easy to get in the spirit of the Spooky season 🎃✨
(If you want to download aesthetic Halloween wallpaper, click here!)