How To Turn Your Photos into Cartoon Profile Pictures
Do you like cartoons? Have you been wanting to make a Cartoon of yourself?
Well, luckily you came across this blog post! There are so many ways to change your photos into fascinating cartoon profile pics (cartoon pfp) through BeautyPlus. A lot of these cartoon filters bring your photos to the next level of 'cartoonist'. Keep reading while I get into how to cartoon yourself or turn your photo to cartoon image.
(If you want to turn photos into art, check here)
Table Of Contents:
1. The Cartoon Filter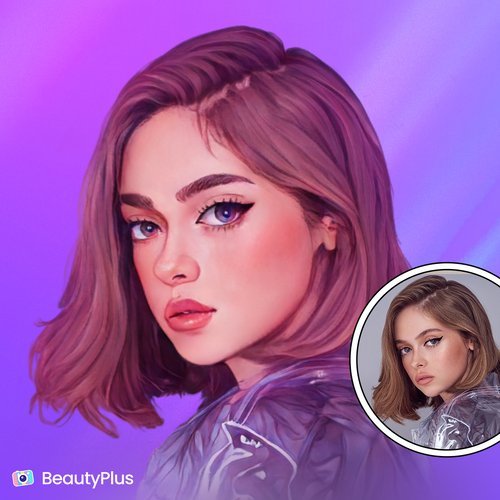 The 2nd one credit to @itsmeoswaldo
The Cartoon filter is super popular now and guess what? You can use it now, too!
In the latest version of BeautyPlus (v.7.5.060), you will find this amazing cartoon effect that will turn your real selfie into a full cartoon profile pic.
I love this effect because it turns my selfies into actual cartoon-looking characters. You can even make your own cartoon pfp in an easy way. You don't need to find an illustrator or cartoonist, but with this cartoon filter, you can instantly cartoonize any picture. And If I post my anime profile pictures, my audience wouldn't even be able to tell that it came from a real image!
How to get this Cartoon filter? Simply go to "Edit", choose "Style", go to "Modern" tab and select "Comic". We all should channel our inner female cartoon characters once in a while, and male. Give it a try now!
2. The Comic Style Sky Effect
Hyaline & Dawn Sky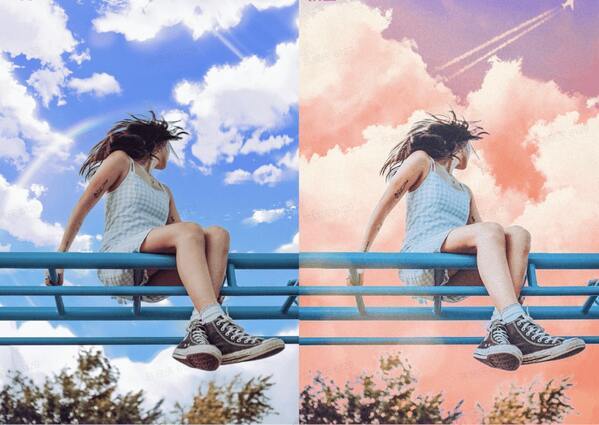 Apocalypse 1&2 Sky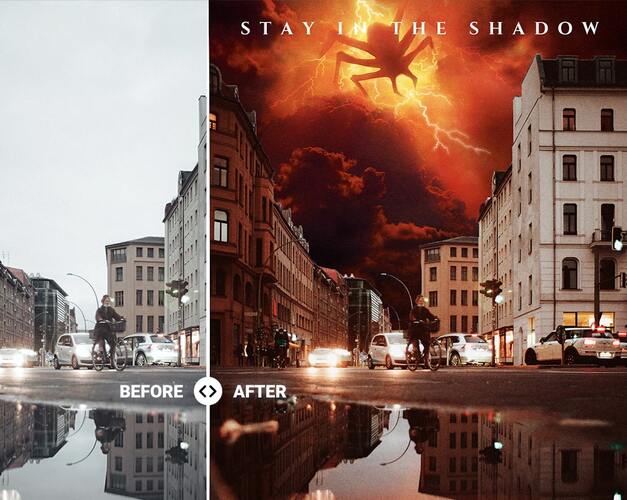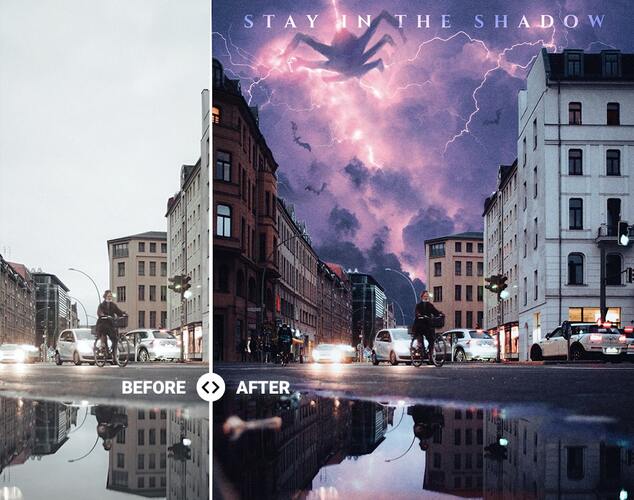 Another alternative to spicing up your cartoon images is by adding a beautiful sky.
In the examples above, the before results show real images, and the after results show a realistic cartoon version with the sky to go with it. There are many skies you can choose from the library, and recently two Stranger-Things-style skies come out! Replacing the sky is a great option if you're looking to make your cartoon image more appealing. I 100% recommend using the sky effect if you are upset with the grey sky or cloudy sky. You'll notice the huge difference it makes. And it honestly just looks so much better!
Simply go to Edit, Style and select Sky.
(Other Sky Effects to edit your cloudy sky, check out here)
3. AR Crayon Shin-chan Effect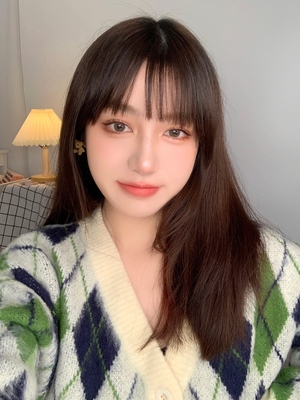 If you're going for a detailed cartoon look on your image, I recommend the AR Crayon Shin-chan effect. You can also squint to switch different expressions on your cartoon pfp.
Whether you like 90's cartoons or Disney cartoons, the Shin-chan Effect will turn you into a cute cartoon pfp that you'll like just as much! Simply select Edit, AR Effects, and you'll find it in "Funny". Check it out now!
4. Disney Style Cartoons on Your Pets + Funny Stickers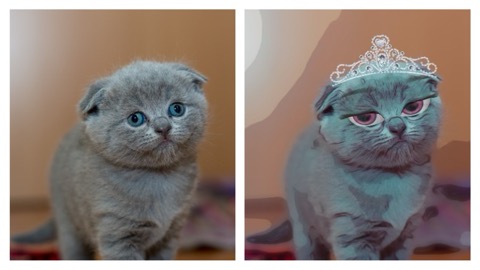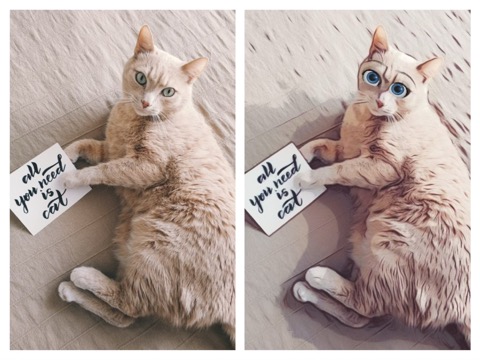 Photo by Vadim B, Alena Koval & Valeria Boltneva via Pexels
Not only can you change yourself into a cartoon, but you can also turn your pet pictures into cartoon pfp! You can turn your pets into funny cat & dog cartoons by using the cartoon effects and funny stickers.
In the examples shown above, here is the editing process: 1. Go to Style, and choose "Comic" in "Modern" tab; 2. Go to stickers and use "Pet accessories" for the Disney eye sticker; 3. Add more stickers like "Pet accessories 2", and it is done!
For best results using the stickers, I recommend selecting the sticker, going to "Layer Style", and testing different blend modes to make your stickers blend naturally into your photo.
(More editing tips to make your pet portraits funny and cute)
5. Poster Art Effect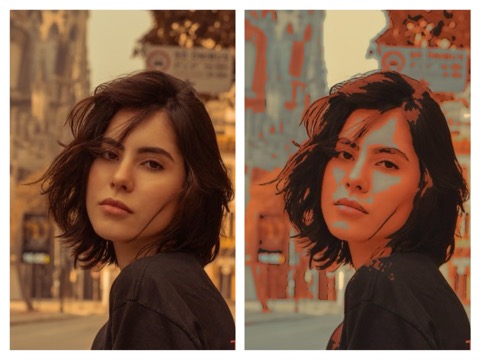 Photo by Becca Correia via Pexels
The poster art filter is a colourful option for turning your image into a cartoon pfp. I love this one because of the retro cartoon vibe it gives. If you're looking to make cute and different cartoons, I highly recommend using the Poster Art Filter. You can also use the slider to make the filter as light or as dark as you want it.
Simply go to Edit, Style, Modern and select Poster Art.
6. The Gourmet Filter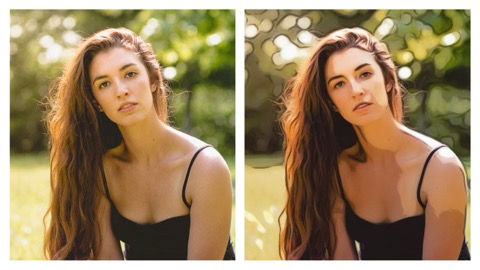 Photo by Spencer Selover Via Pexels
The gourmet filter is my favourite choice to cartoon my profile image. The gourmet filter gives off a drawing/cartoon vibe. If you're looking for a realistic sketch of yourself, you should use this!
This filter is my favourite because of the hand drawing effect it gives off at first glance. I also find that this filter gives off a shiny cartoon look. You can also use the slider to make the filter as light or as dark as you want it. Simply go to Edit, Style, Modern and select Gourmet.
7. The B&W Effect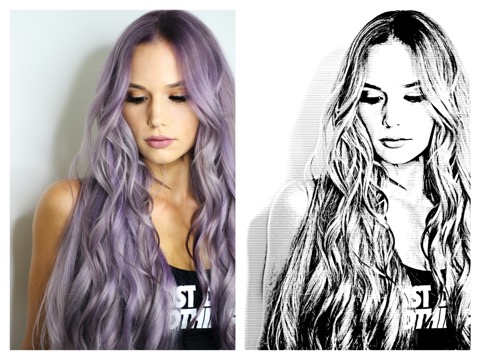 Photo by Kareya Saleh via Unsplash
The B&W effect is great for those who like B&W cartoon vibes.
Did you know that the first cartoon ever was black-and-white? This filter will give you early 2000s cartoons vibes, and it looks amazing! This filter also has a slider for you to make the lines on your cartoon photo as light or as dark as you want them. You can choose from the degree or pattern of the lines to change. You really can't go wrong with these cartoon filters because you can make it into anything you want it to be!
Simply go to Edit, Style, Modern and select B&W.
8. Why Cartoon Images are Trendy & Why You Should Try It
As most of us already know, cartoons have been around for ages. The first cartoon ever was made in 1908. It was called 'Fantasmagorie'. Till this day, it is known as The first animated film ever. Fantasmagorie showed people the magic of animated pictures and changed how people saw 'reality' in movies.
Because of the inspiration and impact cartoons held over the years, is what allowed cartoon images to have a successful comeback, and that is one of the main reasons why you probably see cartoon images of people more often nowadays. Turning yourself into a cartoon image, would've been the definition of making the impossible happen. Years ago, we never had resources to be able to easily change our images into cartoon characters that we want!
Back then, all characters and items were drawn on a single sheet of paper, then photographed. To know that we now have awesome resources like this to make cartoons, is a great thing, and a great opportunity to take advantage of. It's all about choosing the best photo editing app, and that's where I can honestly say BeautyPlus won't let you down. With the amount of cartoon options to choose from, you won't be dissatisfied. Whether you enjoy Disney cartoons, Nickelodeon cartoons or old school cartoons, BeautyPlus will turn your Cartoon profile image to the best cartoon pfp on the Internet!