Spooky? Cute? Pretty? Pick Your Favorite Halloween Makeup Filter
It's the middle of October and that means it's the season for Halloween Makeup! Fall is the best time to experiment not just with warm Autumn colors, but with spooky and fun unique ideas. You can be inspired by Halloween images to create different kinds of makeup looks, or try different Halloween stickers and filters BeautyPlus has offered. We'll be going over popular types of Halloween makeup filter for taking selfies with, and end with a step-by-step tutorial on how to create your own spooky cute makeup look from scratch.
Table of Contents
1. Spooky Halloween Makeup Filter
What most people imagine when thinking of makeup ideas for Halloween is a classic spooky look. Dressing up as monsters and ghouls can bring out intense and bold makeup looks such as these: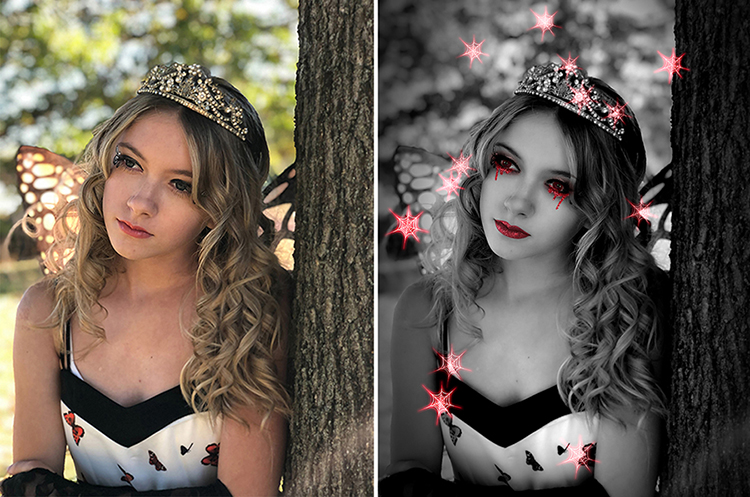 (Photo by Alyssum Mormin)
Above, I used a vampire AR Filter from the BeautyPlus App. This Filter highlights any red and makes them pop very boldly in any Halloween Selfies you take.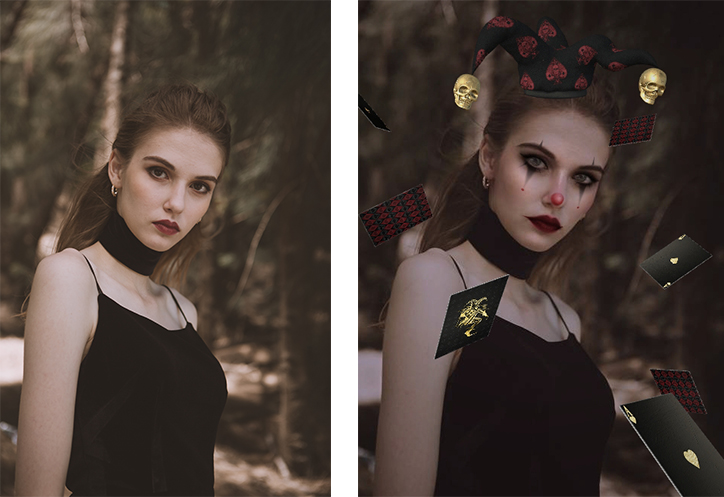 This interactive AR Filter from BeautyPlus alters your makeup and has floating accessories as you pose for different selfies.
2. Cute Halloween Makeup Filter
Alternatively, if you aren't one for being too spooky or scary, cute makeup looks are a just as popular choice. Taking selfie inspiration from the fall themes of the season, such as the color of the leaves to the pumpkin and snacks, there are tons of cute ideas to influence your look.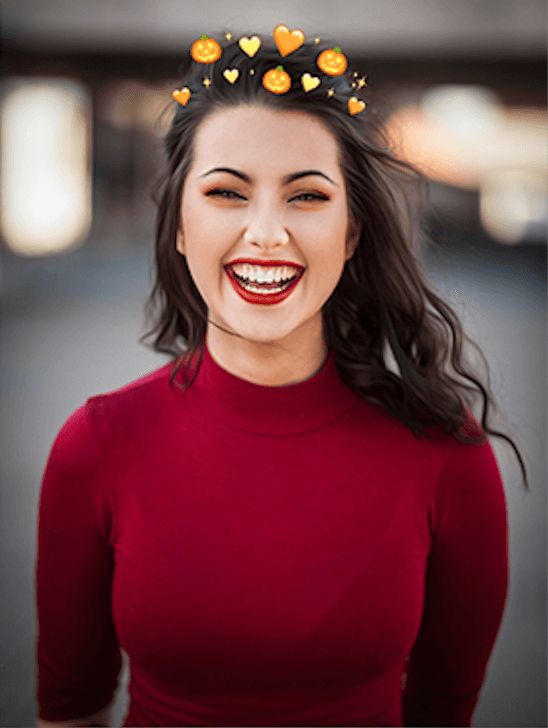 You don't have to be scary to take a fun Halloween photo. This AR Filter utilizes fun Halloween themed emojis that almost everyone is familiar with. They halo over like a crown so you can focus on your cute signature smile!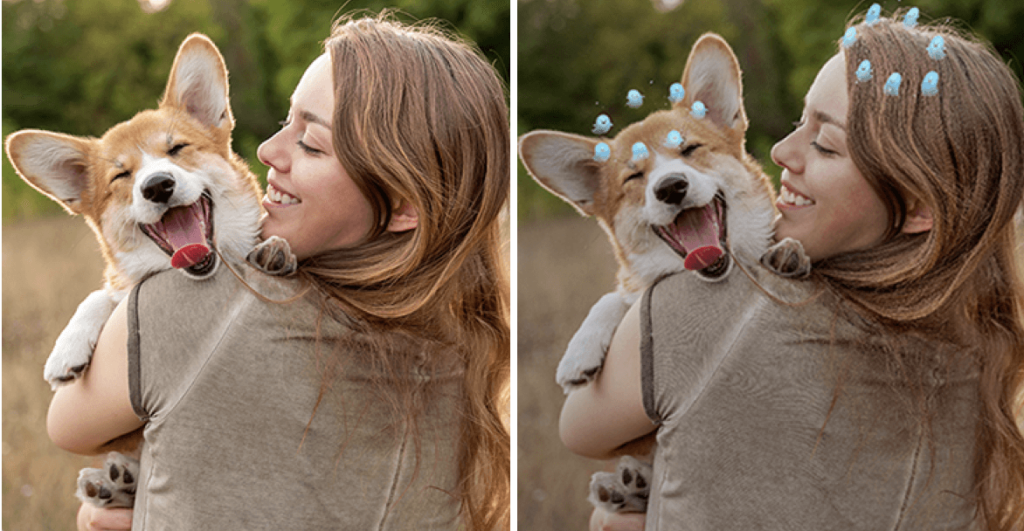 These cute little ghosts from another one of BeautyPlus's Halloween themed AR Filters capture any face to give off this cute haunted selfie vibe.
Your Halloween aesthetic doesn't need to be dark and spooky. If you prefer lighter colors and pastels, then this is the perfect aesthetic for you!
3. Pretty Halloween Makeup Filter
Beyond a couple of classic Halloween Makeup looks, sometimes some people just want to feel pretty and take a few girl selfies. There are ways to still take pretty pictures while still keeping up with Halloween Makeup Trends.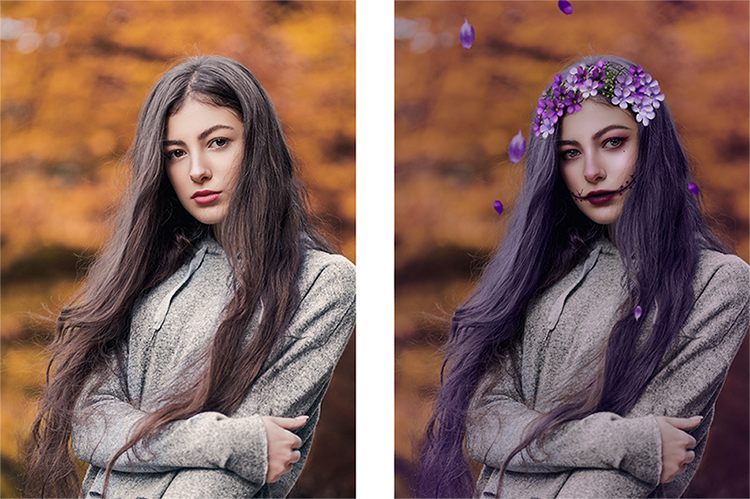 This gorgeous photo utilizes this fun purple Halloween Makeup look. Offered as another interactive AR Filter on BeautyPlus, this gives you a crown of violet flowers with some spooky yet pretty lip and eye makeup.

(Photo by Brock Wegner)
This BeautyPlus filter adds a fun pretty element to the background of any of your Halloween Selfies. The glowing pumpkins and dark atmosphere brings all the focus and attention to you and your look.
4. How to Make a Cute Halloween Makeup Look with BeautyPlus (from scratch)
In conclusion, I'll be going over how you can build your own cute Halloween Makeup look from scratch using the BeautyPlus App. There are a ton of options from Halloween Stickers to customize digital makeup looks. The walk-through below will show you step-by-step how easy it is to experiment with your Halloween look this year!
Here is the original, and the final look: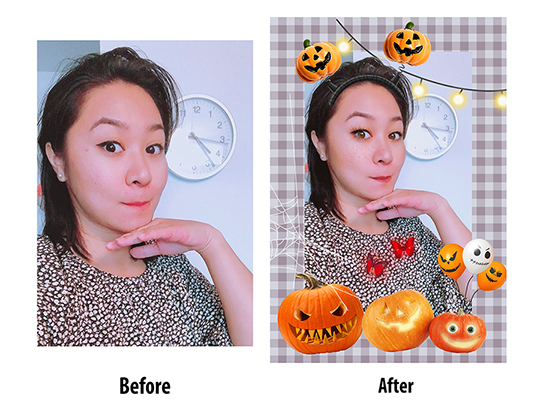 Step 1: Prepping the base colors for the selfie
For me the colors are a little too cool toned, so I'll warm them up using the built-in Filters. I used the Filter Milky at 32.
Step 2: Acne and face toning
Before I can get started on the makeup, I want to cover up a few acne scars. With the Retouch Tools, I like to go all the way down to the Acne tool, and use Manual to spot each area I want to fix.
I also used other Retouch tools such as Smooth at 14.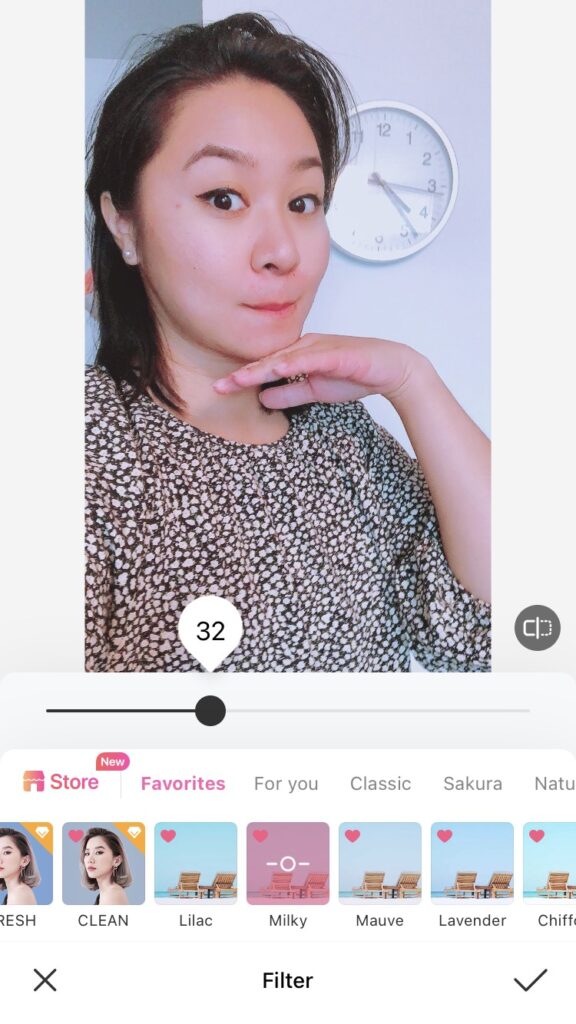 Step 3: Makeup Edits
Staying in the Retouch Toolbar, the third button option is Makeup. From there you can try out features for lips, eyes, hair, and overall blush or contour. Since we're focusing on Halloween makeup for this selfie picture, we're going to aim for warm browns and bright oranges.
On Lips, I used BR02 with the Heavy Lips setting at 83, just to make them a little darker and pop out. Moving on Blush, I used YL01 with the Fresh setting at 77.
For Contour, I used the Freckles 1 option at 80.
For Eyebrows, I used the Horizontal Setting at 65, using the redder brow color RB01.
When it comes to Eyelashes, I don't normally use bigger lashes, but for this Halloween inspired look, I used the Sexy lashes at 76 using color BR01.
Eyeshadow can be really fun to try out. I ended up going with the color Pecan at 85.
I also don't normally use the contacts feature, but I thought the Feline contacts (used at 83) looked really cool for a spooky Halloween look.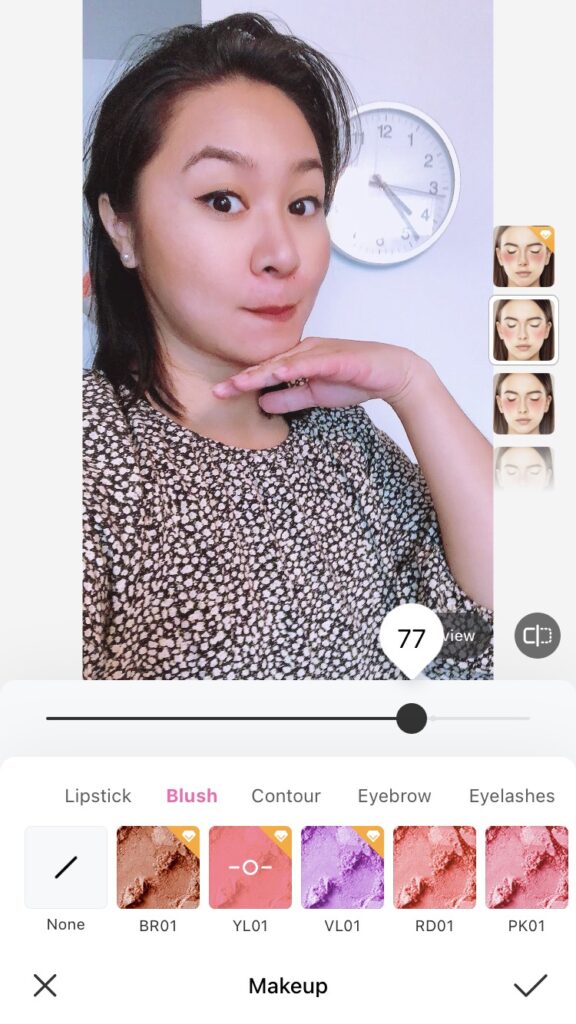 Step 4: Fall themed Background
I wanted a funky frame for the overall selfie look, so I went to the Background toolbar and picked a gingham texture I liked.
Step 5: Decorating with Halloween Stickers
Lastly, I wanted to play around with the Halloween stickers that BeautyPlus offers. I used a few spooky designs and scattered them around the frame.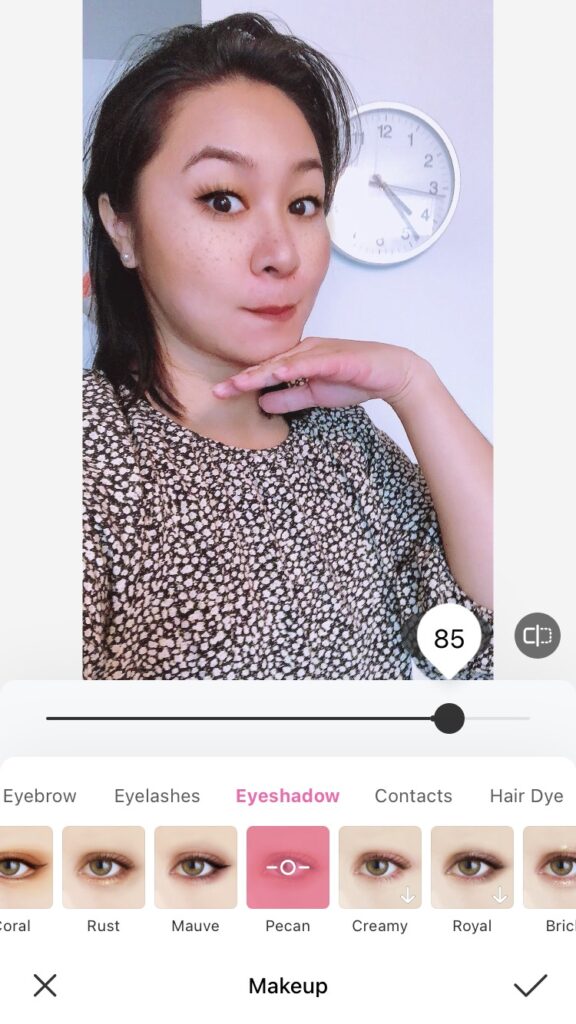 And there you have it! A simple and subtle selfie look that I can use for makeup inspo when Halloween comes around! The BeautyPlus app has plenty of tools for you to use, whether you want a quick girl selfie during the day, or if you want to prepare different looks for your Halloween Makeup. Have fun experimenting!