How to Take and Edit the Perfect Mirror Selfie
Are you fond of mirror selfie? With Instagram as popular as ever, being able to take aesthetic photos is a must-have. From micro trends popularized by influencer's to Kylie Jenner's classic selfies, good posing and picture ideas are endless. Among the many pictures, the iconic mirror selfie is every one can take!
Let's explore how to take and edit a good looking mirror selfie together.
Table of Contents
What Makes the Mirror Selfie so Popular?
Mirror pictures are incredibly easy to take – anywhere and at any time, all you need is a mirror and your phone. They are versatile and can look pretty with minimal effort. If you don't know what kind of facial expression to make or you have a bad hair day when taking selfie pics, you can just angle your phone to cover all or part of your face and it still looks good. Striking a pose is also easy because you are your own photographer and can see your own reflection – adjusting whatever position that looks weird. And above all, they are simple to edit! With the BeautyPlus App, it only takes a few taps to edit an aesthetic mirror selfie!
How to Take Mirror Selfie
There are many ways to take good mirror selfies so for starters, here are some basic mirror poses ideas!
Mirror Poses Ideas
1. Showing the Face
Your face is the star of the show in this mirror picture! It's perfect for when you want to show off your makeup look or even your hair. All you do is tilt the phone slightly and crop it so only your upper torso can be seen, and take the photos on mirrors!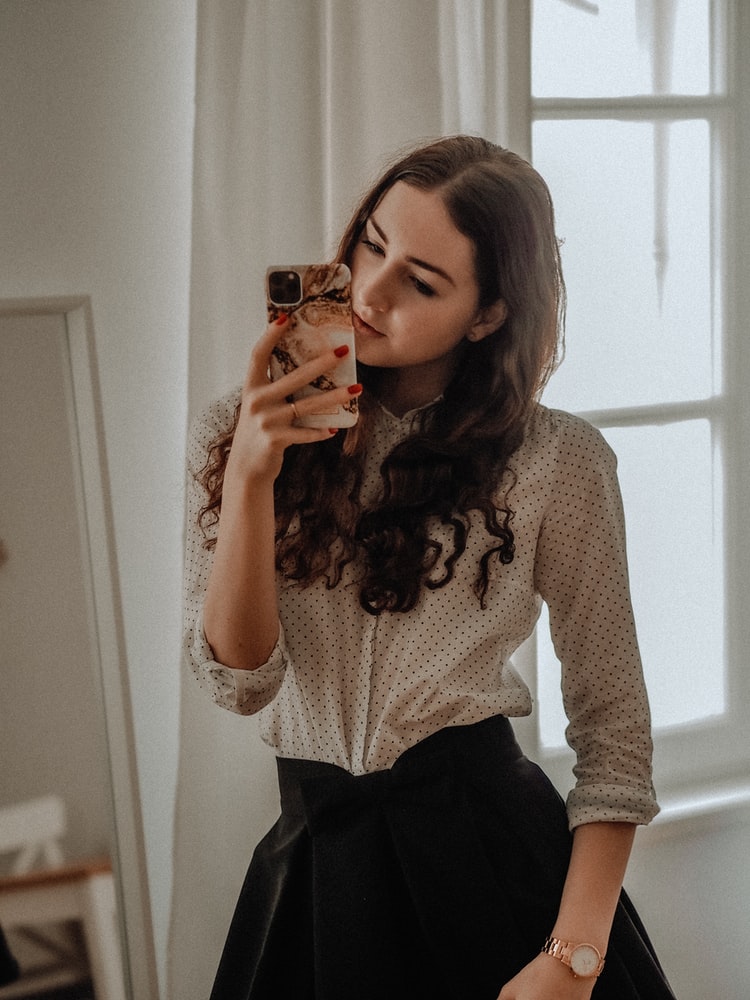 photos by Laura Chouette on Unsplash
2. Sitting Down
This one is the easiest and most comfortable selfie method. Not only do you look flawlessly relaxed, but it's easy to not appear awkward and stiff for selfie pics. You just need to find a cozy sitting position and tada!
3. Standing Up
It's the perfect stance to show off your outfit, and the selfie poses are ENDLESS! You can also easily adjust how you look based on your reflection, making your selfie pics look as good as possible!
Now that you got some poses down, you may be thinking "What next?" Well, nothing is more important than your facial expression when taking the perfect mirror pictures!
Mirror Selfie Facial Expression Ideas

1. Smile
The classic smile can never go wrong. It doesn't matter if you smile with or without your teeth because regardless, a smile will beautifully brighten your face and your selfie!
2. Serious
Nothing beats a serious face if you want to look more mature and sophisticated!
3. Smize
To achieve the ultimate model face, smizing is the way to go. By smiling with your eyes and having an alluring facial expression, your mirror selfie game is immediately boosted!
Get the Perfect Makeup
And lastly, to get the perfect selfie pics BeautyPlus has the best tool to touch up your face…the makeup tool! Let's look at the many makeup features this app offers.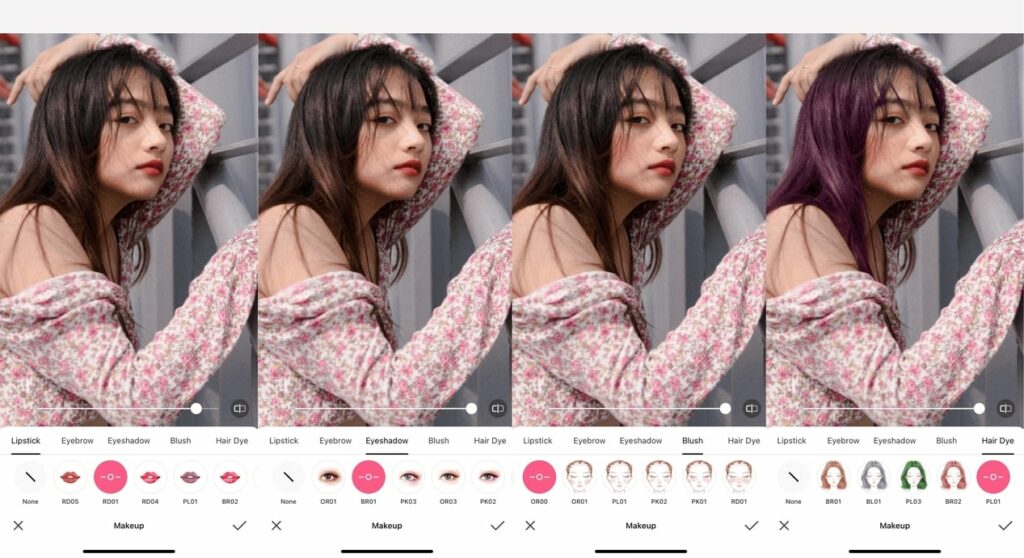 photo by Cris Trung on Unsplash
Lipstick shade "RD01" is a gorgeous rosy shade, which is a perfect match for the warmth of summer!
The eyeshadow shade "BR01" has an orangish tint that makes your face immediately glow.
Using the blush "OR00" adds a vibrant, fresh-faced shine to your appearance!
To match the overall look, I chose the hair color "PL01" with its deep burgundy tone!
How to Edit a Popular Aesthetic Mirror Selfie
Editing is necessary to turn a plain mirror selfie into an eye-catching one. With features like stickers, filters, and doodles, BeautyPlus has all the editing tools you need!
Here is an example of creating a trendy edit: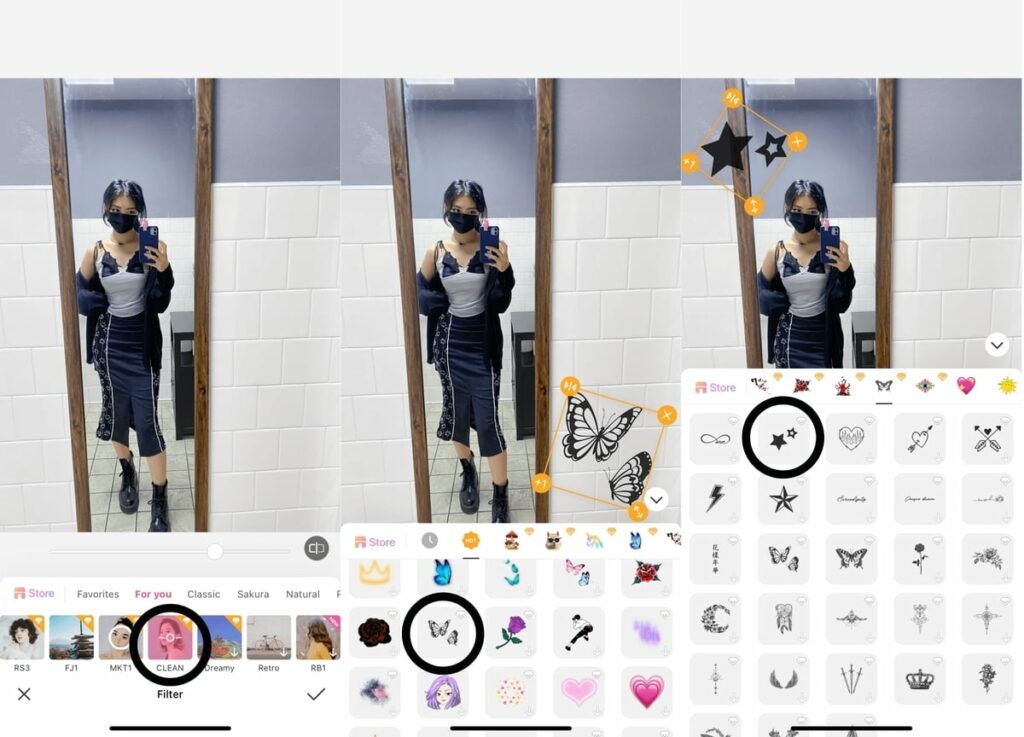 1.The filter "Clean" helps brighten the overall photo, making the mirror picture look more youthful and fresh!
2.Under stickers, the black butterfly design matches the dark colored outfit and the butterfly on the shirt. It adds a cool touch to the plain white background.
3. I added another sticker at the top left to fill the empty space. The star fits well because it continues the black colored theme!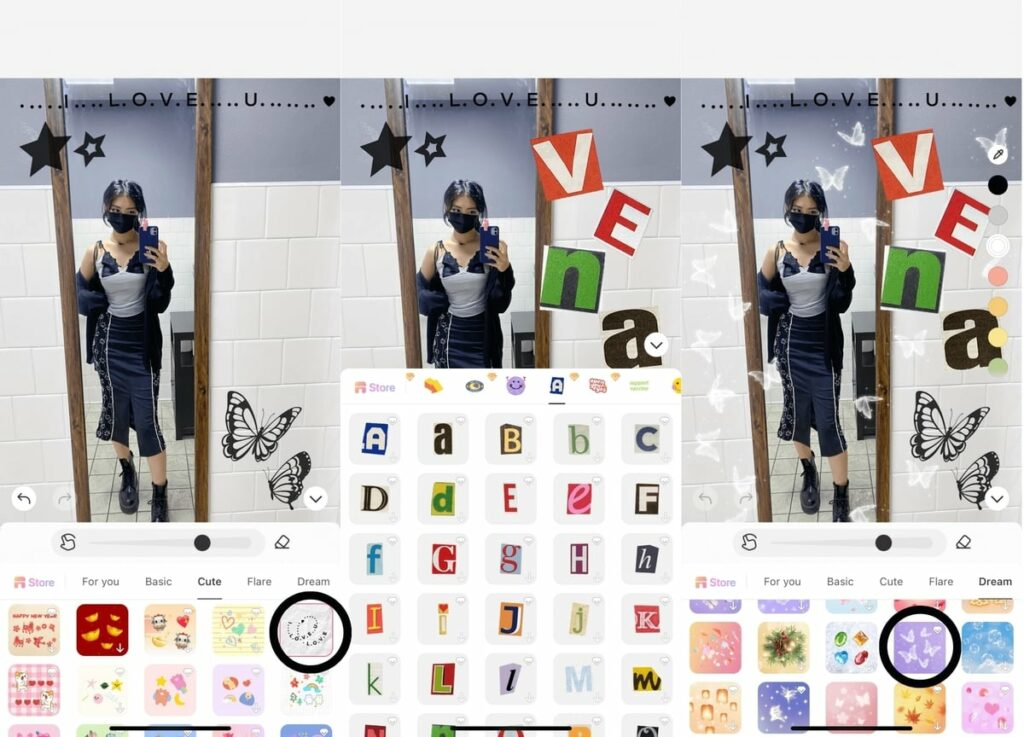 4.With the doodle pen, I used the "I L.O.V.E. U" for its textual design that also matched the black stickers. The simple statement is a cute addition and isn't too distracting from the mirror selfie.
5.To fill the middle area I added my name, Vena, with the newspaper letter font. This font is sure to attract attention as it's extremely popular on Instagram and Tiktok!
6.For the final touch, I applied the white, translucent butterfly doodle pen. Its simple appearance and muted color is subtle enough to be placed throughout the entire picture while adding a touch of magic!
The before & after: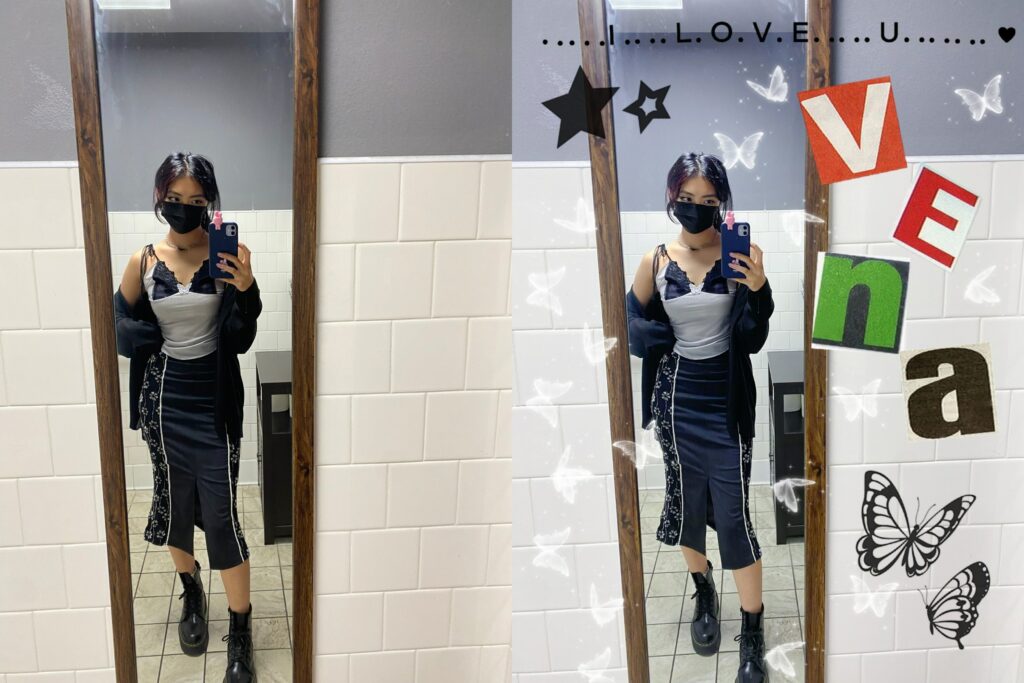 Change the Background for Mirror Selfie
Mirror selfies can easily become boring with the same empty background. However, BeautyPlus can help you spice up your photo with a different environment!
Let's explore a step-by-step tutorial on how to create a custom mirror frame: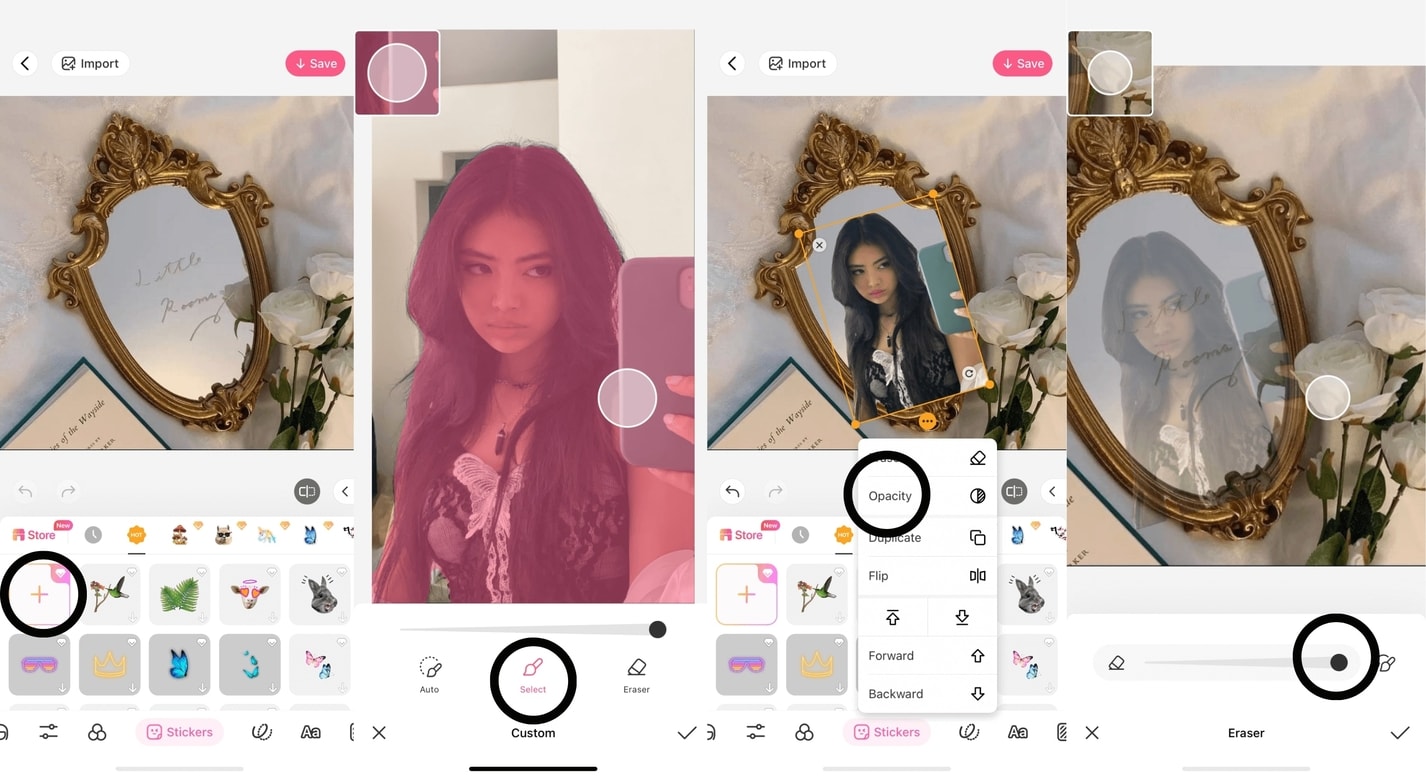 1.Choose a picture of a frame that you like and best matches your selfie. You can search on google, pinterest, or even Instagram to find one that works! Then use the "plus" button, as circled in the photo, to add a custom sticker.
2.The custom sticker I selected is this selfie! BeautyPlus automatically selects the area you want with the pink highlight, but you can adjust this with the "select" or "eraser" tool.
3.Now that the sticker is chosen, click the yellow circle with the three black dots and adjust the opacity. This will make it easier to erase the areas that overlap the mirror frame!
4.I began erasing the edges by increasing the size of the eraser. You can make it bigger or smaller, depending on how exact you want the sticker to fit.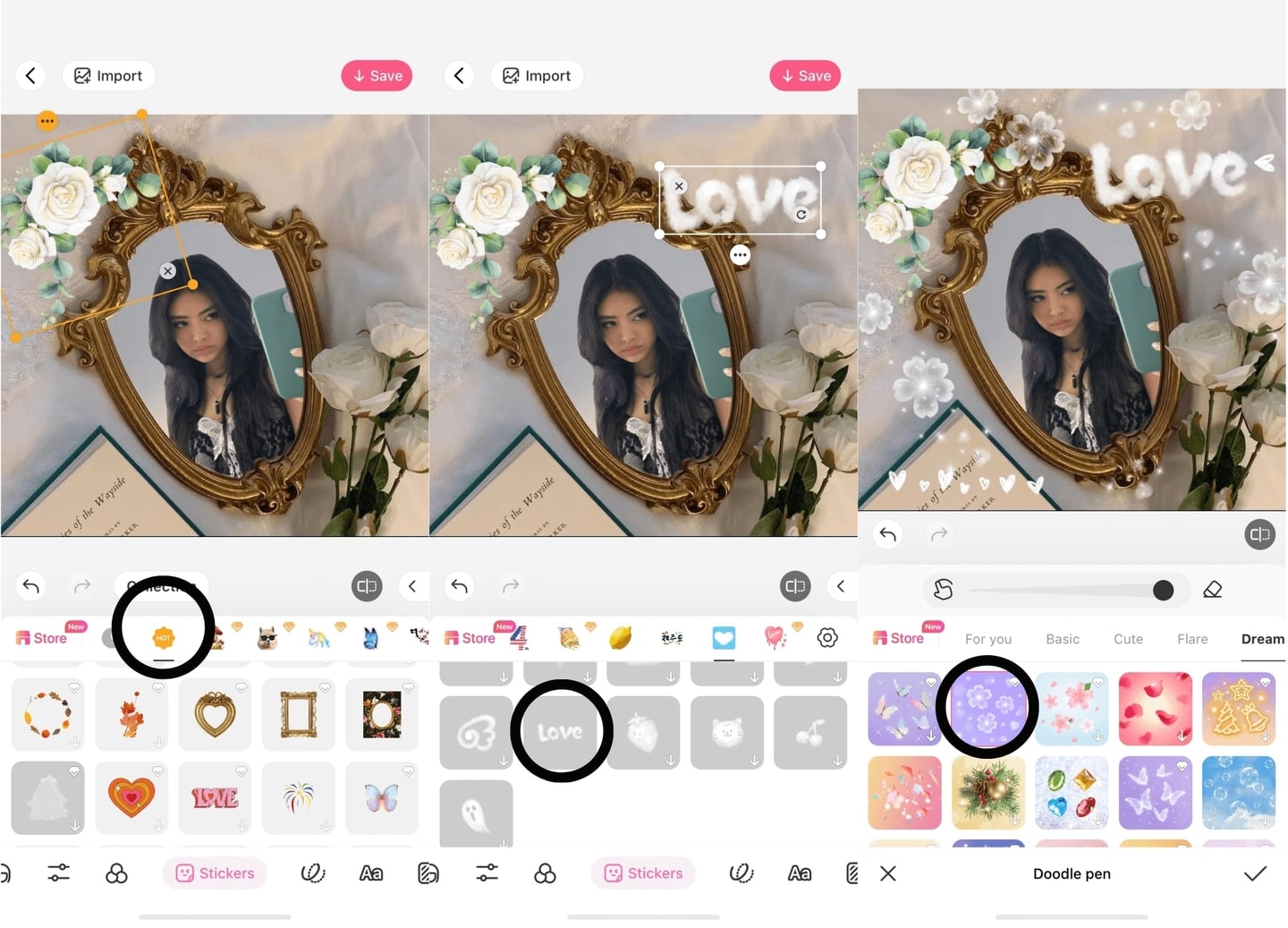 5.To make the selfie more visually interesting, I added a white flower sticker at the top left corner to match with the white roses.
6.I applied the "love" cloud that enhances the light and mystical vibe of the mirror.
7.As a finishing touch, I used the "dream" doodle for more pretty details!
BeautyPlus is the ideal editing app to step up your mirror selfie game and make them look aesthetic! Have fun using these tools in your own selfie pictures and happy editing!