Euphoria Makeup Look: How To Recreate it?
Euphoria makeup look has become trendy and is making a comeback better than ever. Show creator Sam Levinson on TV show Euphoria said to his makeup artist, " I want you to push yourself and push the norms of beauty and makeup". The Euphoria style is all about being creative and unique, and showing off your character's stories, moods, and characteristics through makeup.

Table of Contents:
What is Euphoria Makeup?
Euphoria Makeup is a hot makeup trend that has inspired many people worldwide which consists of different chic styles, designs and patterns even jewellery. Euphoria makeup is about bringing the inner YOU out through makeup. Try the dark euphoria makeup if you enjoy emo vibes.
Euphoria makeup looks with diamonds, and euphoria makeup glitter represents innocence and adolescent fantasies, meaning it's a look that symbolizes pure youth in beauty.Euphoria style makeup is a unique way of expressing yourself.
Why Beauty Trendsetters Love Euphoria makeup?
People who use Euphoria style makeup want to build their facial features in their own desired way. They like to use different colors and shades to make themselves look more attractive. The point of euphoric makeup looks is to have others get a sense of your character from your makeup alone. For example, in HBO's hit TV show "Euphoria", popular character Cassie gave off a girly and feminine demeanour with her pink rhinestone wing look. Cassie's euphoria makeup showed her obvious love for baby pinks and blues in the show.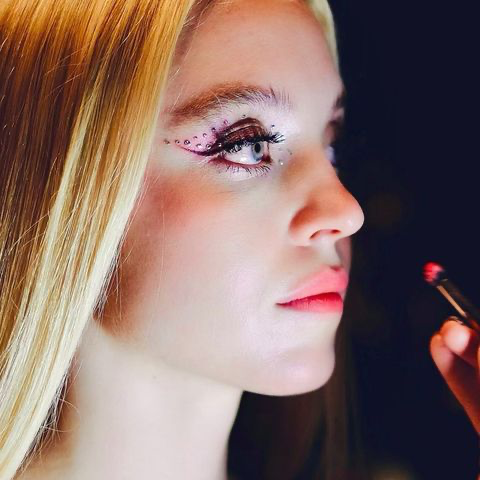 Cassie Euphoria Makeup Example
BeautyPlus's Hot Euphoria Makeup Looks!
In this Makeup look:
Bold x Eyeshadow x 1
VL01 Blush x 2
RD05 Lipstick x 3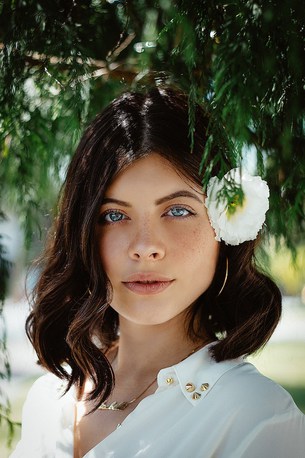 By Mateus Souza Via Pexels
A good thick eyeliner plays a big role in euphoria makeup looks. Thankfully, BeautyPlus came out with this new liner named "Bold", and it looks gorgeous and realistic in selfies. Head to the app and select "Retouch" and "Makeup". Apply 1 coat of the Bold eyeshadow and use the slider to make it as pigmented or as light as you want it. BTW, the BeautyPlus's Bold shadow is similar to to Kat's euphoria makeup in the Euphoria show.
I've also added RD05 lipstick 3 times with the glossy lip option, it's located on the right side of your screen to choose from. I've finished off this look with 3 coats of blush for a more pigmented look. To achieve any makeup look more than once, save your picture, and go back to the app to apply the makeup feature again.
In this Makeup look:
Sorceress Eyeshadow x 1
RD05 Lipstick x 2
BR01 Blush x 2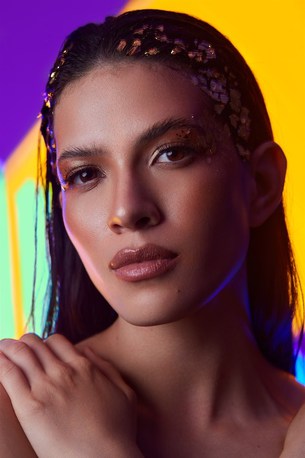 By Niko MonDi Via Pexels
This look features one of the newest eyeshadow looks named Sorceress. I'm going to show you how I achieved this look! Applying one coat of Sorceress and using the slider to make it look a bit lighter
BeautyPlus's Sorceress shadow is a great representation of euphoria makeup. The style of the eyeliner is unique, which could definitely stand for euphoria makeup. Afterwards, I applied the RD05 lipstick twice, used the glossy option, then finished this look with the BR01 blush twice.
In this Makeup look:
Edgy Eyeshadow x 1
RD04 Lipstick x 2
PK01 Blush x 2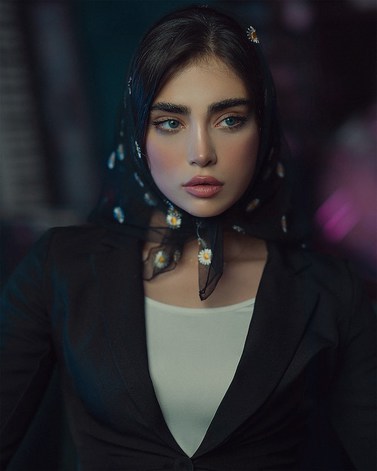 By Mahdi Chagari Via Pexels
BeautyPlus's Edgy makeup eyeshadow is very similar to Cassie's euphoria makeup in the Euphoria show. Edgy is also one of the newest eyeshadow looks in the app. I highly recommended this eyeshadow for those going for more feminine euphoria makeup looks. Also, add RD04 lipstick twice with a matte finish. You can choose your lipstick type on the right side of your screen in the app.
In this Makeup look: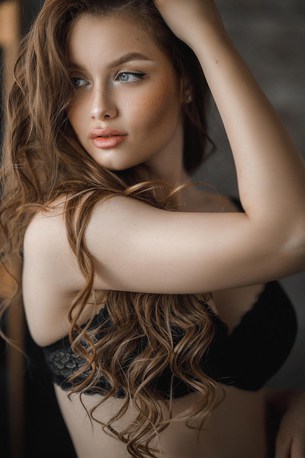 By Bna Via Pexels
Blades is a great choice for the makeup lover who wants to try something new with their Euphoria look. Many Euphoria characters are seen with colored liner looks in their euphoria makeup. This is a great reason to try this eyeshadow on your photos! Blades is also one of the BeautyPlus's brand new eyeshadows. I recommend E-girl lashes,1 coat of YL01 blush, and 2 coats of RD01 lipstick. You can almost compare this beautiful shocking red lip to Rihanna's popular Fenty Beauty red lip paint named Stunna! I'm a huge fan of this lip paint, I can definitely notice the beautiful similarities!
BeautyPlus is changing the digital Beauty world! Imagine being able to quickly edit your pictures to your favorite red lip?! This lip paint Is very popular and known within the beauty blogger community. Stunna was sold out plenty of times when it first came out for sale. I highly recommend you try this top-tier digital lip color on your photos by BeautyPlus!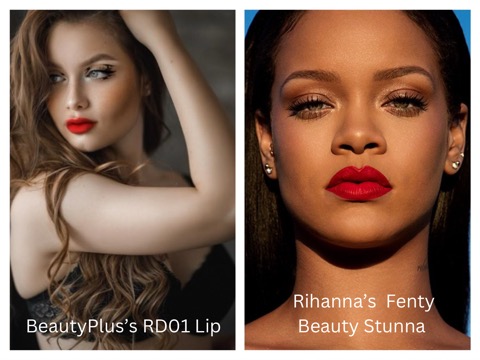 Sexy Euphoria Vibe AR Makeup Effects
1. Shimmery Highlight Filter & Full Set of Lashes
2. Pink Highlight Filter and Undereye Glitter AR Effect
3. Full Set of Lashes & Rhinestones💎
4. Frosty Purple Eyeshadow & Glossy Purple Lip Effect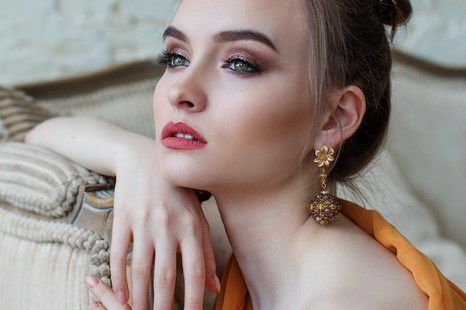 Photo By Pixabay via Pexels
To find any of BeautyPlus's AR makeup effects, go to the app, "Edit" and find "AR Effects". Then you can find the effects below this example. This effect is lightly used with the slider. You can make it as dark or light as you want it. Whichever effect you're going for. The shimmering glitter highlight is very well-known within euphoria makeup looks.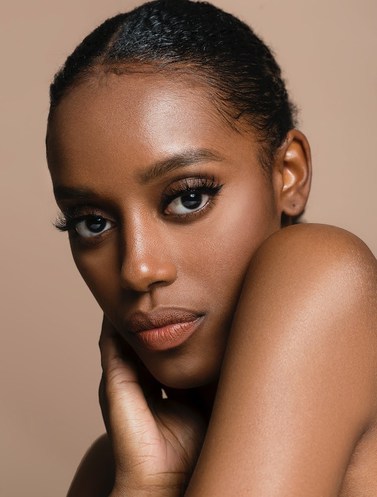 By Adrienne Anderson Via Pexels
The under-eye glitter is one of the main popular looks that people use in euphoria makeup. This look is seen on Rue in the Euphoria show. Rue is played by popular actor and known celebrity Zendaya.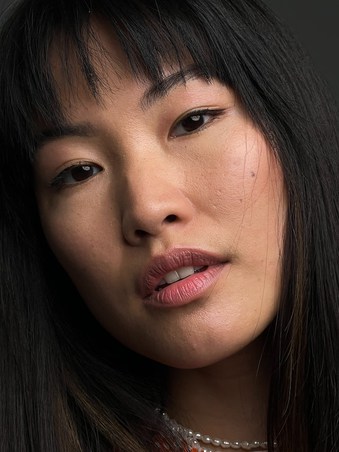 By Ahac via Pexels
The rhinestone on the face is a stunning look used in euphoria makeup! You can try it digitally with this amazing AR effect. In this example, I've used the slider to make the rhinestones show up more visually add full long lashes. This can be found in the AR effects makeup section.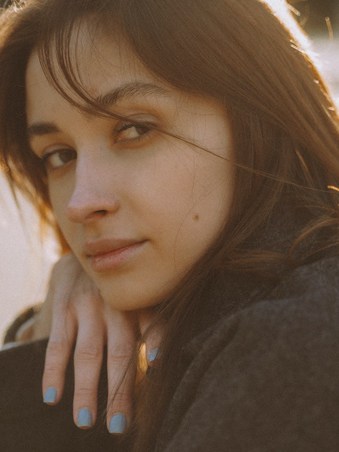 By Ekaterina NT Via Pexels
This purple shadow and glossy purple lip are the perfect euphoria makeup look and vibe! It shows the model's real features. These looks are worn often in euphoria makeup and seen as pure and desirable. I highly recommend you try out all of these AR effects and see which effects work best on your photos!
Celebrities Who've Inspired and Carried Euphoria Makeup
Many celebrities around the world took part in creating eye-catching and inspiring euphoria makeup looks. Makeup artist Doniella or (Donni Davy) is the woman behind starting the euphoria trend. She's inspired thousands of people who've created Pinterest boards and Youtube videos dedicated to these looks. Celebrities like Katy Perry, Zendaya and Gigi Hadid have also done euphoria makeup looks that fans crazed over! It's safe to say these celebrities have taken part in carrying the wave.
Katy Perry wore a Euphoria-inspired glamorous look with Swarovski crystals. Zendaya was seen wearing the famous under-eye glitter shown in the example above in AR effects, and Gigi Hadid wore a frosty glitter gold eyeshadow with black liner. The thing is, it's easy to see why—the look is incredibly creative and unique.
Try BeautyPlus's euphoria makeup tools and AR effects today!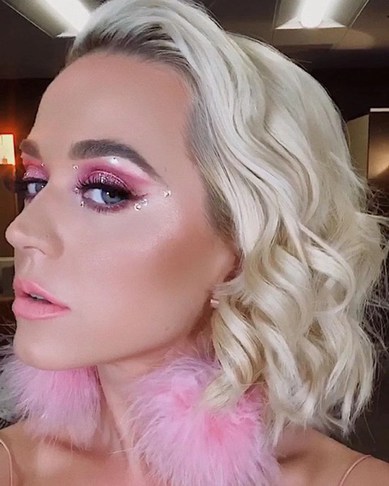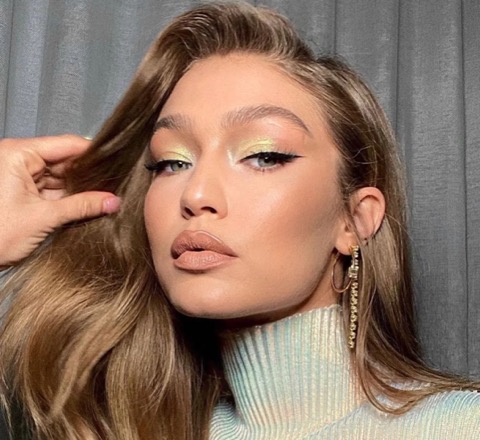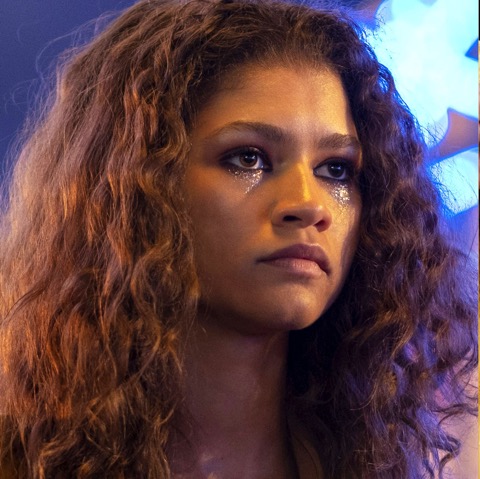 Photo via www.lofficielusa.com and Getty Images