9 Creative Christmas Photo Ideas for 2022
Christmas is coming and everyone is starting to think of the perfect Christmas photo ideas. ❤️ Christmas is a festival that we all celebrate with our friends and families. It is fun, joyful, and festive. I'm sure you feel the holiday spirit in the air by now, and especially with the quality of pictures you can get using BeautyPlus. If you're looking for some inspiration, here are some of the best merry Christmas images vibes, and features that you can use on your pictures this year. It's time to activate our Christmas winter holiday mood!
Table of Contents:
1.Create a Holiday Mood Board for Your Christmas Photo Ideas!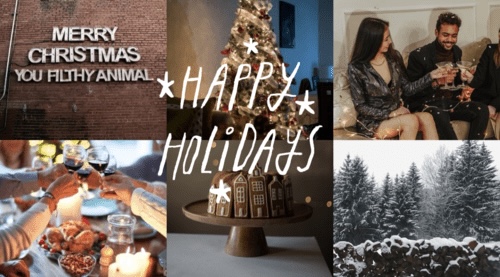 2.Holly Jolly Stickers To Bring The Christmas Spirit To Your Christmas Photos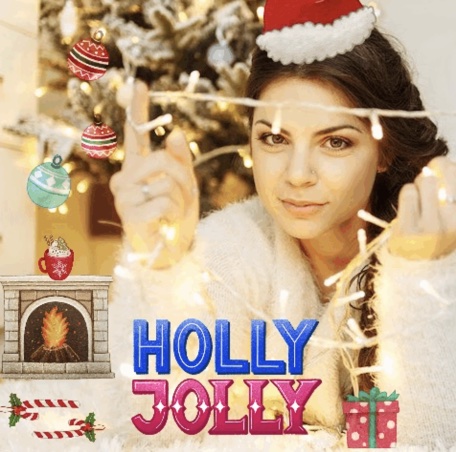 Christmas stickers on your photos are amazing because they capture all the love and joy of this magical time of year. When you use Christmas stickers, you can show all your friends how much you love Christmas too. Have you ever seen a really good Christmas sticker and wanted to use it in your photos? Well, now it is possible with BeautyPlus! You can start with going to the stickers section in the app.
Select the sticker store for you Christmas photo ideas:
The sticker packages named "Holly Jolly and "Meowy Christmas" are the stickers used in the example above. I also used the option of making it look more realistic. You can do this by selecting the three dots after you select your sticker. After select Layer style, here you can make the stickers look as realistic as possible. I've used the slider to make the Christmas ornaments on the tree a lot less visible to make it look more realistic hanging from the tree. The main goal is to get the best looking merry Christmas images. Take your Christmas photo ideas to another level this year!
3.Dress your Pets up With Cute Holiday Stickers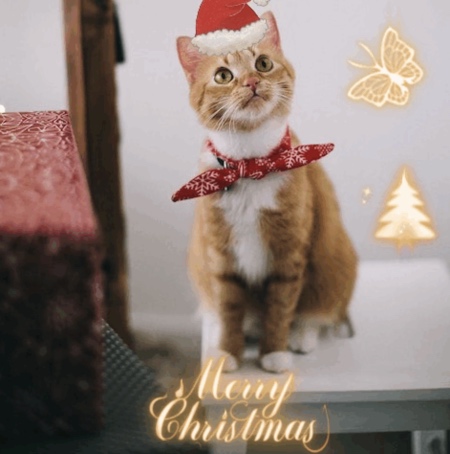 The personalization of these stickers can bring out the best in your furry friends. You will be able to make them look festive and cute. In the example above, I went over to the sticker store in the app and used the "Sweet Christmas" package. This package gives off a very glowy looking touch to the stickers. If you're going for this kind of look for your Christmas photo ideas, this sticker package would be great to use! Merry Christmas images with stickers like this would also look amazing as your phone wallpaper, even as a postcard. I'm sure everyone around you would love it!
4.Christmas Photo Ides: Dress Up Your Tree With the Stickers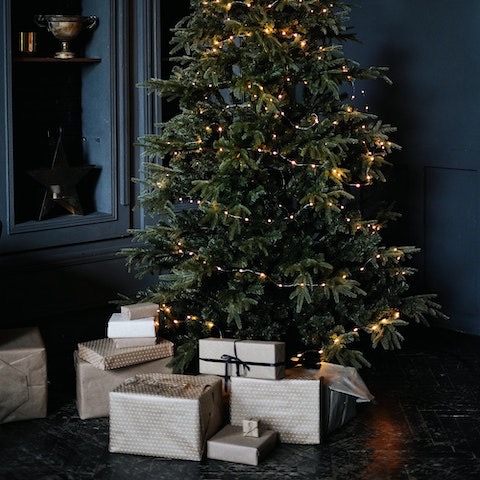 Photo By Olena Bohovyk Via Pexels
One of the most popular ways to celebrate Christmas is by decorating the tree. There are tons of ways you can add festive flair to your tree, and make your merry Christmas images like a winter wonderland. What kind of decorations you put on your tree is entirely up to you, but in the example above, I used the "Holiday Sparkle" package shown in the Festival section in the sticker store.
I also used the "Meowy Christmas" for the stocking stickers. Simply use the slider to make your stickers as vibrant or less visible as possible. I've decided to make the stockings less visible by moving the slider to the middle of my screen. The stocking stickers are also great for any of your Christmas photo ideas.
5.Tis The Season Christmas Filters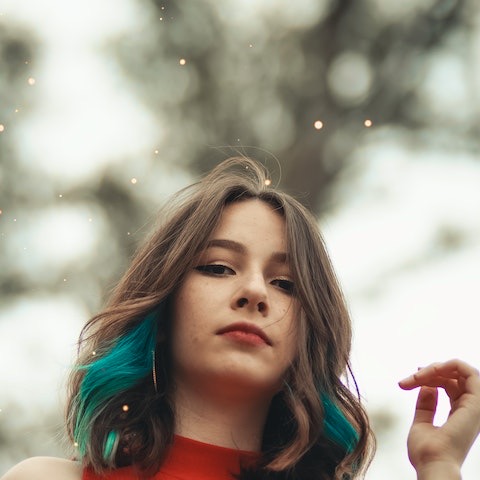 Photo By Abraim Leonardo Via Pexels
Christmas is coming and it is time to prepare for it!
You should definitely use holiday filters on your photos to make them even more beautiful. A popular way to share the Christmas spirit is by adding festive filters to your pictures. Those of you looking for creative Christmas photo ideas, you should definitely take your merry Christmas images to the next level with BeautyPlus's newest filters, made perfectly for the holiday. In the second example above, I moved the slider to the end of my screen to give it more of a vibrant, warm Christmasy look. In the first example, I've moved the slider to the middle to even out the filter.
6.Snowy Vibe Winter Brush Tool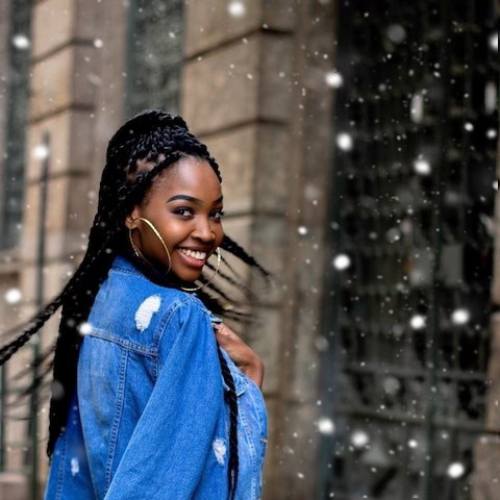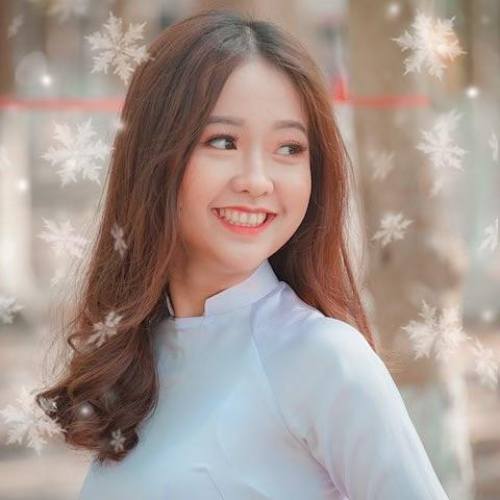 The snow is a magical thing, and it looks even more wondrous on your smartphone. It can spice up any old photo and make it something truly special. BeautyPlus's snowy brush tool will not just add some holiday cheer to your selfie shots, but it will also look super realistic. Just press down on your phone screen on the areas you want the snow to be on your creative merry Christmas images! This is also a great way to make your Christmas photo ideas to look like an enjoyable snowy white Christmas. you can also choose from many different snow types as you can see in the examples above.
7.Jingle All The Way Christmas Backgrounds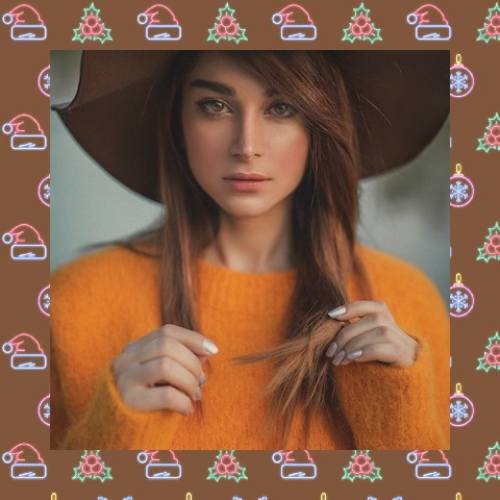 Christmas backgrounds are used in different ways, but the most common use is creating a Christmas look and feel. This is great for most Christmas photo ideas as it brings the vibe to the picture itself. Check out all the new holiday and Christmas filters in the background section in the BeautyPlus app!
8.Try Out Hot Christmasy Hair Colors
Rebel x 2 – Slider 100 and Auburn x 1 Slider 89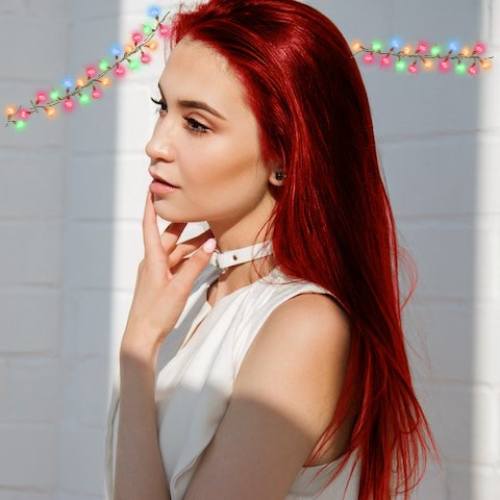 Photos Via Pexels
Caramel x 2- Slider 100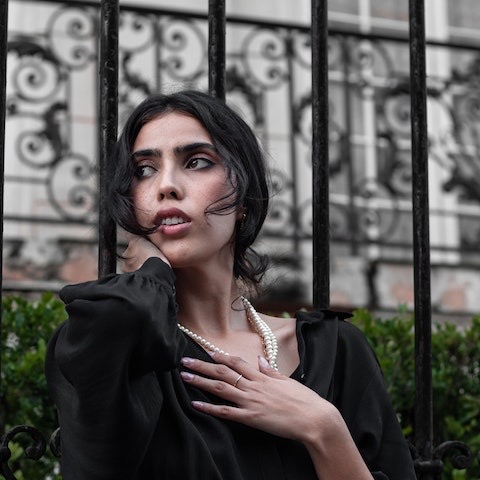 Photo By Brian Jiz Via Pexels
The holiday season is a time to be joyful and celebratory. This can also be applied to hair color trends during the holidays as well. Hair color trends in recent years have been dominated by a variety of ombre colors on social media. But this year Christmas hair colors like red, auburn, brown/ caramel brown are perfect for Christmas. Bring your merry Christmas images and Christmas photo ideas up a notch with these hot hair colors. Try them out in the app now!
5 Fun Festive Destinations For Christmas Photos Ideas This Year
Since Christmas is among us soon. I thought it would be a great idea to put you on some amazing Christmas destinations for photos. As a travel blogger, I know a lot about great scenery and places in order to capture amazing Christmas pictures and moments. This section will guide you to the 5 most festive Christmas destinations for good photos this year.
Paris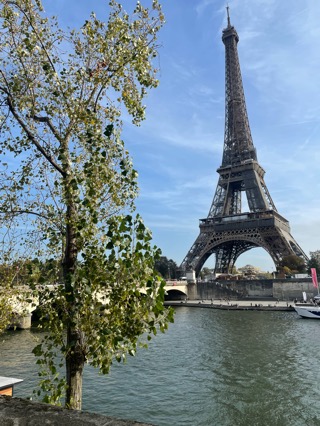 The first destination is Paris, France. It might seem like a cliché but Paris still has an air of beauty and elegance that most cities can only dream of. The Christmas markets are especially picturesque and make for a perfect backdrop for all your holiday cheer.
Norway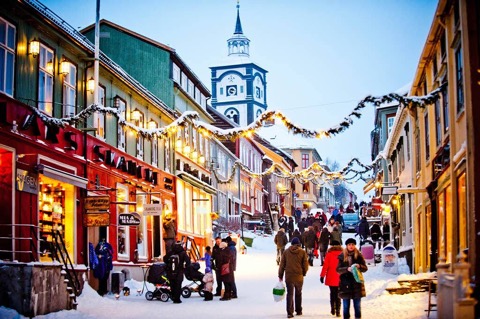 The second destination is Norway. It might be an expensive trip but it's worth it because Norway's mountain ranges are stunning during the winter season with snow covering them from top to bottom, giving you that enchanted winter wonderland feel that you've always dreamed about.
Hamburg, Germany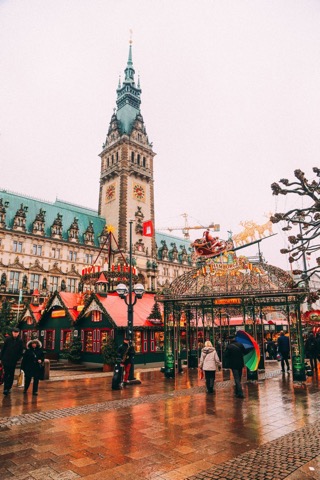 Hamburg is well-known for its beautiful winter scenery – there are snowy hills, deep forests and picturesque lakes that create a perfect setting for a festive mood. There are also many charming villas and lively markets full of vendors selling their specialties so you can buy Christmas presents or simply enjoy spending time with your family and friends. If you want to make your stay even more memorable, then you can also visit some of Hamburg's most famous attractions such as the Maritime Museum or Lüneburg Heath Nature Park.
Montreal, Quebec Canada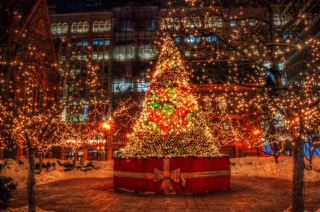 Montreal, Quebec in Canada is the perfect place for Christmas because it has a charming, European-style look, which is the second largest city in Canada and one of the most beautiful cities in North America. It is surrounded by snow-topped mountains and the Saint Lawrence River. Montreal also has a lot of gardens which makes it easy to spot Christmas trees at any time of year.
Jamaica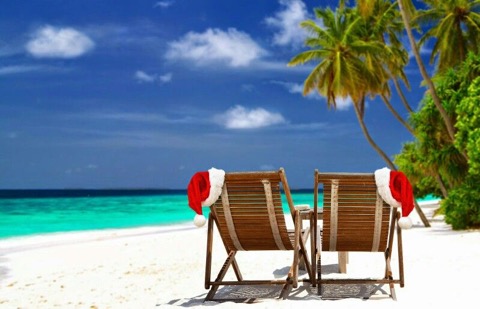 For those of you who love warmer climates during Christmas. I decided to include the beautiful Caribbean country of Jamaica in this section!
One of the most popular places to be for Christmas is Jamaica. The country has many resorts, beaches, and natural beauty that are perfect to take in during this festive season.
Furthermore, the culture that surrounds Jamaica during this time can be enjoyed all year round. So don't just enjoy Christmas in your home town or city but instead travel to Jamaica for a more authentic experience, and sip your Mimosa on the beach during Christmas!
Visiting any one of these places for Christmas will highly improve your Christmas photo ideas and ensure your merry Christmas images are bringing the proper holiday vibe. Have yourself a lovely Christmas coming up and thank you for reading!