How to Create Aesthetic Thanksgiving Photos: 5 Ideas & Tips
It's that time of year again where families happily gather together, feast on delicious food, give thanks for the blessings in their lives…Thanksgiving!
With the leaves turning warm and vibrant, and yummy recipes with turkey and mash potatoes finally being used, it seems like everyone is easing into the holiday spirit. And what can make this holiday spirit even more special? Let's document your thanksgiving activities and edit happy thanksgiving images with the power of BeautyPlus!
Tables of Content
3. Create a Fall-themed Background
4. Take a Selfie with AR Filters
5. Play with Thanksgiving Stickers
1. Edit with Polaroid
For the more skilled editors out there, you can even create your own polaroid effect that aesthetically documents your thanksgiving activities!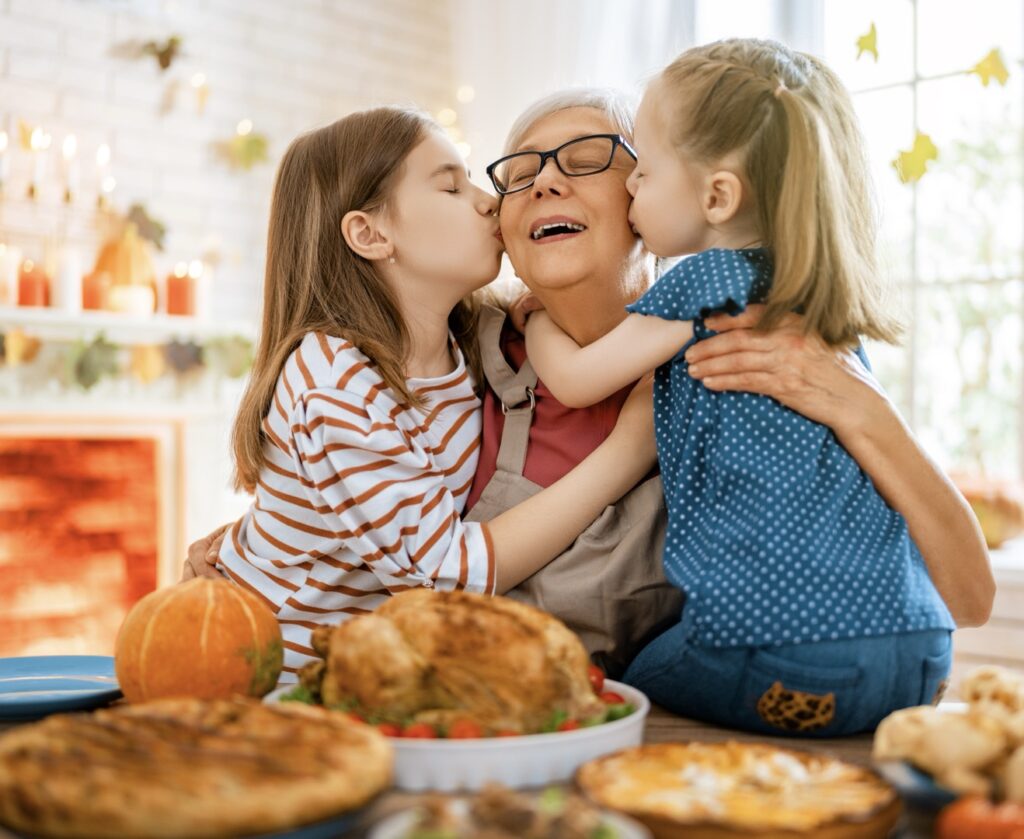 ● Black & White vs. Color Contrast: To recreate this effect, import your photo and use a black and white filter on it. Then, add a custom sticker of the same photo, which will be colored. You can lower the opacity of it, which will help you see what areas need to be erased in the next step.
● Polaroid Effect: Find the polaroid options in the sticker tab and choose the one that looks good with your image. Since it is a Thanksgiving edit, the one that says "Thank you" and has warm colored flowers is the best fit!
○ The size and orientation can be adjusted by motioning a "pinching" action on the screen.
● Pop out Illusion: The wonders of the eraser tool is what finalizes the "pop out effect" in the final image. First, erase the custom sticker (the colored photo) that is outside of the polaroid border. Then, erase the white section of the polaroid that covers the girl's arm. Ta-da! The thanksgiving picture is done!
2. Jazz up Your Meals
● Use Food Filter & Doodle Pen
There's no better thanksgiving photo idea than pictures of delicious thanksgiving food! However, sometimes it can be difficult to take a photo that makes the food appear as appealing as it does in reality. To your luck, you can actually spice up your meals using BeautyPlus editing features!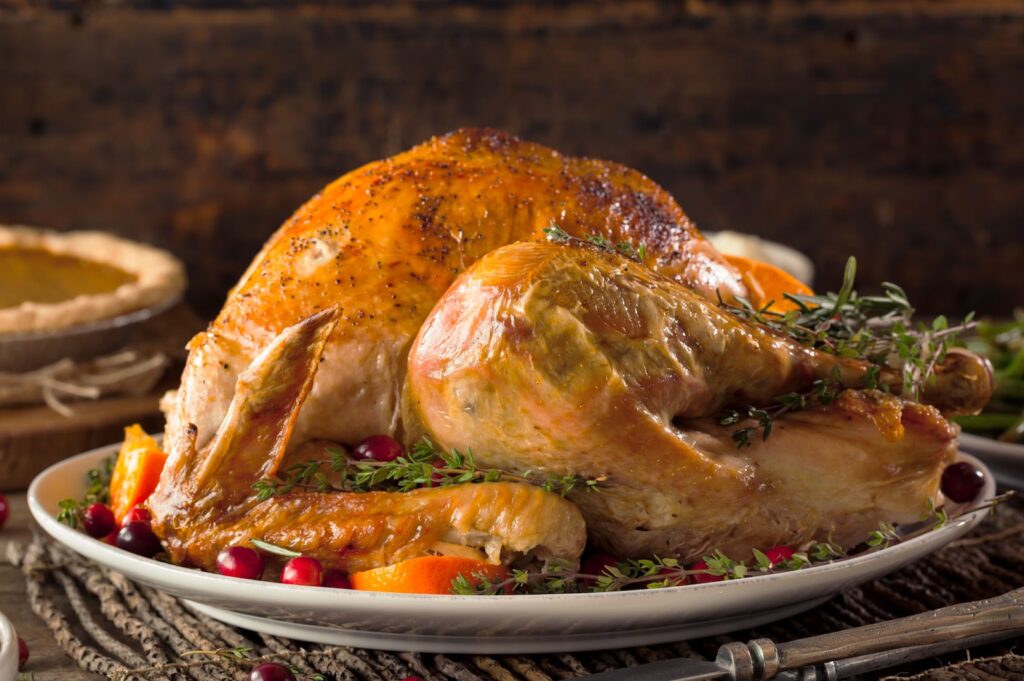 As the turkey's true color is more subdued, apply the filter "Umami" so that it looks vibrant and appetizing.
The presentation of the turkey appears a bit empty, lacking in decorative garnish. To fix this, just add some food stickers around and on top of it. Look at how tasty it now seems!!!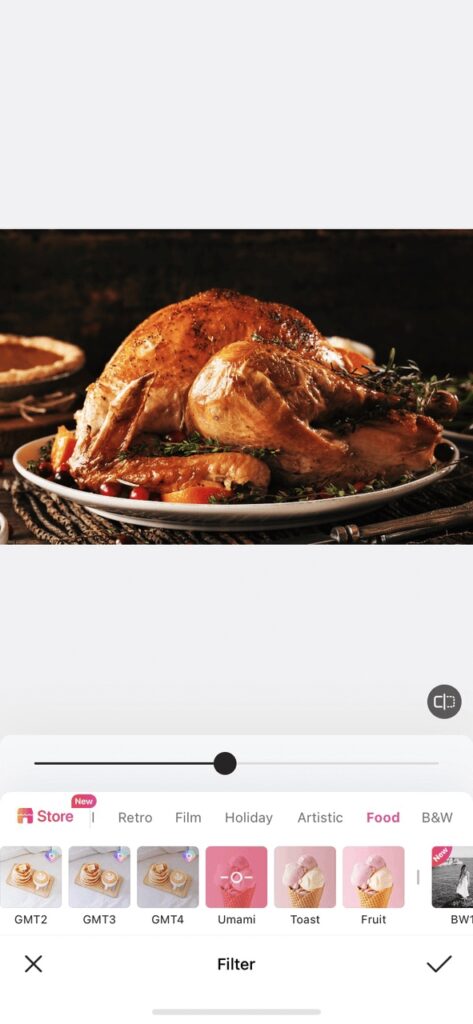 ● Use "Smoke & Flare" Sticker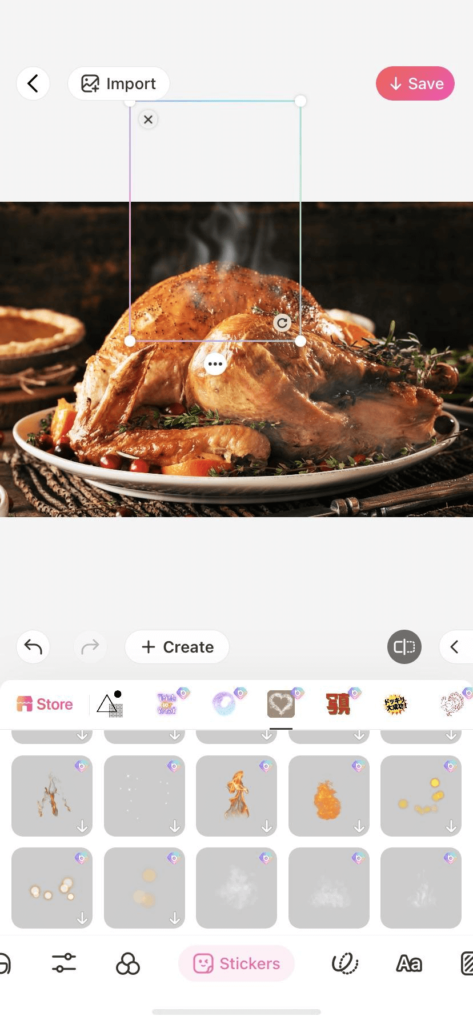 To give the food the appearance that it is freshly cooked, choose a "smoke" sticker and place it on top of the turkey.
And to complete the fancy and festive atmosphere, apply a "flare" in the background.
This is the yummy result: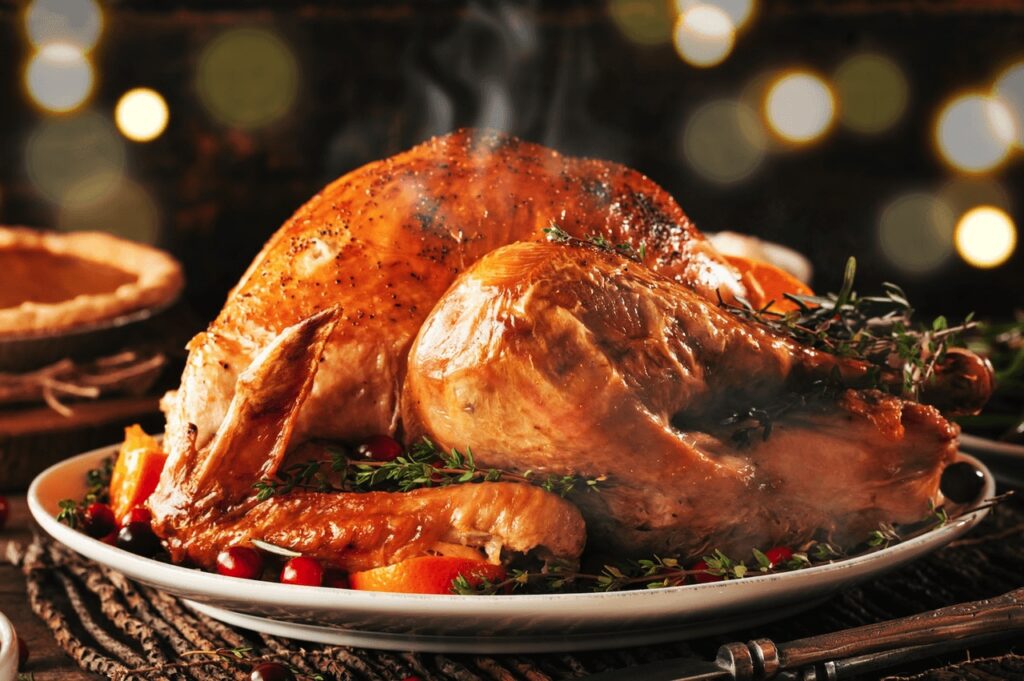 3. Create a Fall-themed Background
For those happy thanksgiving images that have a rather plain background or need another element to give it that jolly ambience, designing a fall themed decoration is just what you need!
A great example is this orange background that reads "Give thanks". Though it is for Thanksgiving day, it could also be used for other regions that don't celebrate the holiday. The message "give thanks," which means showing your gratitude, is very general, making it applicable for other purposes. Plus, its basic, delicate lettering style is easy to use!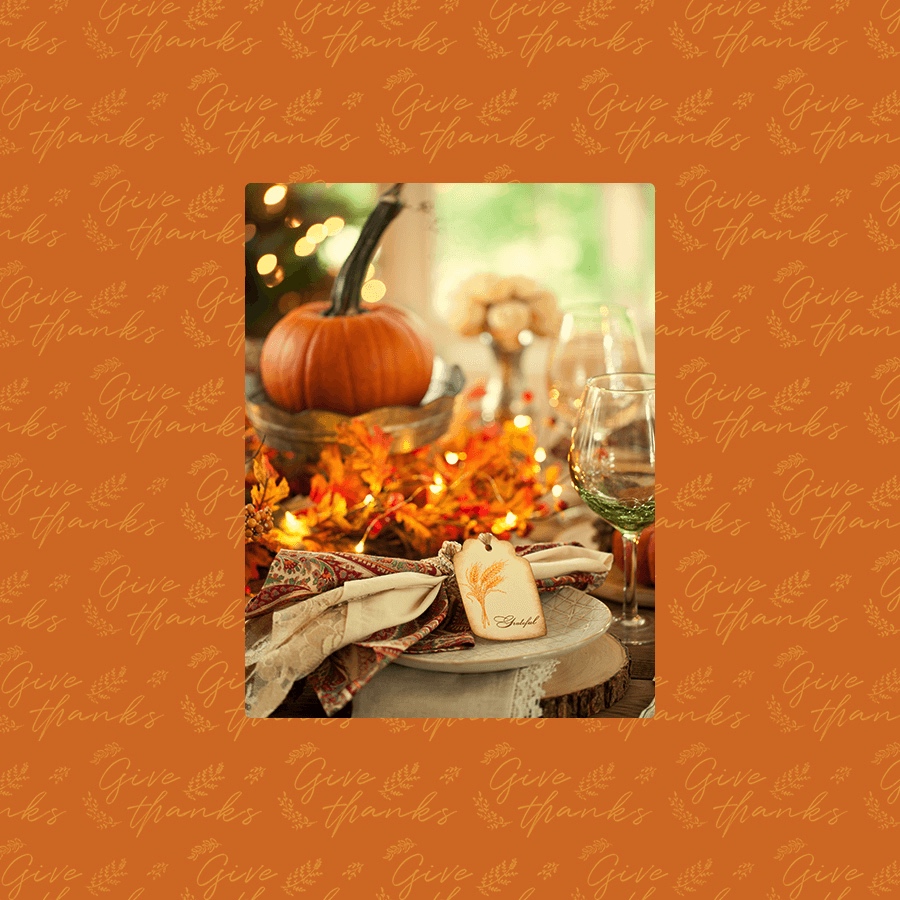 If you prefer to have more creative freedom or merely want to exercise your editing skills, you can personalize your own background. Using warm colors including brown, yellow, orange, and red is great to match the thanksgiving theme. Let's see an example edit that was used to transform the adorable family photo located above to the one on its right!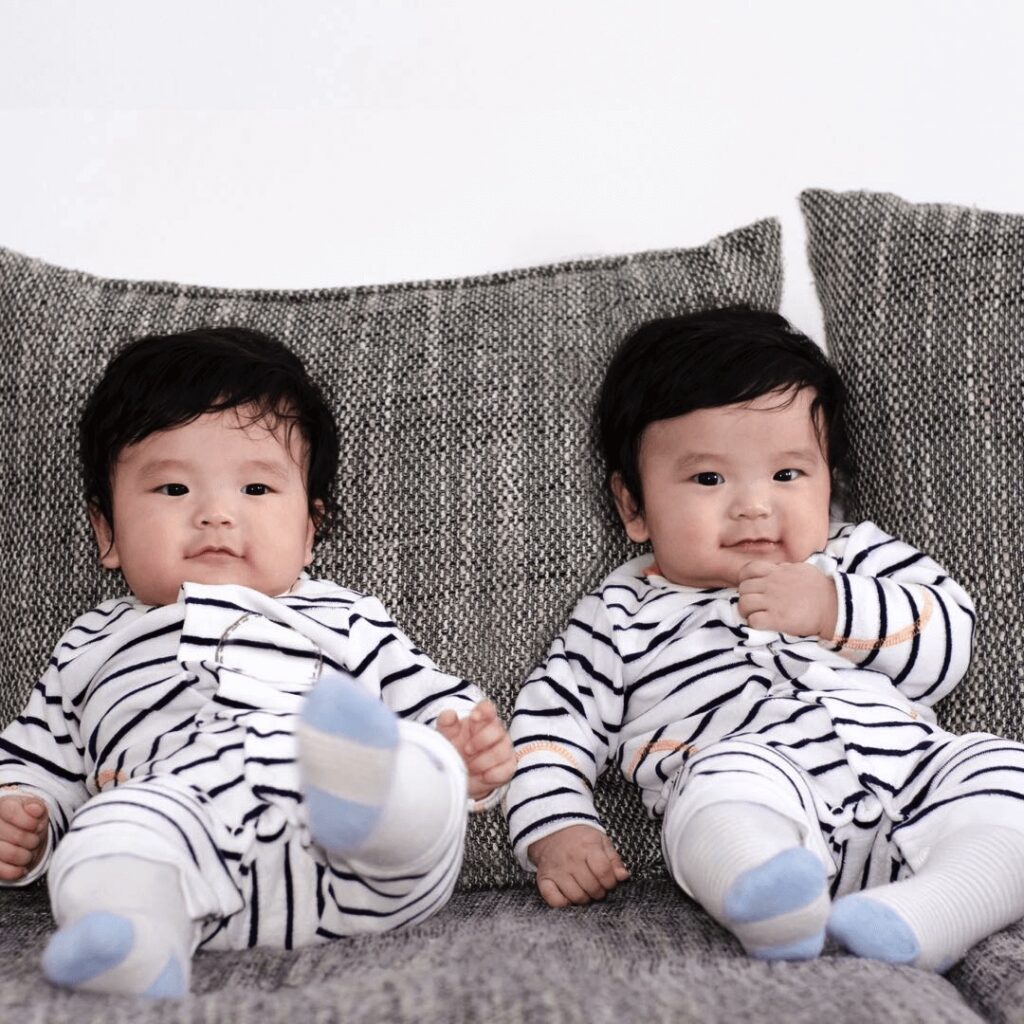 ● Firstly, you want to choose the pattern for your background. There are endless options, but in this case, a cute and simple dotted pattern was applied.
● Next, navigate to the stickers to "frame" the image. Adding organic shapes, lines, and a flower sticker are nice elements that make the picture interesting to look at!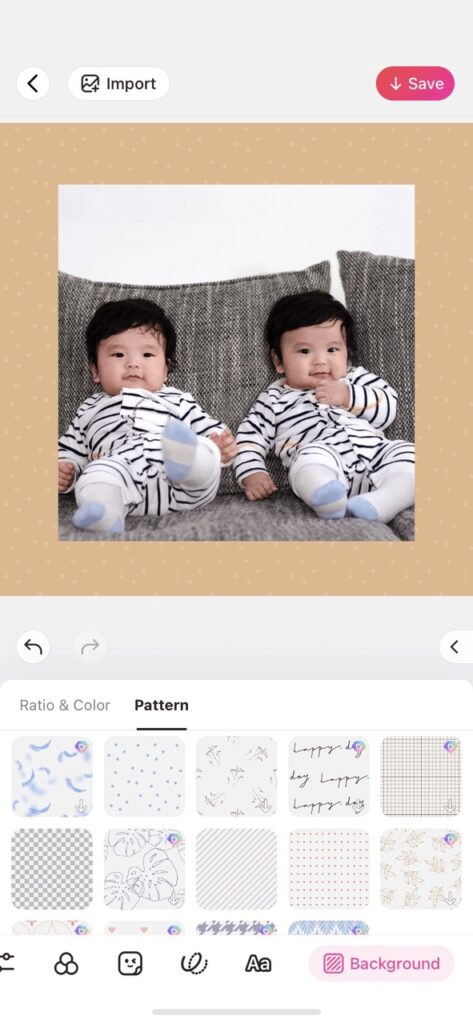 ● BeautyPlus has a wide range of sticker designs to be used, so for additional cuteness, an orange headband and cool sunglasses are the perfect accessory!
● For the finishing touch, use a text decoration! One that mentions thankfulness or being grateful completes the thanksgiving theme!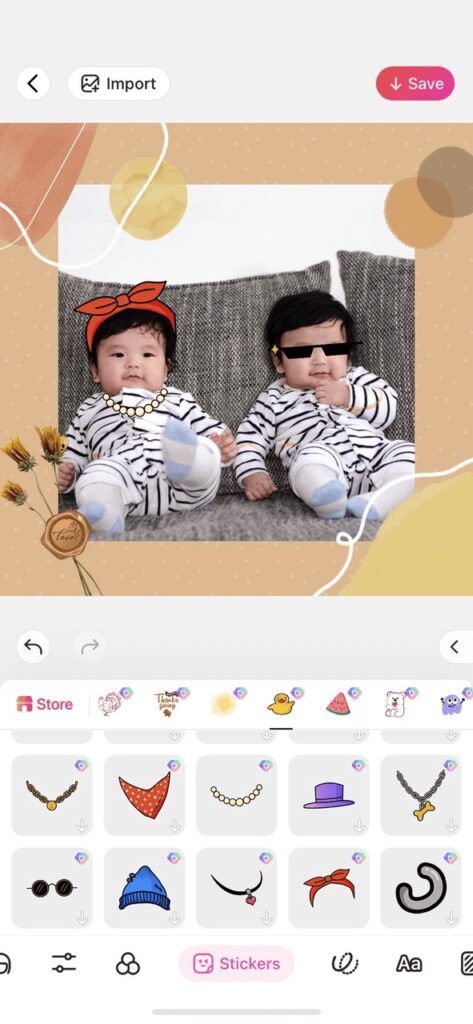 4. Take a Selfie with AR Filters
Selfies are always a must when taking gorgeous pictures! Luckily for this Thanksgiving, you can spice up your selfies with the four new and exciting additions to BeautyPlus – their AR filters!
To access these filters, click the hot pink center button on BeautyPlus' homepage. Press the smiling-winky face and swipe left until you see the "Holiday" tab.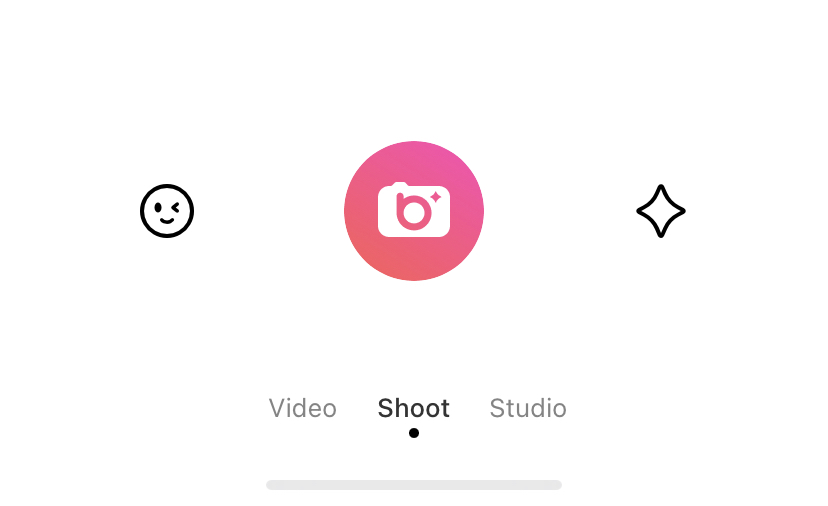 Now let's take a look at the options!
● Gratitude Text: This aesthetic filter fits perfectly with the celebrated theme of this holiday, expressing a heart-warming message of giving thanks.
● Quad Layout: This option saves you the time of creating a layout with four pictures by already doing it for you. It works to display a visually engaging photo, and the cute "Happy Thanksgiving" text is an added bonus!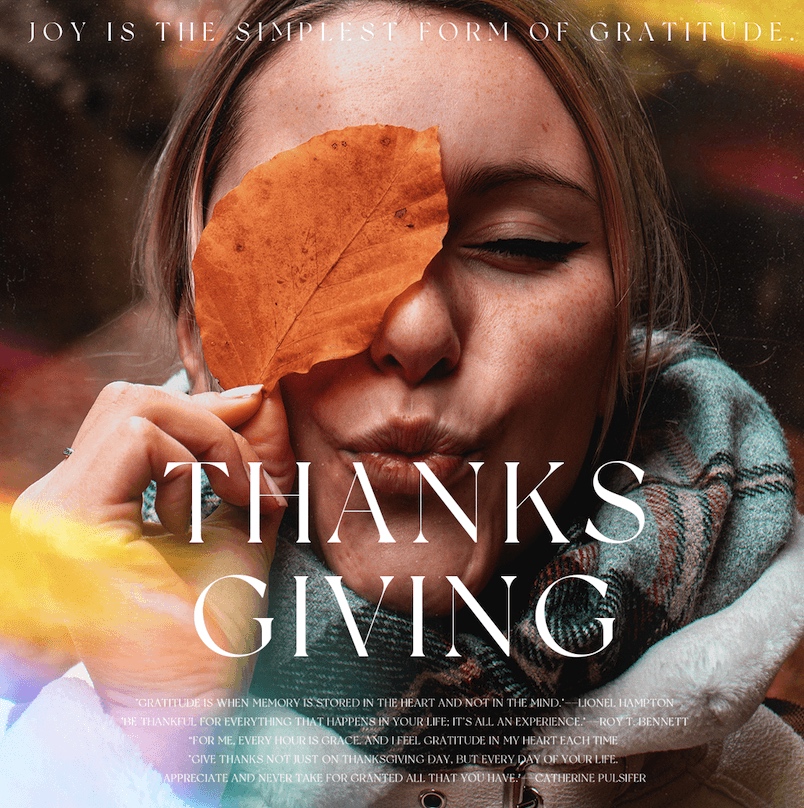 ● Thanksgiving "This or That": Stuffing or Dressing? Cooking or Cleaning? This third one is an interactive filter that lets you choose your favorite option with a tilt of the head. It's as fun and simple as it sounds!
● Turkey Hat: This fourth one is inspired by a Thanksgiving turkey. All you need to do is blink, which triggers the turkey to flap its wings! Its silly eyes are great for creating a funny atmosphere.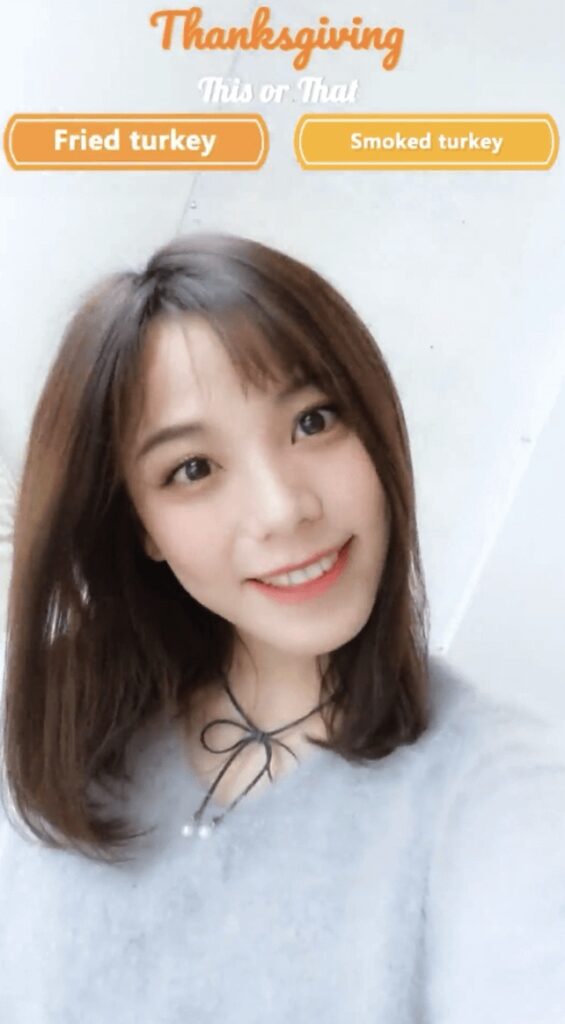 5. Play with Thanksgiving Stickers
The last and easiest way to create aesthetic Thanksgiving photos is with BeautyPlus' countless stickers! From elegant lettering and autumn leaves, to turkey and pumpkin outlines, you are bound to find stickers that will enhance your pictures. All it takes are a few taps to choose your sticker and align them however you wish!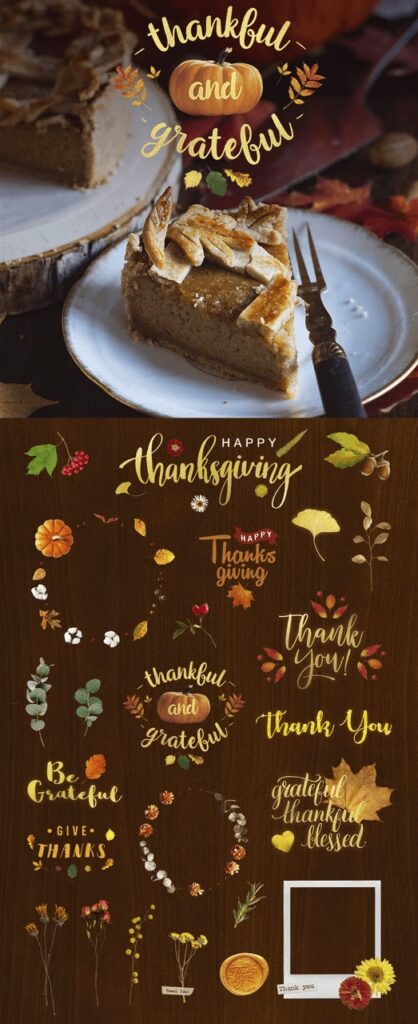 If you take a look at the wonderful features BeautyPlus has to offer, you'll find how easily accessible and user-friendly these pretty backgrounds, filters, and stickers truly are. But most importantly, you will be able to celebrate this year's Thanksgiving with awesome photos that radiate the happy holiday spirit!