Create Mother's Day Edits to Show Off Your Love
It's now the month of May, and that means Mother's Day is right around the corner! It's the time to show your appreciation and gratitude to all the hard working mothers out there… most especially your own mom! Gifts like roses, sweet chocolates, or perhaps personalized presents that moms would need (such as how my mother asks for new kitchen cutlery), are all great ways to express your love.
However, if you want to switch it up for Mother's Day, or have no idea what you can surprise her with, BeautyPlus is here to help! Editing and creating a beautifully designed photo to post, or even print to place in a picture frame, can go a long way in celebrating the special day. Here are some creative ways you can take your mother's day photo to another level!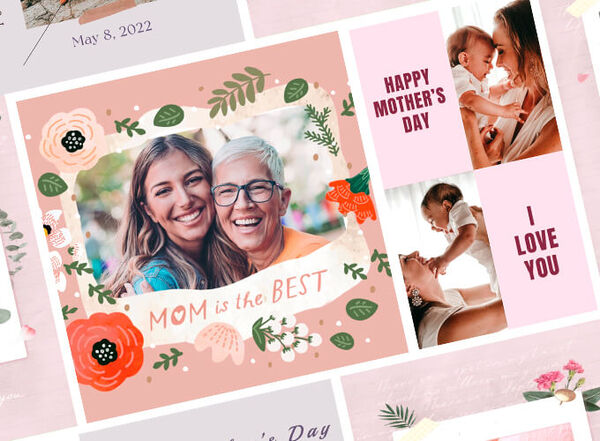 Table of Contents:
Choose Templates & Make Your Own Design
Templates are the most efficient way for achieving a complete design look. There's no need to individually place objects or decorative elements onto your photos as templates already do it for you! What makes this BeautyPlus feature even better is that not only are there multiple styles, but you can customize any aspect the templates come with.
● Ambience
If you are looking for a more vibe-based and atmospheric design, "Ambience" is the one for you! It matches beautifully with pictures set in moody settings or in nature, such as the sunset image example below.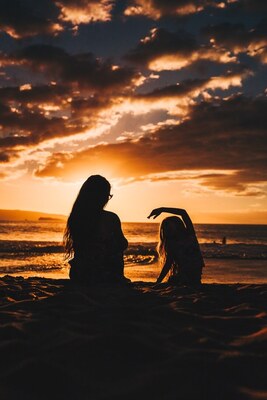 I chose this polaroid template because the visual of the sunset fit well with the "film" aesthetic of the picture frame! And of course, in honor of Mother's Day, I changed the text to fit the holiday and added a cute little message to communicate my appreciation. As a final touch, I went with the font "Taprom" and applied a mauve color to the text for a complete look!
● Love
The templates under "Love" are exactly as the name implies. In it you can find designs filled with words of love and hearts, as well as modern and fancy lettering!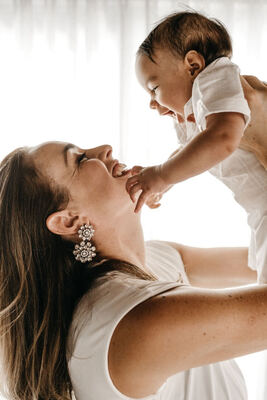 Because I wanted to go for a more simplistic yet lively appearance, I chose this pink template. I imported another picture, placing it on the bottom left and correctly sizing so that the edit appears more balanced. With that easy change, the Mother's Day image is complete!
● Daily
The style "Daily" is perfect for more casual and classic layouts, so regardless of what kind of pictures you have, you are bound to find a template that complements it well.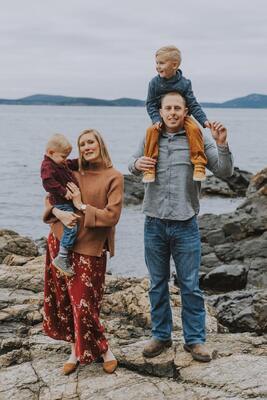 I put together this edit by switching each set of fonts to one that best encapsulates the spirit of Mother's Day, along with changing the words and text to match! To take the design a step further, I added two "tape" stickers under the set "Polaroid Frame." Now the finished template is ready!
Accessorize Your Edits with Stickers
Heart Stickers: I Love You, Lovely Day
Hearts have always and always will be the classic expression of love! If you want to show your extra love and care towards your mom this May, these heart stickers are the one for you.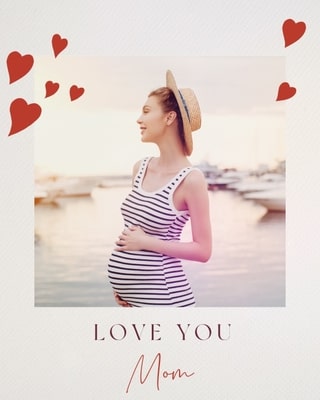 In the two examples above, the heart stickers are primarily line art in a bold red color. I simply added stickers in the empty space surrounding the portraits for a cute edit!
Flower Stickers: Spring Florals, Flower World
Nothing can beat floral stickers for decorating pictures, especially when it is for Mother's Day!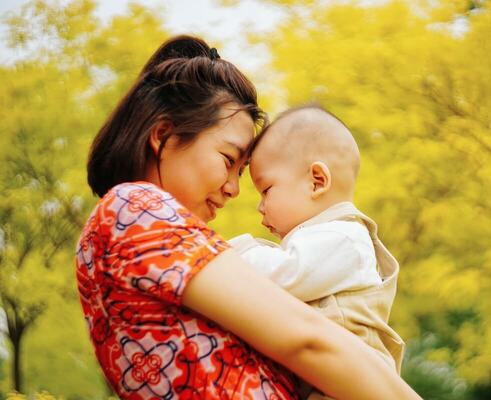 The countless sticker flower packs that BeautyPlus offers is more than enough to choose from. Whether you want sunflowers, watercolor-style flowers, or even embroidered ones, the app has it all. I took stickers from both the "Spring Florals" and "Flower World" packs to nicely complete the plain background. By layering different styles, it gives the illusion of the stickers interacting with the mother and her son, while also adding liveliness to the picture!
Mother's Day: Childhood, Family Time
The most important edit you can use for this special day is the one and only "Mother's Day" themed stickers! With bright pink and red hearts, vivid flowers, and adorable fun text, these stickers are what will make your edit extra lovely!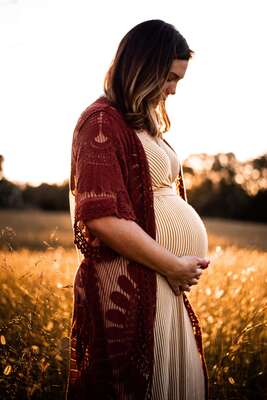 Before adding any stickers, I chose this muted pink background filled with hearts to place a cut-out of the woman on. I resized it accordingly, and then naturally added stickers as I saw fit, resulting in this graphically-styled design. If you want to incorporate more stickers, feel free to use the "Childhood" and "Family Time" packs for your edit!
Use AR Effects to Style Your Photos
Holiday: Mother's Day Styles
Even the AR Effects feature is there to help you celebrate this Mother's Day as there are specific styles you can apply to your pictures! You can find these effects under "Holiday," then scroll down until you see icons labeled along the words of "Mother's Day."
Each AR design works wonderfully for any photos you may have! You have the choices between varying aesthetic styles, which is an especially ideal option if you want to have a completed image right away since any elements, such as text or flower stickers, can be altered.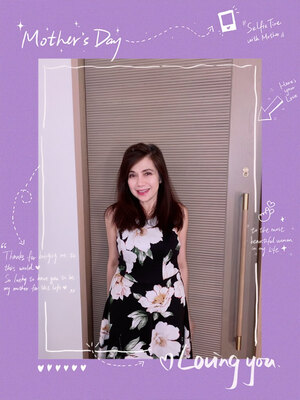 This Mother's Day is sure to be extra special and overflowing in love with BeautyPlus!
No need to worry about what gift to get your mother, or if your picture is too plain and boring to post on social media. Just the mere addition of stickers, or use of templates and AR Effects will level up your editing game and show how much your mother means to you!
Have a Happy Mother's Day and happy editing!