Add Aesthetic Pain-free Tattoos to Your Photos
Looking for new tattoo ideas? BeautyPlus has the best aesthetic tattoos to ensure the tattoo image in your mind comes true.
Tune in while I show you how to add cool pain-free tattoos to your photos as well as different tattoo sticker styles! No matter what the tattoo style you are looking for, the tattoo stickers have got you covered. Also, if you want to remove the unwanted tattoo in your photos? No problem! BeautyPlus' s removal is the best tool for you to erase anything from the photo. Let's get started!
Table of Contents:
What are Tattoo Stickers?
Tattoo stickers are a great way to temporarily dress up your skin. If you like the look of tattoos, but don't want to commit to having one for the rest of your life just yet, then you should check out BeautyPlus's tattoo stickers! These stickers stand out on your photos beautifully and realistically. You can also use these stickers for other artistic endeavors.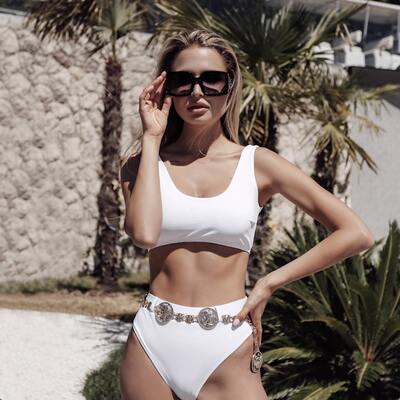 In the following part, I will get into different tattoo ideas and meanings to help you pick the one works best for you!
Cool Tattoo Sticker Styles & How to Use Them
Color Work Tattoos
Tattoos come in all varieties, and in terms of color, they can be divided into blackwork tattoos and color work tattoos. It's very hard to assort some of styles these days since there are too many unique styles out. Therefore, let's make it simple that we divide the color work tattoos into two styles: illustrative tattoos and watercolor tattoos.
Illustrative Tattoos
What is Illustrative? Illustrative tattoos typically have solid black outlines, but they can also be either colorful or simply black. A drawn and animated vibe is the key concept of Illustrative tattoo style, compared to those using shading to look photo-realistic.
"Colorful Tattoos 1" by BeautyPlus in-house Designer: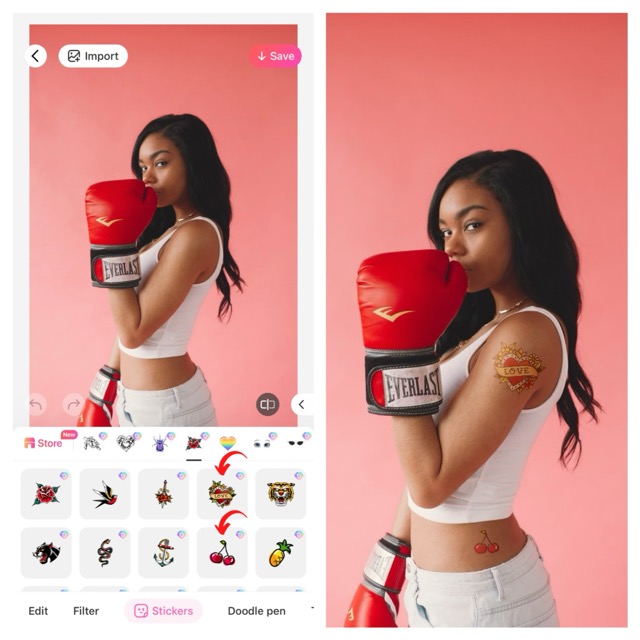 Photo By Jermaine Ulinwa via Pexels
"Dessert Bear" by tattoo artist XINAMON: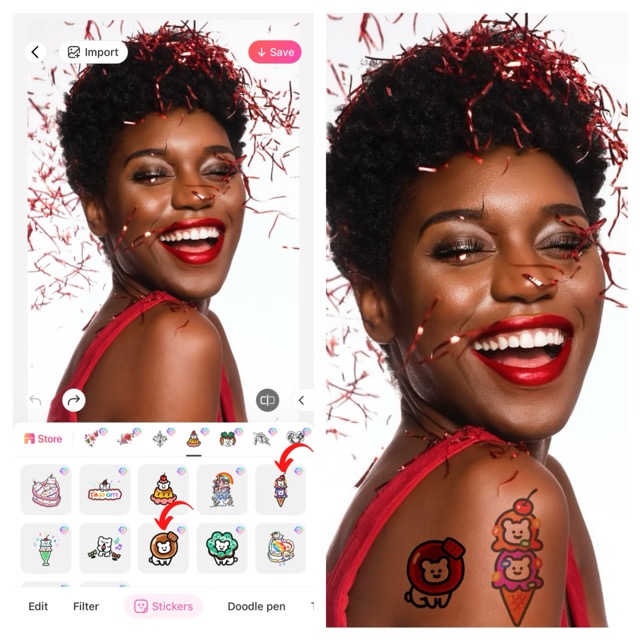 Photo By Andrea Piacquadio Via Pexels
Other illustrative tattoo stickers: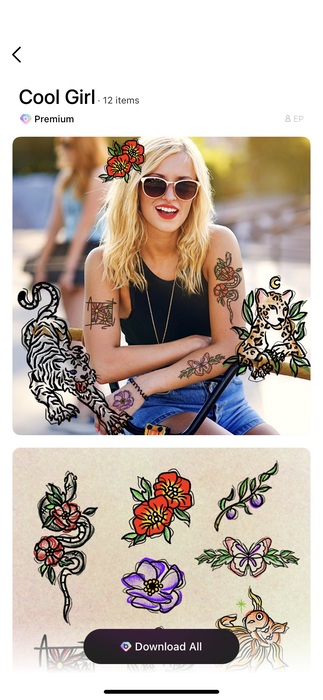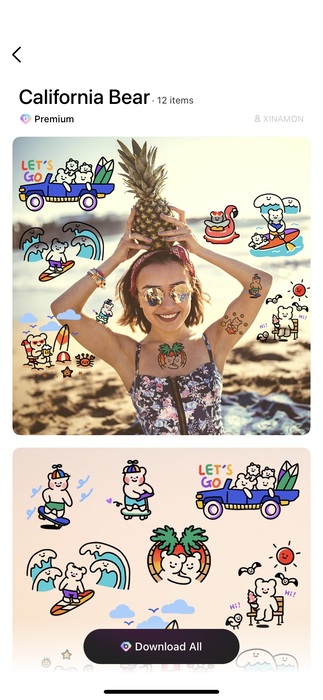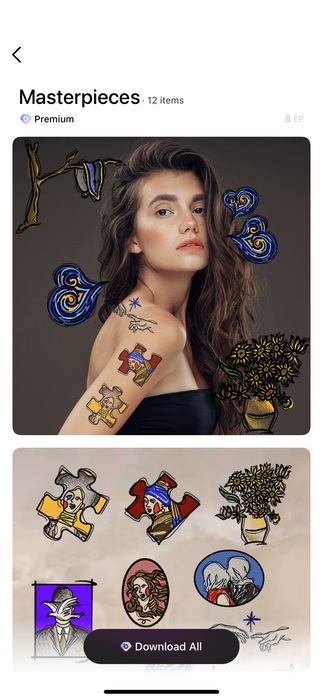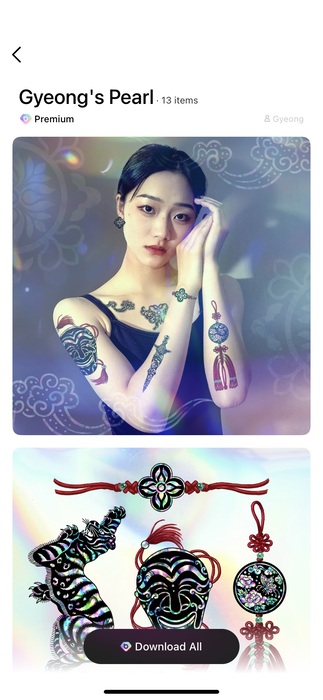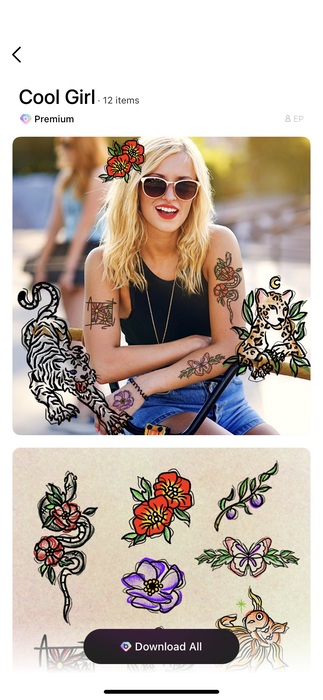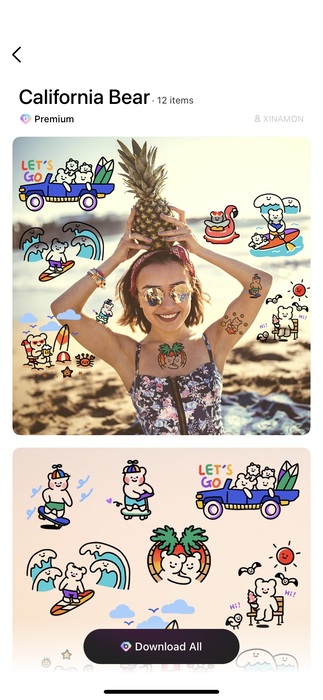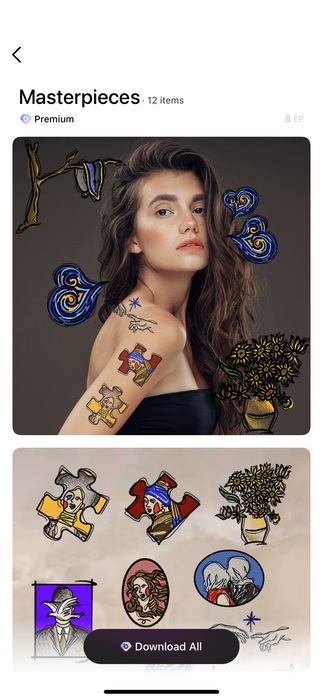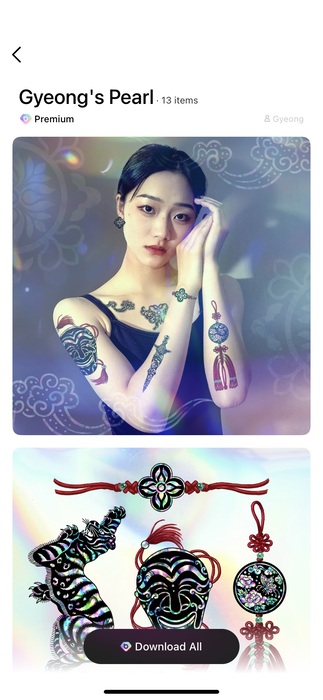 Watercolor Tattoos
What is Watercolor tattoos? Watercolor tattoo style is made of a variety of subtle color gradients and approaches that create a more gradual color fade-out. This effect is meant to resemble the features of a traditional watercolor painting. These vivid and bright watercolor tattoos can be awesome tattoo ideas for those who prefer colorful tattoos.
"Colorful Tattoos 2" by BeautyPlus in-house Designer: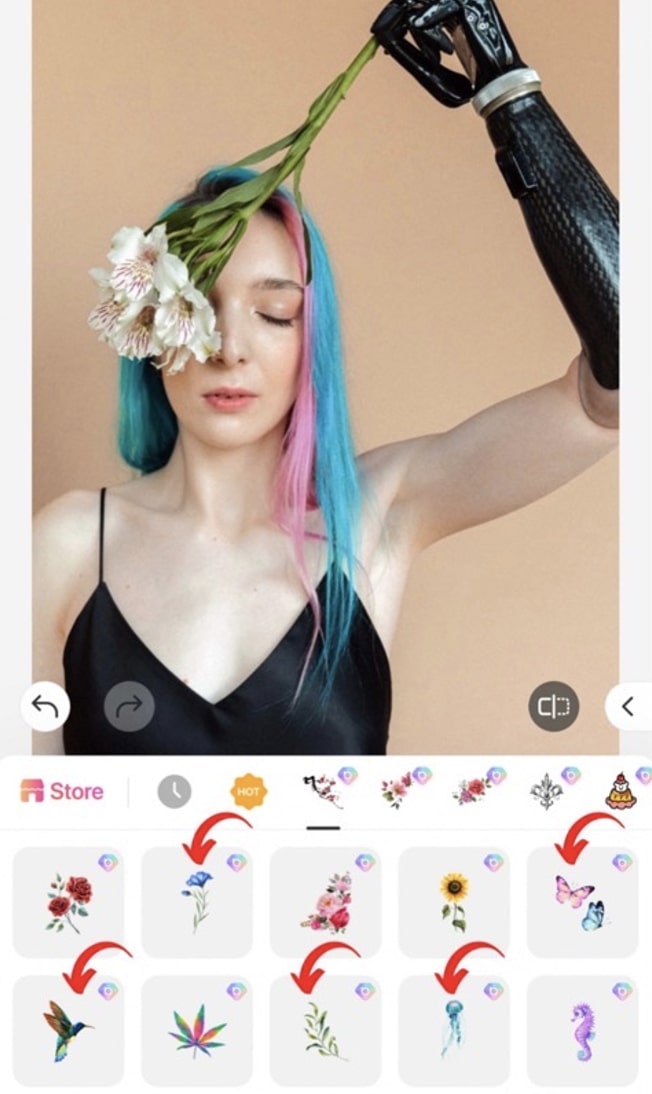 Photo By Anna Shvets By Pexels
"iLLang Gift Box" by Tattoo Artist ILLang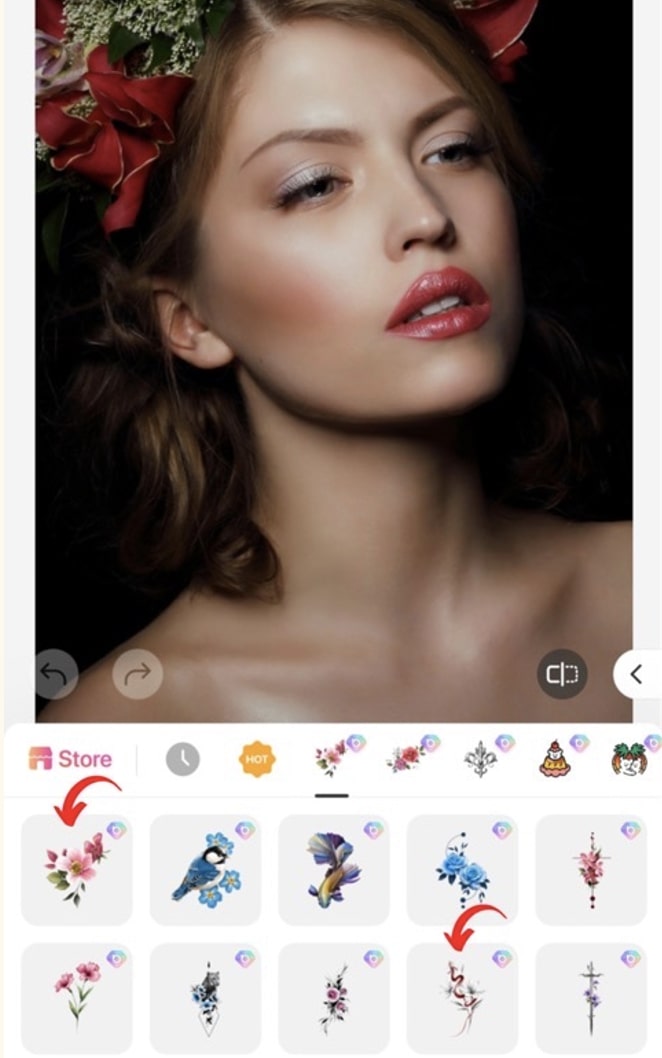 Photo by Pixabay via Pexels
Other watercolor tattoo stickers: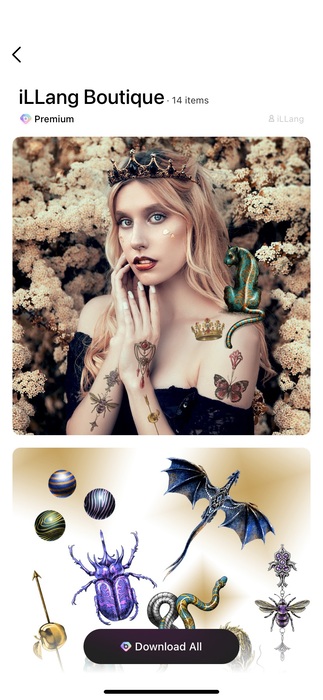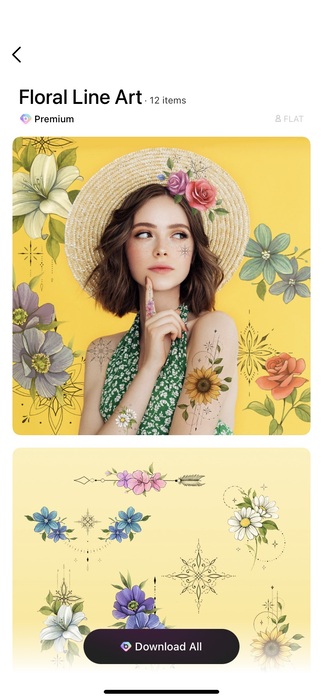 Black Work Tattoos
Just like its name, Black Work tattoo styles don't contain the use of color. They usually consist of ancient patterns and contemporary designs, and they make great tattoo ideas! Black work tattoos can also be simply divided into two styles: fine line tattoos and illustrative tattoos. We have covered illustrative tattoos before, so let's dive into the fine line tattoos in the following part.
Fine Line Tattoo
What is Fine Line? Fine line tattoo styles are known to have more straight or curved thin lines. These tattoos show their beauty without the use of color or shading or texture, but focus on form. These sticker styles also look great with all skin tones, giving a very delicate look and aesthetically pleasing. If you are trying your first tattoo, fine line tattoo is a good choice because they are easier to hide.
"Oriental flowers" by Tattoo Artist JVELL: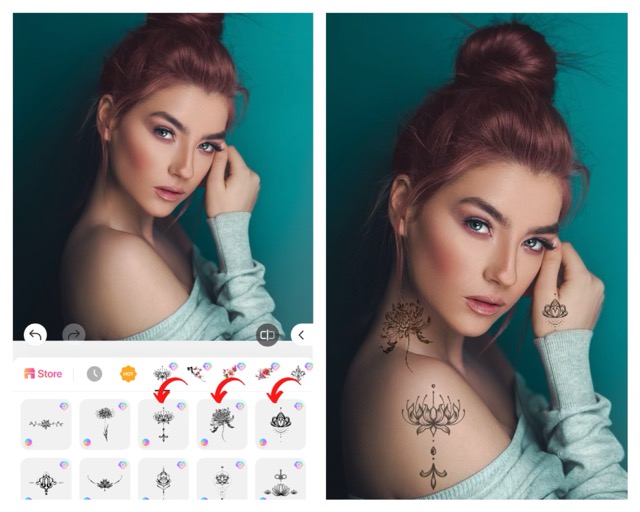 Photo By Ali Pazani Via Pexels
"Antique Jewelry" by Tattoo Artist AWA: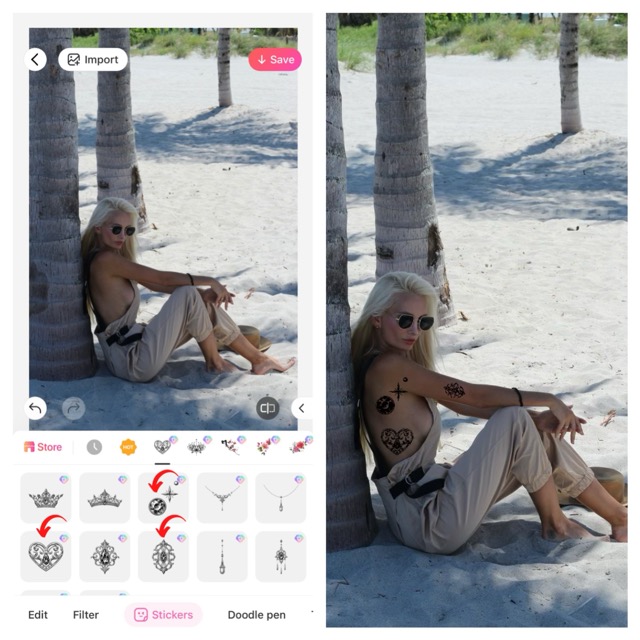 Photo By Loe Moshkovska Via Pexels
Other fine line tattoo stickers: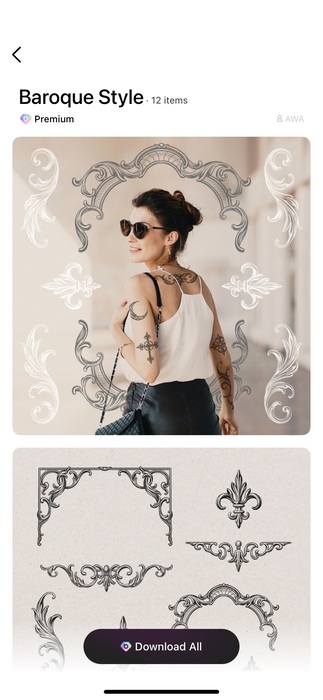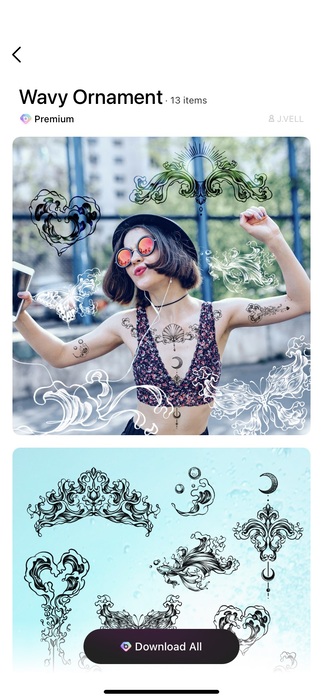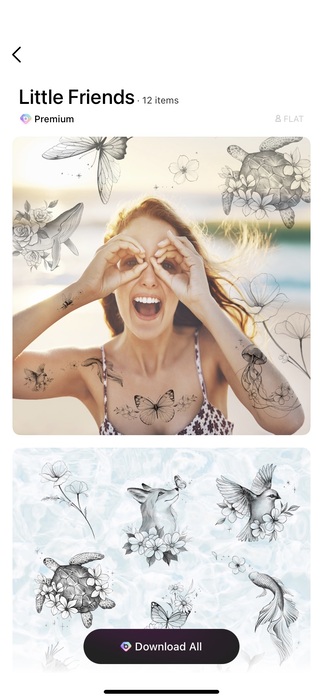 Illustrative tattoo stickers: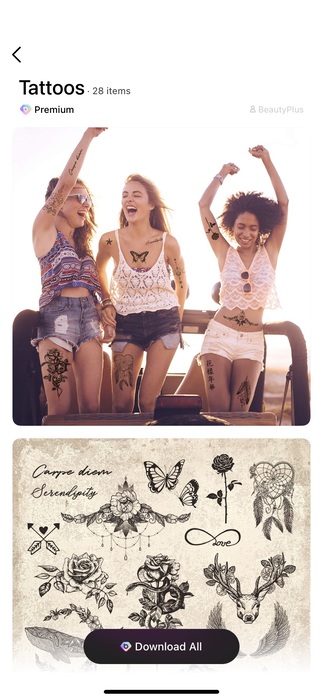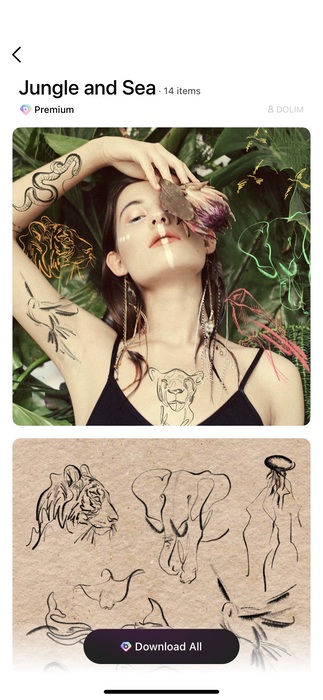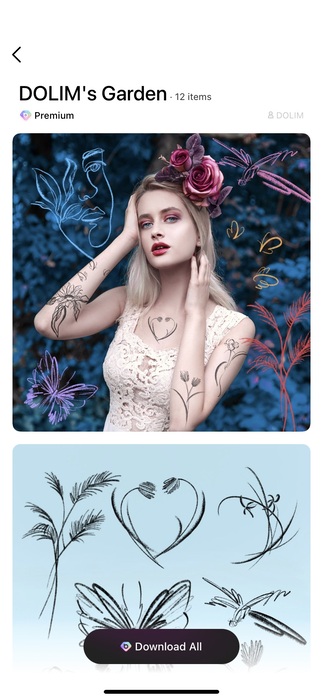 How to decorate your photos with aesthetic tattoos:
Step 1- Find Your Sticker Package
The first step I took was going to my BeautyPlus sticker store. Here is where you'll find hundreds of different sticker packages. If you're looking for the same results In the examples above, find 'Colorful Tattoos 1' or 'Dessert Bear.
Step 2- Choose and Place Your Sticker
Choose the sticker you want and position it on the area on your body you would want it. Use two fingers to resize the sticker to your liking. Once your sticker is perfectly positioned, you're ready for the next step!
Step 3- Explore Layer Style
Layer style is an amazing tool in the app that'll ensure your tattoos look as realistic as possible while giving you brilliant tattoo ideas. After positioning your sticker, select the three dots which you'll find when you press on your sticker. After selecting the three dots, select layer style. Your screen should look like this after.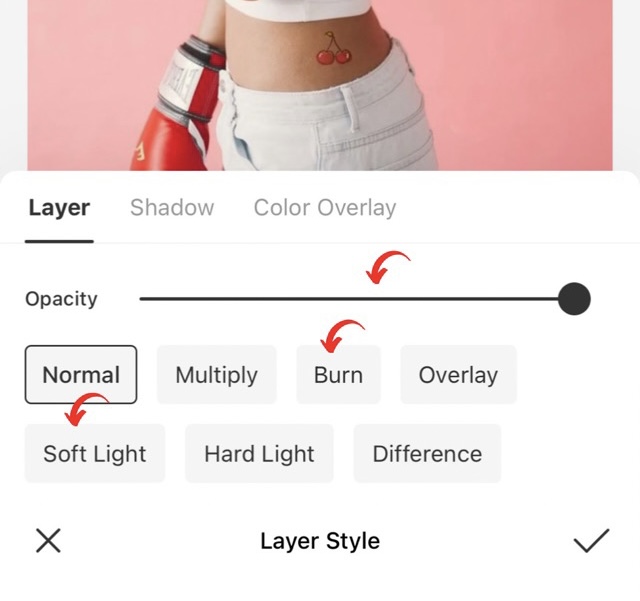 This is where you're going to make the magic happen! This is where I make all my perfect aesthetic tattoos come true. You can play around with various blend modes like 'Burn', 'Soft Light' and 'Opacity'. Use the Opacity slider to blend in your tattoo sticker. This is what will give your tattoo that realistic look. I've used either Burn or Soft Light in all my examples. Both will do the trick for you!
Get Rid of Unwanted Tattoos Using the Removal Tool
If you have an ugly or old tattoo you're looking to remove from your photo, not a problem! There are a few simple and easy steps to follow. Go to 'Edit' and select ' Remover'. Now you can start removing your tattoo by swiping away on your photo.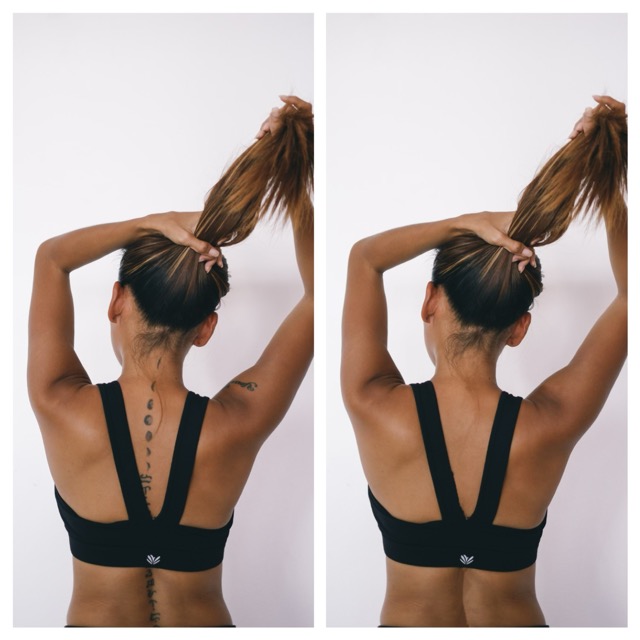 Photo By Emy Via Unsplash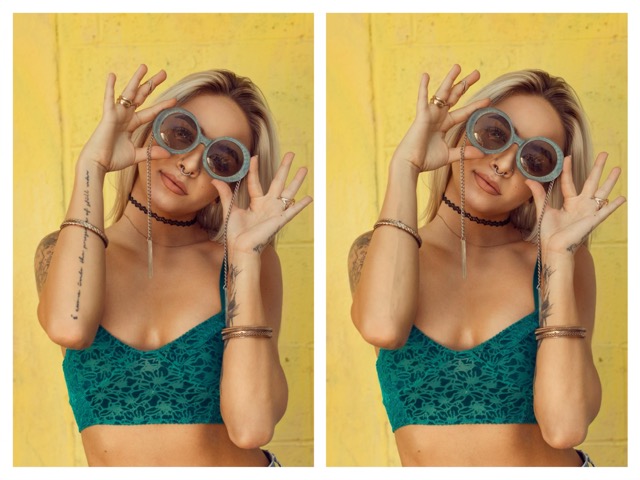 Photo by Atikh Bana Via Unsplash
Erase Any Unwanted Parts of Your Tattoo Sticker
Most people would usually choose natural floral aesthetic tattoos, especially when you're choosing from different tattoo ideas on an app. With BeautyPlus's awesome eraser tool, you can remove any parts of the sticker to make it look as natural as you want it. BeautyPlus ensures to give their users the best experience to get the best aesthetic tattoos. To fulfill your tattoo ideas to the fullest, I highly recommend using the Eraser tool to remove any unwanted parts of your sticker.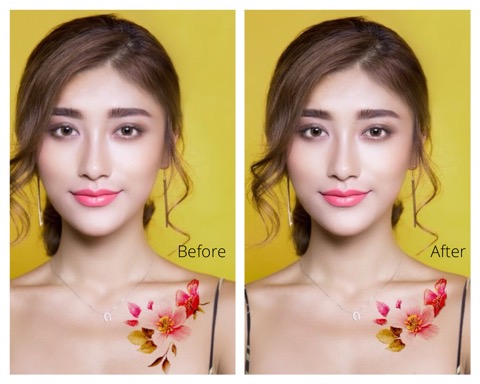 Introducing Design+ & Worldwide Tattoo Artists
Before making the permanent decision to get a real tattoo, it is a great idea to try virtual tattoo stickers and see how realistic they look in your photos! You'll know what styles and designs look best on you by exploring and trying different tattoo stickers.
Well, the good news is, BeautyPlus has got a whole bunch of new tattoo stickers out recently. These new additions are especially a treat if you're looking for aesthetic tattoos for summer! Just open BeautyPlus, head over to the Sticker store, and you will find them all in "Tattoo" section. The tattoo stickers are all designed by well-known worldwide tattoo artists from Design+ program for content creation. Here is a short introduction for each artist's tattoo style for your reference.
Flat & ILLANG: feminine flower, animal themed water color style
JVELL: pen drawing style, black work
DOLIM: rough crayon style, black work
AWA: fine line work, antique & classic theme, black work
XINAMON: character art style, color packing
EP: illustrative style, color work
GYEONG: oriental themed, color packing
Decorate your selfies with stylish tattoo stickers this summer!