5 Pet Edit Ideas To Create The Cutest Photos Of Your Furry Friends
I haven't had a pet for a while, sadly. But all the times I did, they were the center of my world! They're our best buddies, always there when we need them. All we want to do is play with them, cuddle with them and, of course, take millions of pics!
Even better, there are lots and lots of creative pet edit ideas to have fun with. From the cute and funny ones, to the beautiful and more sophisticated styles. Including the magical surreal ones that are just the coolest thing ever, obvs.
Let's explore some ideas to create those super adorable edits with our best pics of our favorite little friends. Hopefully you'll get inspired to create your own too!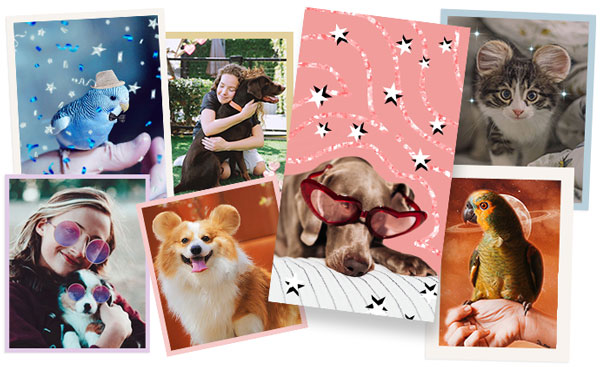 Table of contents
Cute pet edits using stickers
Whenever we think about fun + cute edits, stickers immediately come to mind. They're easy to use, trendy, and allow many many options while editing. And the good news is the BeautyPlus app has tons of packs of stickers in different aesthetics that are just precious.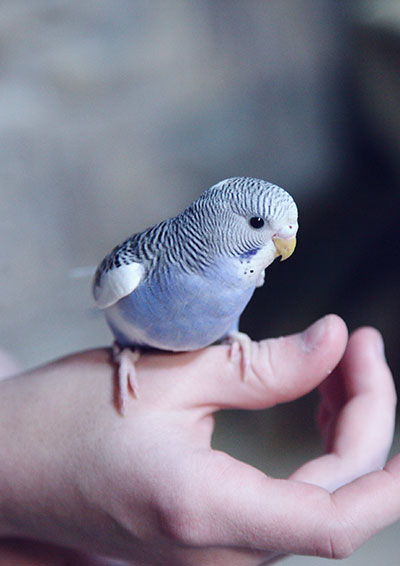 First of all, You can create a cute little costume for your pet, for example. Add a fedora and bow tie combo and he'll be looking like a true gentleman. Finish up with a nice confetti brush to make it even more festive!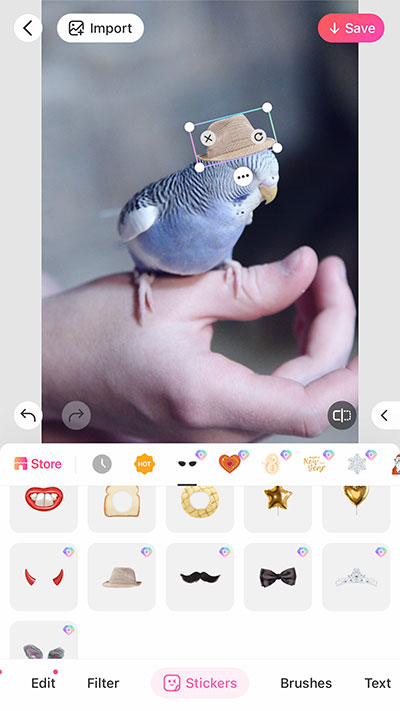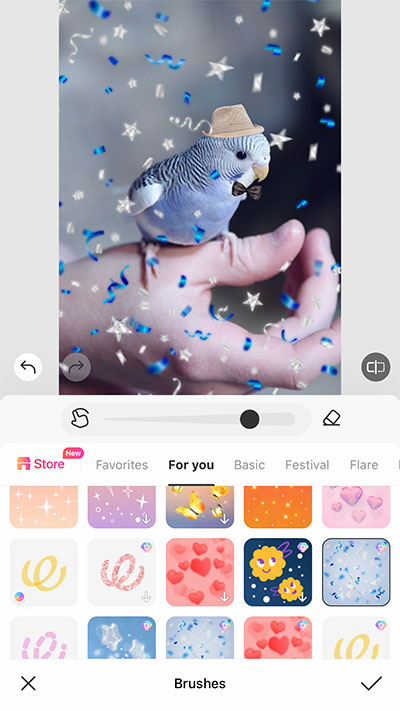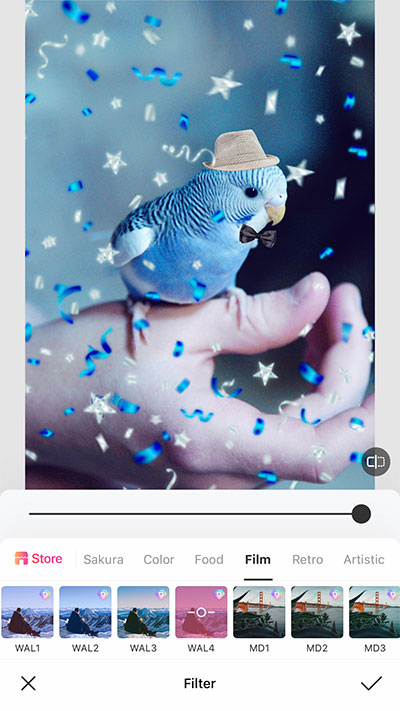 Want something more simple and majestic? How about a beautiful golden crown for your beloved furry king or queen?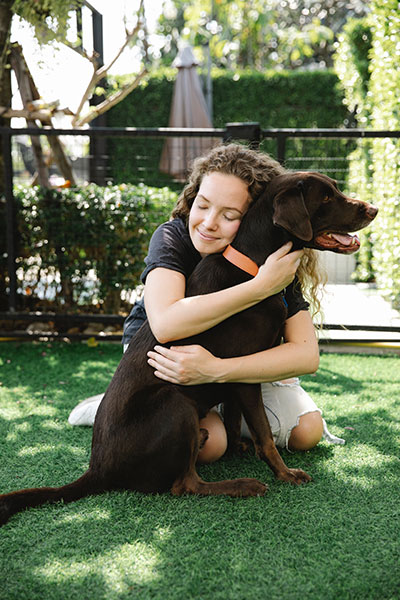 And since the holidays are just around the corner, here's an absolutely adorable example of an edit made with Christmas stickers and finalized with an aesthetic filter! Too cute!!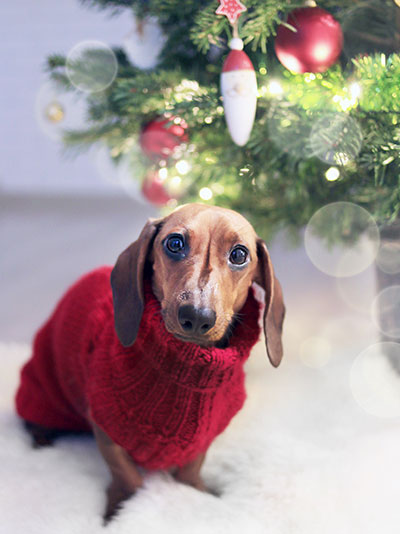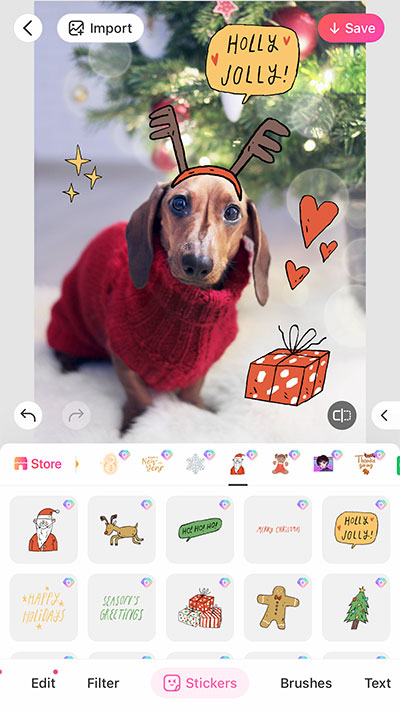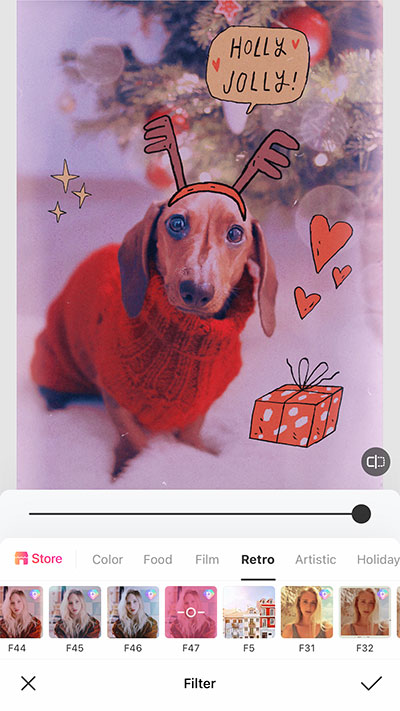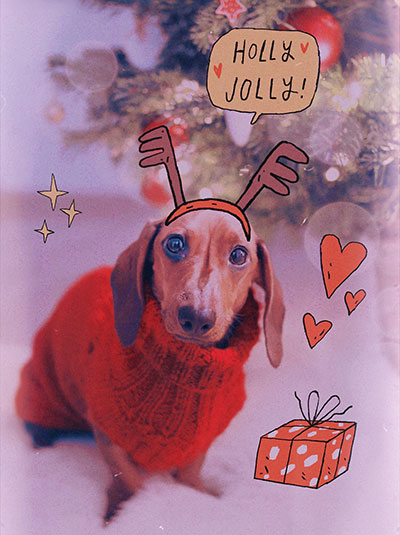 How to make Mickey Mouse pet ears edit
It's so fun to play with changing shapes of images using editing apps! So that's why edits like these go viral and become so trendy, I think.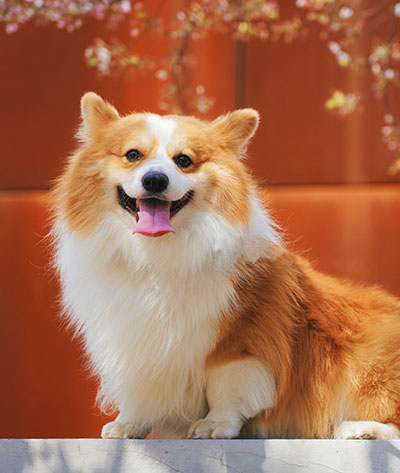 For example, you can easily reshape the ears of your pet into round Mickey Mouse ears with a few taps. It's currently one of the trendiest pet edit ideas out there. Have you ever tried it?
Open your pic with the BeautyPlus app and select Retouch. Find the Slim tool and start molding the ears. You can adjust their shape and their size anyway you want. It's superrrr cute, and fun to make!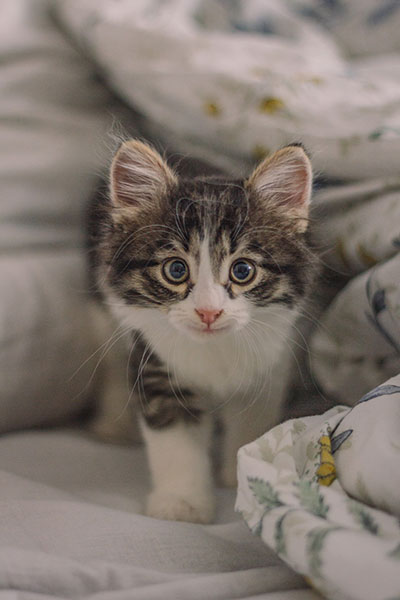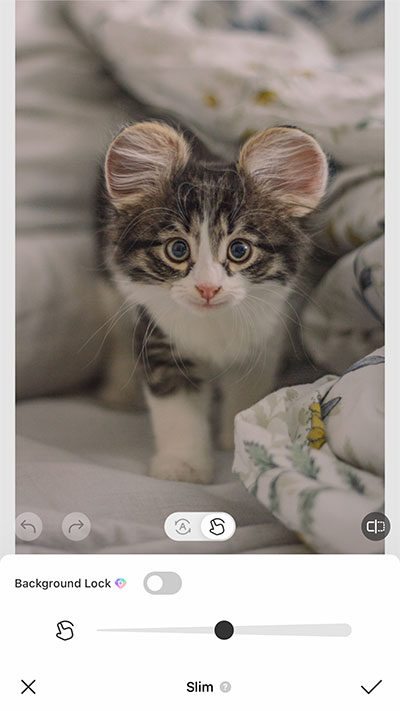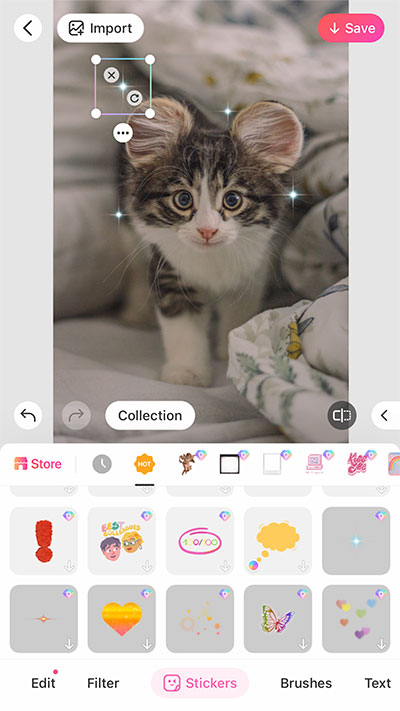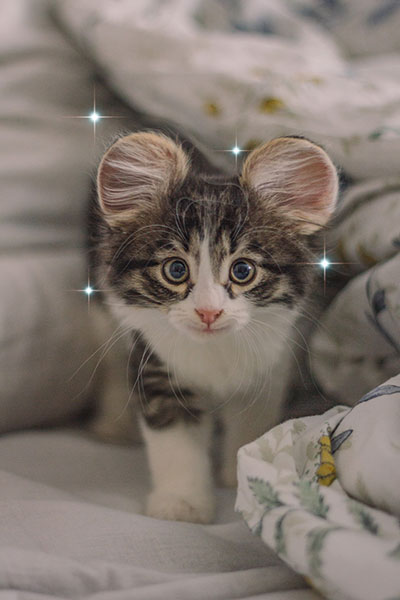 Easy to make surreal pet edits
Whenever a surreal edit pops up somewhere online, one might think it's super advanced and difficult to make. And in some cases it actually is. But not always! It's very possible to design beautiful fantastical compositions with your pet placed in surreal scenarios. You can do it with just a few taps using the BeautyPlus app.
Start off with a good quality picture, to make sure you'll have good results. It doesn't need to be professional photography though, one you took with your phone is just fine. As long as it's not too blurry or dark.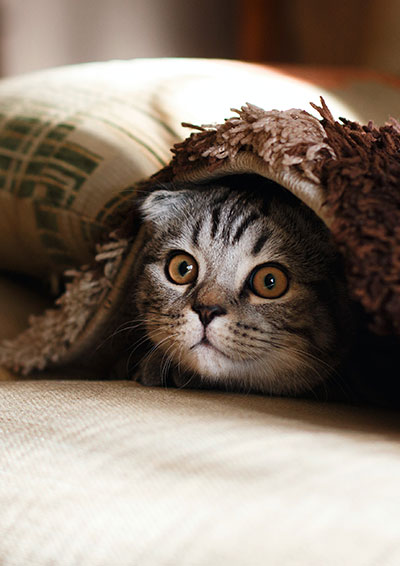 Find an interesting setting to place the scene. That will be your starting point! Then, import the image of your pet, and erase the parts you don't need. Add more images, stickers or brushes to create the atmosphere around him or her. The possibilities are endless!!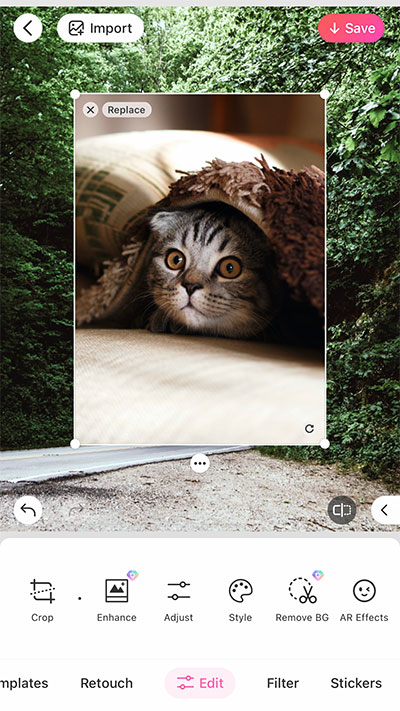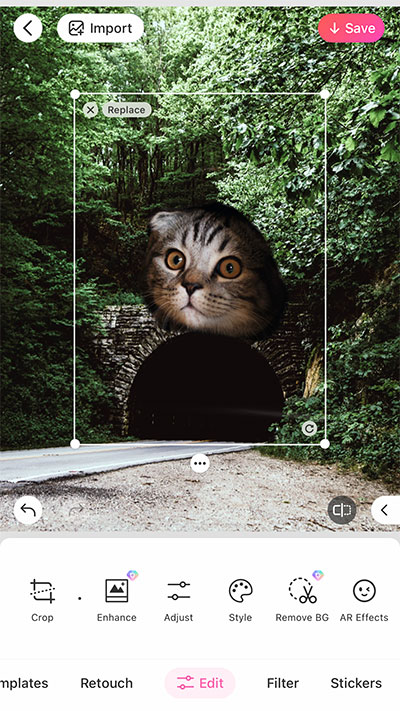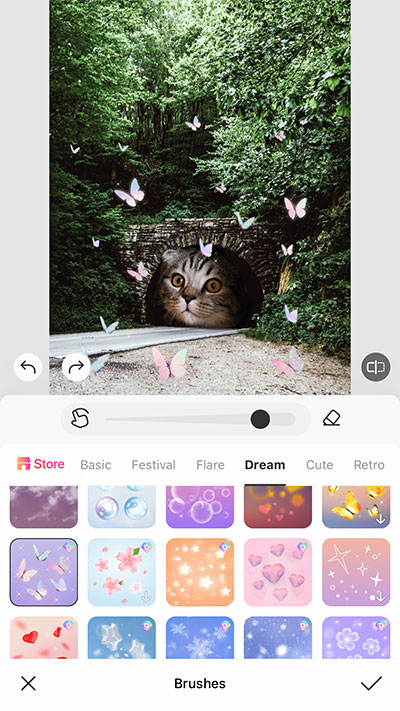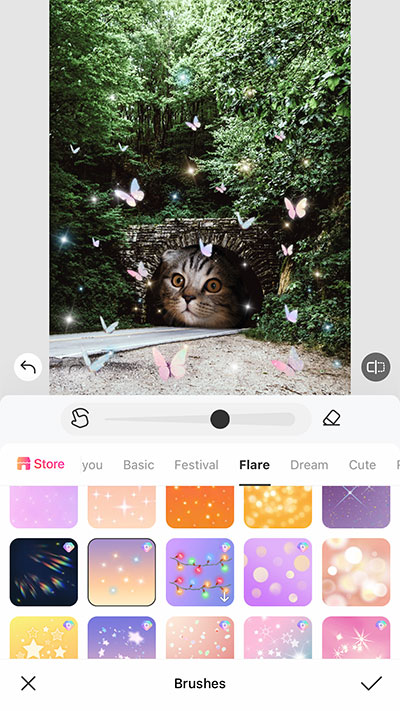 Not in the mood for something so elaborate? Try the sky overlays in the Styles tool. You'll be impressed by how much you can achieve with literally one tap.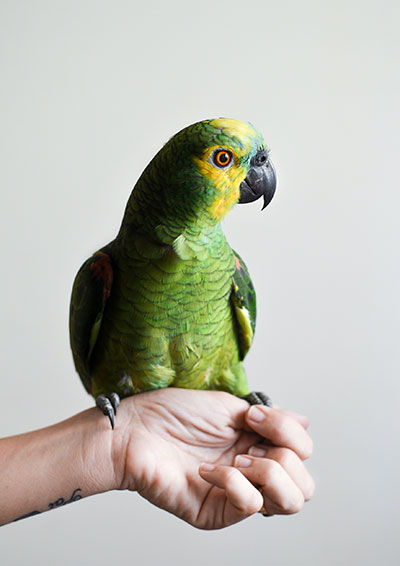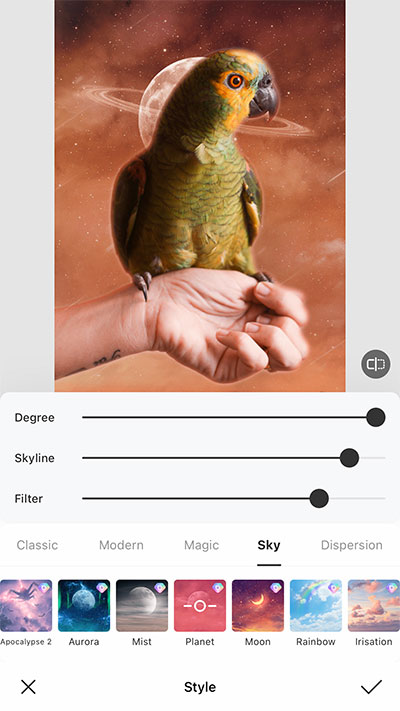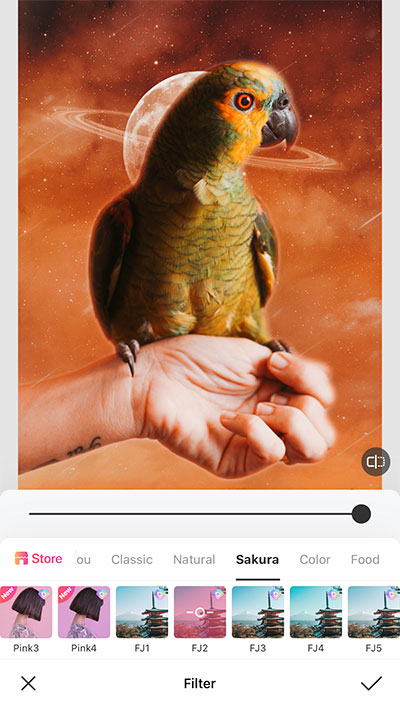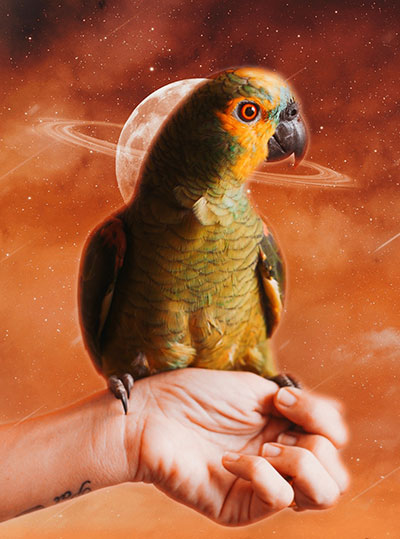 You can also create your own scene around your pet images. Add stickers of clouds or other nature elements, or anything that matches the mood you want. Here's an example: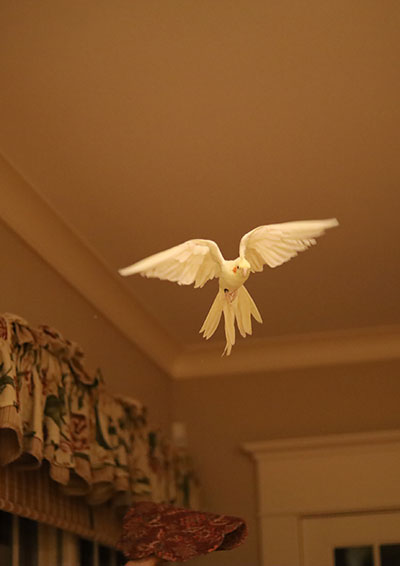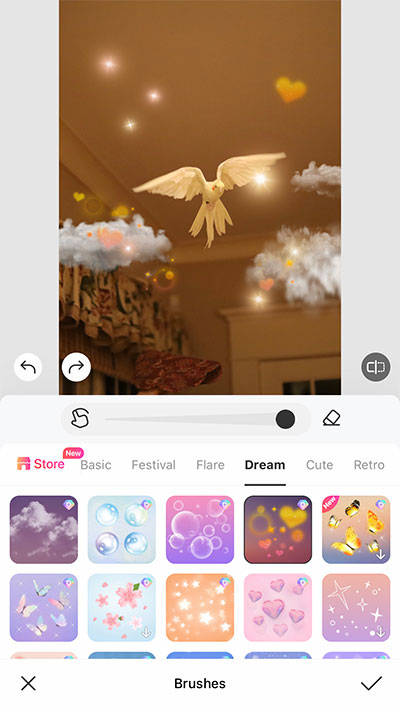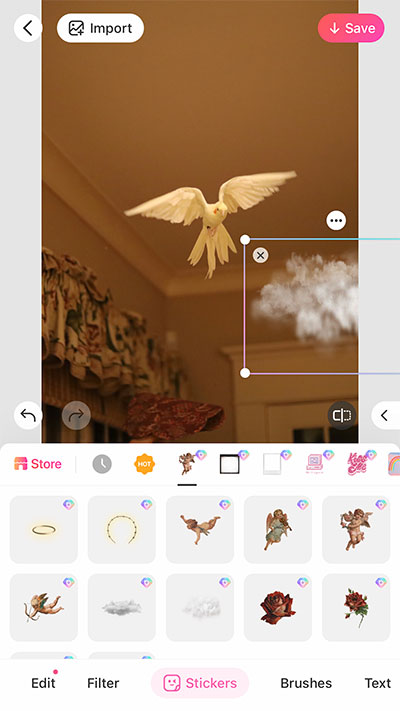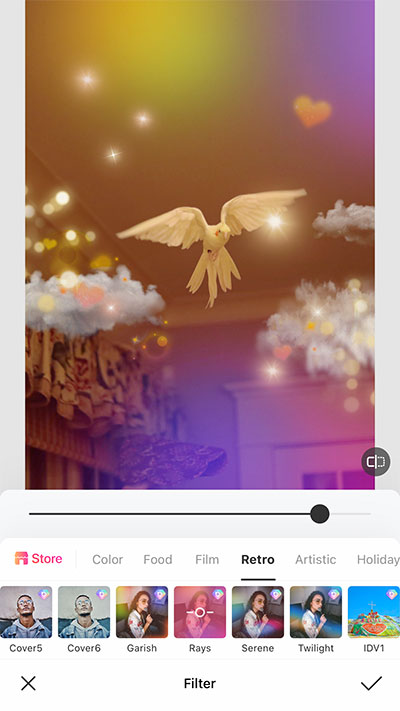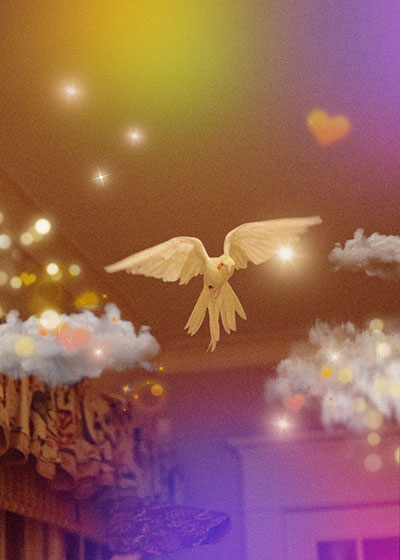 Editing ideas for pics of you with your pet
Hey, who hasn't spent hours of their lives snapping pic after pic trying to take a good photo with their pet? I for sure am guilty of this!
Then, when editing time comes, there are many ways you can try to improve the "wow factor" of your favorite shot. I love brushes, so creating some lines of hearts, flowers, bubbles etc to decorate the image is a go-to edit idea for me.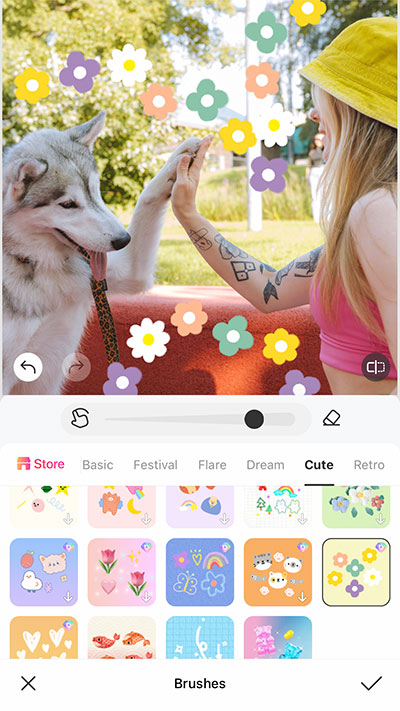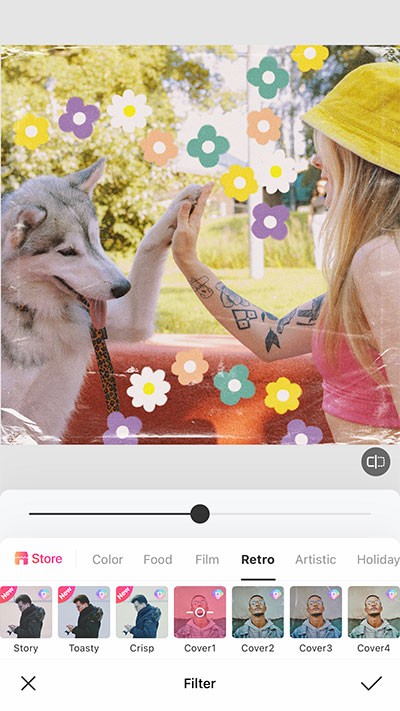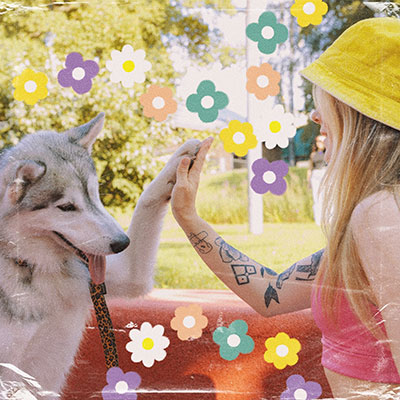 Within the many filters available in the AR Effects feature of the BeautyPlus app you'll also find lovely options. The Pet & U selection is perfect to create amazing pet edit ideas, of course!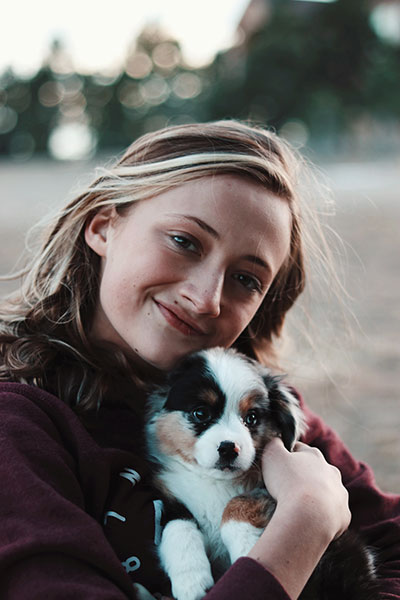 How to create pet wallpapers
Pet pics are definitely a favorite when it comes to phone wallpapers. But, instead of just setting a cute but boring photo as your background, why not get more artistic?
This is a super pretty example I love. Create a 9:16 sized image on the BeautyPlus app and import the pic you want to use. Use the brush tool to create some organic lines in the empty spaces. I used the pink glitter one, but there are many other styles to choose from.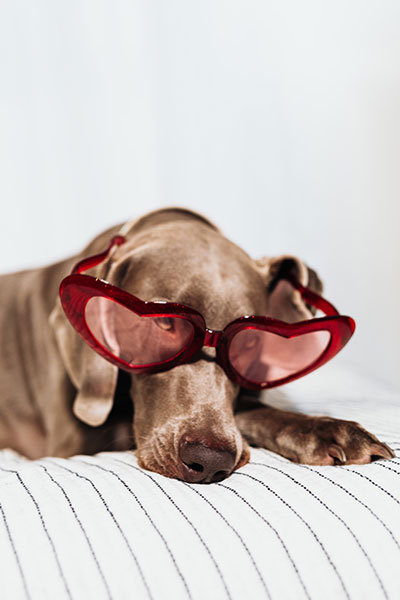 Next step is to add some stickers. I love the Rainbow and Flowers sticker set, and I selected the stars to use in my edit. Look how amazing it turned out: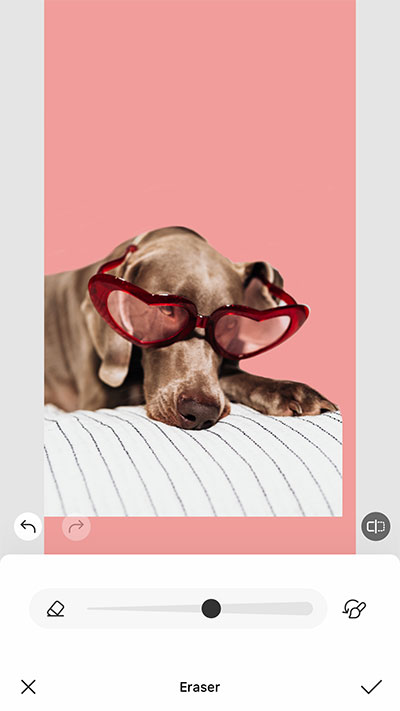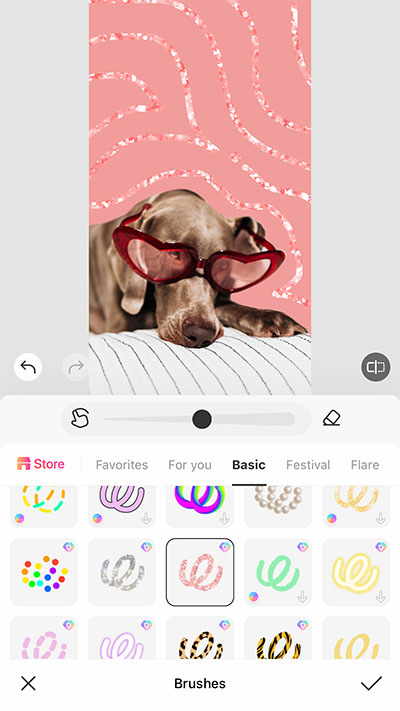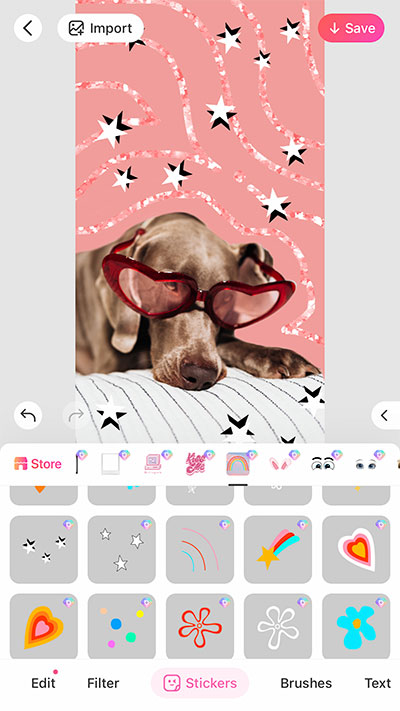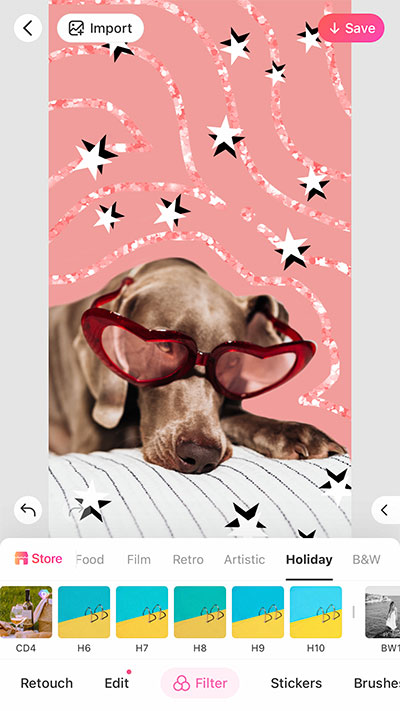 And how about creating a cute wallpaper with a pic of you and your furry baby that also has a calendar? That's easy-peasy to create using the BeautyPlus app too. Tap Templates to pick your favorite calendar layout, then edit the pattern and color in the Background section.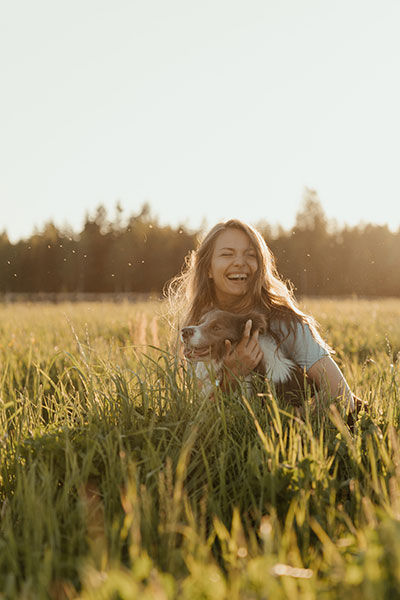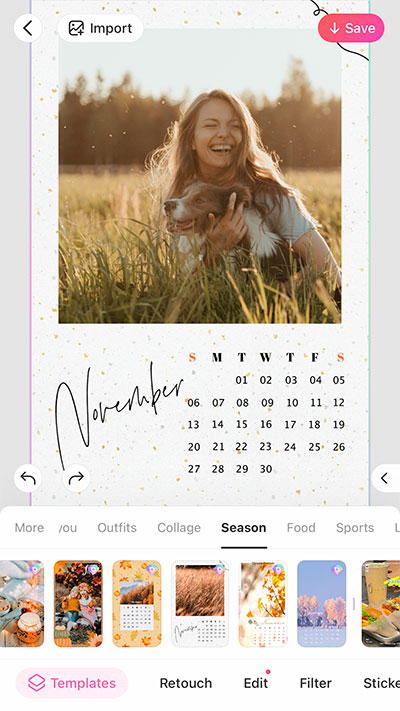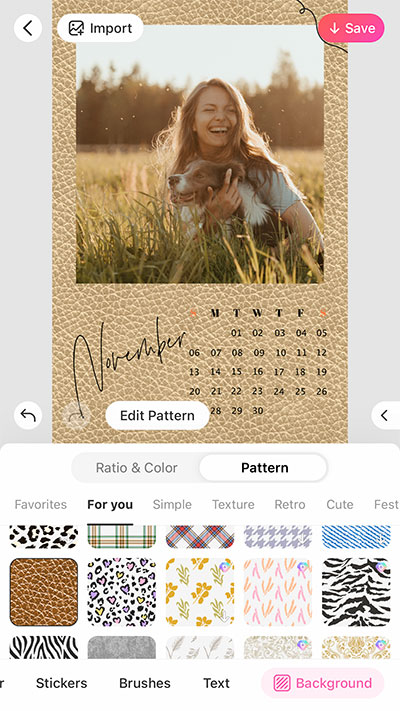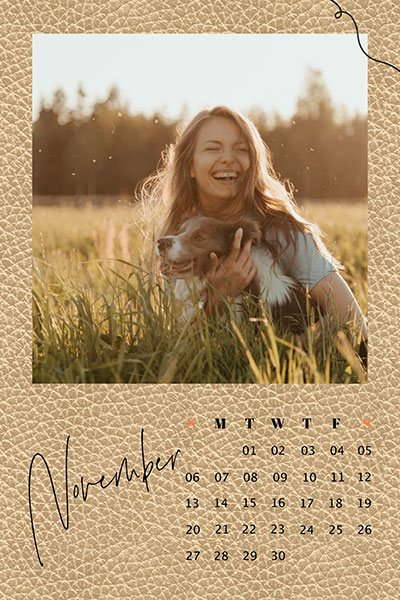 Last but not least, you can try one of the beautiful effects available in the Styles feature of the BeautyPlus app for your pet edit. They are JUST. SO. COOL! Like this one I used in the example below, that makes the photo look exactly like a painting. It takes your wallpaper image to a whoooole new level.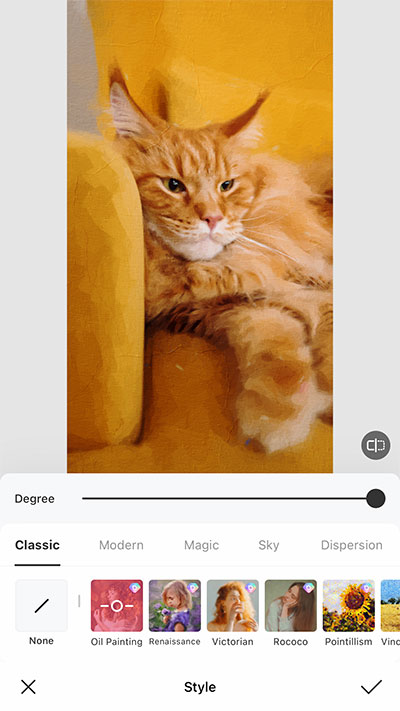 I know there's no way on earth you could love your pet more than you already do. And with these pet edit ideas you will be able to be inspired by him or hear to create beautiful pieces! Isn't that just the best?